Treatment of a Malignant Soft Tissue Tumor Arising in the Vicinity of the Sciatic Nerve with an In-Situ Preparation Technique and Intensive Multidisciplinary Therapy
1
Department of Orthopaedic Surgery, Nagoya City University Graduate School of Medical Sciences, Nagoya 467-8601, Japan
2
Department of Orthopaedic Surgery, Kanazawa University Graduate School of Medical Sciences, Kanazawa 920-8641, Japan
3
Department of Orthopaedic Surgery, Fukui-ken Saiseikai Hospital, Fukui 918-8503, Japan
4
Department of Education, Tokai Gakuen University, Nagoya 468-8514, Japan
*
Author to whom correspondence should be addressed.
Received: 21 February 2019 / Revised: 27 March 2019 / Accepted: 9 April 2019 / Published: 10 April 2019
Abstract
Preservation of the sciatic nerve is difficult in cases of highly malignant soft tissue
tumors closely surrounding the nerve. Herein, we present the first case of preservation of this
nerve by combining an in-situ preparation technique (ISP; a technique enabling the preparation of
neurovascular bundles without contamination by tumor cells) with intensive concurrent neoadjuvant
chemo-radiotherapy with hyperthermia (RHC; radio-hyperthermo-chemotherapy). A 62-year-old
man presented with a soft tissue mass in the right thigh and was diagnosed with undifferentiated
pleomorphic sarcoma. The tumor arose in the multi-compartment areas of the posterior thigh muscles
and was closely intertwined with the sciatic nerve. As preoperative therapy, RHC was performed
for surgical down-staging and the tumor partially responded. Afterwards, wide resection of the
tumor with preservation of the sciatic nerve using ISP was performed. Following the surgery, there
has not been recurrence in the affected site and the functional outcomes of the lower extremity
achieved 80% in the Musculoskeletal Tumor Society score. The patient is still alive with disease five
years postoperatively. This is the first case in which ISP and RHC procedures were combined for
the preservation of the neurovascular structure. Further study is needed for the validation of the
feasibility of this method.
View Full-Text
►

▼

Figures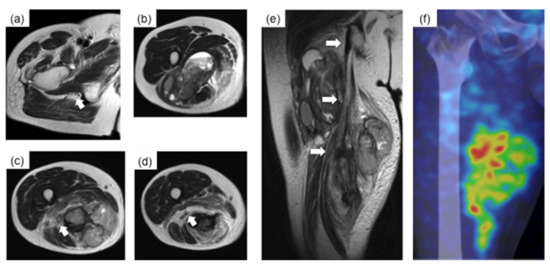 Figure 1
This is an open access article distributed under the
Creative Commons Attribution License
which permits unrestricted use, distribution, and reproduction in any medium, provided the original work is properly cited (CC BY 4.0).
Supplementary material
Externally hosted supplementary file 1
Doi: doi: 10.1080/02656736.2018.1518545.
Description: The copy right of these materials is belong to the International Journal of Hyperthermia. Radio-hyperthermo-chemotherapy protocol. Hyperthermia: Hyperthermia is performed using an 8-MHz radiofrequency capacity heating system (Thermotron RF-8; Yamamoto Vinita, Osaka, Japan) and repeated every week for a total of five courses. The objective of the hyperthermia was to achieve a temperature of 42.5 °C or more for 60 min. Chemotherapy: Chemotherapy is administered by intra-arterial (IA) infusion. During hyperthermia, cisplatin (first, third, and fifth cylces) or pirarubicin (an Adriamycin derivative; second and fourth cylces) are simultaneously injected. After five courses of IA chemotherapy, systemic chemotherapy using ifosfamide, pirarubicin, and etoposide are initiated, followed by surgery. Radiation: All patients are treated with daily radiotherapy at a dose of 40.0 Gy, for a total of 20 sessions. Irradiation is performed just before hyperthermia and chemotherapy on the day of hyperthermia and chemotherapy.

Share & Cite This Article
MDPI and ACS Style
Aiba, H.; Hayashi, K.; Yamada, S.; Okamoto, H.; Kimura, H.; Miwa, S.; Inatani, H.; Otsuka, T.; Murakami, H. Treatment of a Malignant Soft Tissue Tumor Arising in the Vicinity of the Sciatic Nerve with an In-Situ Preparation Technique and Intensive Multidisciplinary Therapy. Cancers 2019, 11, 506.
Note that from the first issue of 2016, MDPI journals use article numbers instead of page numbers. See further details here.
Related Articles
Comments
[Return to top]