Impact of Overdiagnosis on Long-Term Breast Cancer Survival
1
Department of Health Industry Management, College of Healthcare Management, Kainan University, Taoyuan 338, Taiwan
2
Department of Surgery, National Taiwan University Hospital, Taipei 100, Taiwan
3
Graduate Institute of Epidemiology and Preventive Medicine, College of Public Health, National Taiwan University, Taipei 100, Taiwan
4
School of Oral Hygiene, College of Oral Medicine, Taipei Medical University, Taipei 110, Taiwan
5
Department of Pathology and Graduate Institute of Pathology and Parasitology, Tri-Service General Hospital, National Defense Medical Center, Taipei 114, Taiwan
6
Graduate Institute of Life Sciences, National Defense Medical Center, Taipei 114, Taiwan
7
Department of Mammography, Falun Central Hospital, 791823 Falun, Sweden
8
Innovation and Policy Center for Population Health and Sustainable Environment, College of Public Health, National Taiwan University, Taipei 100, Taiwan
*
Author to whom correspondence should be addressed.
Received: 26 January 2019 / Revised: 24 February 2019 / Accepted: 4 March 2019 / Published: 7 March 2019
Abstract
Elucidating whether and how long-term survival of breast cancer is mainly due to cure after early detection and effective treatment and therapy or overdiagnosis resulting from the widespread use of mammography provides a new insight into the role mammography plays in screening, surveillance, and treatment of breast cancer. Given information on detection modes, the impact of overdiagnosis due to mammography screening on long-term breast cancer survival was quantitatively assessed by applying a zero (cured or overdiagnosis)-inflated model design and analysis to a 15-year follow-up breast cancer cohort in Dalarna, Sweden. The probability for non-progressive breast cancer (the zero part) was 56.14% including the 44.34% complete cure after early detection and initial treatment and a small 11.80% overdiagnosis resulting from mammography screening program (8.94%) and high awareness (2.86%). The 15-year adjusted cumulative survival of breast cancer was dropped from 88.25% to 74.80% after correcting for the zero-inflated part of overdiagnosis. The present findings reveal that the majority of survivors among women diagnosed with breast cancer could be attributed to the cure resulting from mammography screening and accompanying effective treatment and therapy and only a small fraction of those were due to overdiagnosis.
View Full-Text
►

▼

Figures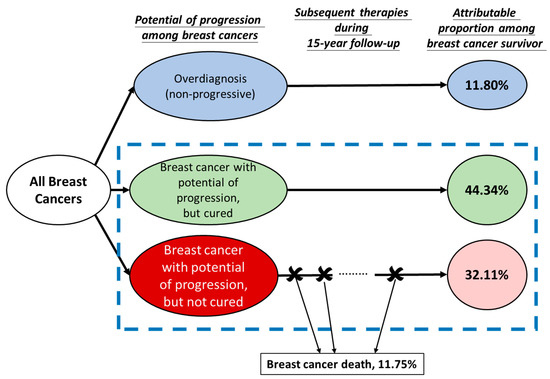 Figure 1
This is an open access article distributed under the
Creative Commons Attribution License
which permits unrestricted use, distribution, and reproduction in any medium, provided the original work is properly cited (CC BY 4.0).

Share & Cite This Article
MDPI and ACS Style
Fann, J. .-Y.; Chang, K.-J.; Hsu, C.-Y.; Yen, A. .-F.; Yu, C.-P.; Chen, S. .-S.; Kuo, W.-H.; Tabár, L.; Chen, H.-H. Impact of Overdiagnosis on Long-Term Breast Cancer Survival. Cancers 2019, 11, 325.
Note that from the first issue of 2016, MDPI journals use article numbers instead of page numbers. See further details here.
Related Articles
Comments
[Return to top]