Indoleamine 2,3-dioxygenase 1 and Programmed Cell Death-ligand 1 Co-expression Predicts Poor Pathologic Response and Recurrence in Esophageal Squamous Cell Carcinoma after Neoadjuvant Chemoradiotherapy
1
Department of Radiation Oncology, Sun Yat-sen University Cancer Center, State Key Laboratory of Oncology in South China, Collaborative Innovation Centre for Cancer Medicine, Guangdong Esophageal Cancer Institute, Guangzhou 510060, China
2
Department of Pathology, Sun Yat-sen University Cancer Center, State Key Laboratory of Oncology in South China, Collaborative Innovation Centre for Cancer Medicine, Guangdong Esophageal Cancer Institute, Guangzhou 510060, China
3
Department of Thoracic Oncology, Sun Yat-sen University Cancer Center, State Key Laboratory of Oncology in South China, Collaborative Innovation Centre for Cancer Medicine, Guangdong Esophageal Cancer Institute, Guangzhou 510060, China
*
Author to whom correspondence should be addressed.
†
These authors contributed equally to this study.
Received: 7 January 2019 / Revised: 30 January 2019 / Accepted: 30 January 2019 / Published: 1 February 2019
Abstract
This study aimed to investigate the impact of indoleamine 2,3-dioxygenase 1 (IDO1) expression, programmed cell death-ligand 1 (PD-L1) expression, CD8+ tumor-infiltrating lymphocyte (TIL) status, and their combination on pathologic complete response (pCR) and recurrence in esophageal squamous cell carcinoma (ESCC) treated with neoadjuvant chemoradiotherapy (CRT). Indoleamine 2,3-dioxygenase 1, PD-L1, and CD8+ TIL statuses were evaluated by immunohistochemical analysis on pre-CRT biopsies of 158 patients. Sixty-eight patients (43.0%) achieved pCR after neoadjuvant CRT and 48 patients (30.4%) developed recurrences after surgery. IDO1 and PD-L1 proteins were co-expressed in 28 patients (17.7%). Indoleamine 2,3-dioxygenase 1 positive patients showed a significantly lower pCR rate than IDO1 negative patients (28.6% vs. 51.0%,
P
= 0.007). Similarly, PD-L1 high expression was significantly negatively correlated with pCR rate (27.3% vs. 51.5%,
P
= 0.004). On multivariate analysis, IDO1 expression was an independent prognostic factor for developing recurrences. Stratification analysis revealed that patients with co-expression of IDO1 and PD-L1 were significantly associated with a lower pCR rate and worse recurrence-free survival than those with one or none positive protein. In conclusion, IDO1 and PD-L1 co-expression could predict poor pathologic response and high risk of recurrence in ESCC after neoadjuvant CRT, indicating a subset of patients who may benefit from CRT combined with immunotherapy.
View Full-Text
►

▼

Figures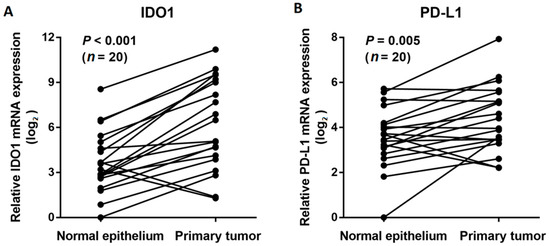 Figure 1
This is an open access article distributed under the
Creative Commons Attribution License
which permits unrestricted use, distribution, and reproduction in any medium, provided the original work is properly cited (CC BY 4.0).

Share & Cite This Article
MDPI and ACS Style
Zhou, S.; Zhao, L.; Liang, Z.; Liu, S.; Li, Y.; Liu, S.; Yang, H.; Liu, M.; Xi, M. Indoleamine 2,3-dioxygenase 1 and Programmed Cell Death-ligand 1 Co-expression Predicts Poor Pathologic Response and Recurrence in Esophageal Squamous Cell Carcinoma after Neoadjuvant Chemoradiotherapy. Cancers 2019, 11, 169.
Note that from the first issue of 2016, MDPI journals use article numbers instead of page numbers. See further details here.
Related Articles
Comments
[Return to top]