Development of a Thermoelectric and Electromagnetic Hybrid Energy Harvester from Water Flow in an Irrigation System
1
School of Mechanical and Electric Engineering, Jiangsu Provincial Key Laboratory of Advanced Robotics, Soochow University, Suzhou 215123, China
2
Department of Electrical & Computer Engineering, National University of Singapore, 4 Engineering Drive 3, Singapore 117576, Singapore
3
Center for Intelligent Sensors and MEMS, National University of Singapore, E6 #05-11F, 5 Engineering Drive 1, Singapore 117608, Singapore
4
Hybrid-Integrated Flexible (Stretchable) Electronic Systems Program, National University of Singapore, E6 #05-4, 5 Engineering Drive 1, Singapore 117608, Singapore
5
National University of Singapore Suzhou Research Institute (NUSRI), Suzhou Industrial Park, Suzhou 215123, China
6
Faculty of Microsystem Electronics and Photonics, Wroclaw University of Science and Technology, 11/17 Janiszewskiego Street, Wroclaw 50-372, Poland
*
Authors to whom correspondence should be addressed.
Received: 6 July 2018 / Revised: 28 July 2018 / Accepted: 7 August 2018 / Published: 9 August 2018
Abstract
A hybrid energy harvester is presented in this paper to harvest energy from water flow motion and temperature difference in an irrigating pipe at the same time. The harvester is based on the integration of thermoelectric and electromagnetic mechanisms. To harvest the water flow motion, a turbine fan with magnets that are attached on the blades is placed inside of the water pipe. Multiple coils turn the water flow energy into electricity with the rotation of the turbine. The thermoelectric generators (TEGs) are attached around the pipe, so as to harvest energy due to temperature difference. For a maximum temperature difference of 55 °C (hot side 80 °C and room temperature 25 °C), twelve serial-connected TEGs can generate voltage up to 0.346 V. Under a load resistance of 20 Ώ, the power output of 1.264 mW can be achieved. For a maximum water flow rate of 49.9 L/min, the electromagnetic generator (EMG) can produce an open circuit voltage of 0.911 V. The EMG can be potentially used as a water flow meter due to the linear relationship between water flow rate and output voltage. Under the joint action of TEG and EMG, the maximum terminal voltage for TEG is 66 mV and for EMG is 241 mV at load resistances of 10 and 100 Ώ, respectively, resulting in a corresponding power output of 0.435 and 0.584 mW.
View Full-Text
►

▼

Figures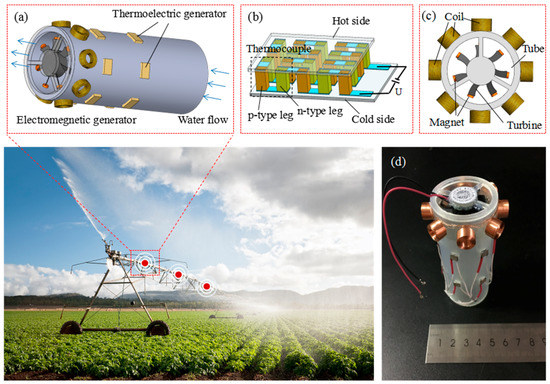 Figure 1
This is an open access article distributed under the
Creative Commons Attribution License
which permits unrestricted use, distribution, and reproduction in any medium, provided the original work is properly cited (CC BY 4.0).

Share & Cite This Article
MDPI and ACS Style
Liu, H.; Zhang, J.; Shi, Q.; He, T.; Chen, T.; Sun, L.; Dziuban, J.A.; Lee, C. Development of a Thermoelectric and Electromagnetic Hybrid Energy Harvester from Water Flow in an Irrigation System. Micromachines 2018, 9, 395.
Note that from the first issue of 2016, MDPI journals use article numbers instead of page numbers. See further details here.
Related Articles
Comments
[Return to top]