Growth Process and CQDs-modified Bi4Ti3O12 Square Plates with Enhanced Photocatalytic Performance
1
State Key Laboratory of Advanced Processing and Recycling of Non-ferrous Metals, Lanzhou University of Technology, Lanzhou 730050, China
2
Joint Laboratory for Extreme Conditions Matter Properties, Southwest University of Science and Technology, Mianyang 621010, China
*
Author to whom correspondence should be addressed.
Received: 27 December 2018 / Revised: 9 January 2019 / Accepted: 16 January 2019 / Published: 18 January 2019
Abstract
Bi
4
Ti
3
O
12
square plates were synthesized via a hydrothermal route, and their growth process was systematically investigated. Carbon quantum dots (CQDs) were prepared using glucose as the carbon source, which were then assembled on the surface of Bi
4
Ti
3
O
12
square plates via a hydrothermal route with the aim of enhancing the photocatalytic performance. XRD (X-ray powder diffraction), SEM (scanning electron microscopy), TEM (transmission electron microscopy), UV-vis DRS (diffuse reflectance spectroscopy), XPS (X-ray photoelectron spectroscopy), FTIR (Fourier transform infrared spectroscopy), PL (photoluminescence) spectroscopy, EIS (electrochemical impedance spectroscopy) and photocurrent spectroscopy were used to systematically characterize the as-prepared samples. It is demonstrated that the decoration of CQDs on Bi
4
Ti
3
O
12
plates leads to an increased visible light absorption, slightly increased bandgap, increased photocurrent density, decreased charge-transfer resistance, and decreased PL intensity. Simulated sunlight and visible light were separately used as a light source to evaluate the photocatalytic activity of the samples toward the degradation of RhB in aqueous solution. Under both simulated sunlight and visible light irradiation,
[email protected]
4
Ti
3
O
12
composites with an appropriate amount of CQDs exhibit obviously enhanced photocatalytic performance. However, the decoration of excessive CQDs gives rise to a decrease in the photocatalytic activity. The enhanced photocatalytic activity of CQDs-modified Bi
4
Ti
3
O
12
can be attributed to the following reasons: (1) The electron transfer between Bi
4
Ti
3
O
12
and CQDs promotes an efficient separation of photogenerated electron/hole pairs in Bi
4
Ti
3
O
12
; (2) the up-conversion photoluminescence emitted from CQDs could induce the generation of additional electron/hole pairs in Bi
4
Ti
3
O
12
; and (3) the photoexcited electrons in CQDs could participate in the photocatalytic reactions.
View Full-Text
►

▼

Figures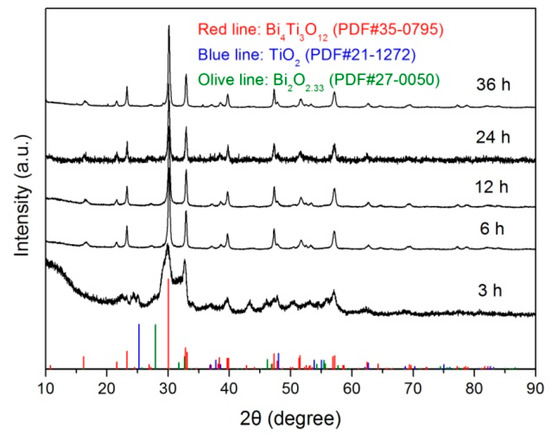 Figure 1
This is an open access article distributed under the
Creative Commons Attribution License
which permits unrestricted use, distribution, and reproduction in any medium, provided the original work is properly cited (CC BY 4.0).

Share & Cite This Article
MDPI and ACS Style
Zhao, X.; Yang, H.; Cui, Z.; Wang, X.; Yi, Z. Growth Process and CQDs-modified Bi4Ti3O12 Square Plates with Enhanced Photocatalytic Performance. Micromachines 2019, 10, 66.
Note that from the first issue of 2016, MDPI journals use article numbers instead of page numbers. See further details here.
Related Articles
Comments
[Return to top]