Targeting Colorectal Cancer Proliferation, Stemness and Metastatic Potential Using
Brassicaceae

Extracts Enriched in Isothiocyanates: A 3D Cell Model-Based Study

1

iBET, Instituto de Biologia Experimental e Tecnológica, Apartado 12, 2780-901 Oeiras, Portugal

2

Instituto de Tecnologia Química e Biológica António Xavier, Universidade Nova de Lisboa (ITQB NOVA), 2780-157 Oeiras, Portugal

3

Unidade de Investigação em Patobiologia Molecular (UIPM), Instituto Português de Oncologia de Lisboa Francisco Gentil, E.P.E (IPOLFG, EPE), 1099-023 Lisboa, Portugal

*

Authors to whom correspondence should be addressed.

Received: 1 March 2017 / Revised: 23 March 2017 / Accepted: 1 April 2017 / Published: 10 April 2017
Abstract
Colorectal cancer (CRC) recurrence is often attributable to circulating tumor cells and/or cancer stem cells (CSCs) that resist to conventional therapies and foster tumor progression. Isothiocyanates (ITCs) derived from
Brassicaceae
vegetables have demonstrated anticancer effects in CRC, however little is known about their effect in CSCs and tumor initiation properties. Here we examined the effect of ITCs-enriched
Brassicaceae
extracts derived from watercress and broccoli in cell proliferation, CSC phenotype and metastasis using a previously developed three-dimensional HT29 cell model with CSC-like traits. Both extracts were phytochemically characterized and their antiproliferative effect in HT29 monolayers was explored. Next, we performed cell proliferation assays and flow cytometry analysis in HT29 spheroids treated with watercress and broccoli extracts and respective main ITCs, phenethyl isothiocyanate (PEITC) and sulforaphane (SFN). Soft agar assays and relative quantitative expression analysis of stemness markers and Wnt/β-catenin signaling players were performed to evaluate the effect of these phytochemicals in stemness and metastasis. Our results showed that both
Brassicaceae
extracts and ITCs exert antiproliferative effects in HT29 spheroids, arresting cell cycle at G
2
/M, possibly due to ITC-induced DNA damage. Colony formation and expression of LGR5 and CD133 cancer stemness markers were significantly reduced. Only watercress extract and PEITC decreased ALDH1 activity in a dose-dependent manner, as well as β-catenin expression. Our research provides new insights on CRC therapy using ITC-enriched
Brassicaceae
extracts, specially watercress extract, to target CSCs and circulating tumor cells by impairing cell proliferation, ALDH1-mediated chemo-resistance, anoikis evasion, self-renewal and metastatic potential.
View Full-Text
►

▼

Figures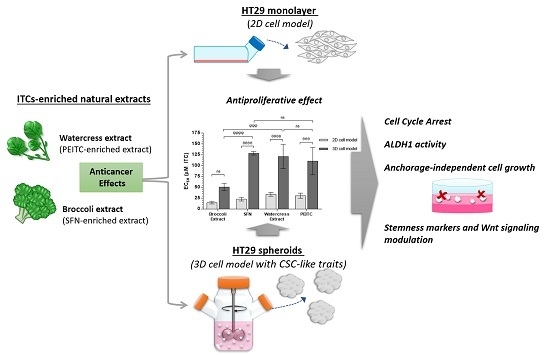 Graphical abstract
This is an open access article distributed under the
Creative Commons Attribution License
which permits unrestricted use, distribution, and reproduction in any medium, provided the original work is properly cited (CC BY 4.0).

Share & Cite This Article
MDPI and ACS Style
Pereira, L.P.; Silva, P.; Duarte, M.; Rodrigues, L.; Duarte, C.M.M.; Albuquerque, C.; Serra, A.T. Targeting Colorectal Cancer Proliferation, Stemness and Metastatic Potential Using Brassicaceae Extracts Enriched in Isothiocyanates: A 3D Cell Model-Based Study. Nutrients 2017, 9, 368.
Note that from the first issue of 2016, MDPI journals use article numbers instead of page numbers. See further details here.
Related Articles
Comments
[Return to top]