The Relative Validity of the Menzies Remote Short-Item Dietary Assessment Tool (MRSDAT) in Aboriginal Australian Children Aged 6–36 Months
1
Nutrition Program, Wellbeing and Preventable Chronic Disease, Menzies School of Health Research, Casuarina 0810, Northern Territory, Australia
2
Nutrition and Dietetics, College of Nursing and Health Sciences, Flinders University, Bedford Park 5042, Australia
3
Institute of Health and Biomedical Innovation, Centre for Children's Health Research, Queensland University of Technology, Brisbane 4101, Australia
4
Child Health, Menzies School of Health Research, Casuarina 0810, Northern Territory, Australia
5
Department of Medicine at the Peter Doherty Institute for Infection and Immunity, The University of Melbourne, Victoria 3010, Australia
6
Nutrition, Dietetics and Food, Faculty of Medicine, Nursing and Health Sciences, Monash University, Victoria 3168, Australia
*
Author to whom correspondence should be addressed.
Received: 26 March 2018 / Revised: 7 May 2018 / Accepted: 8 May 2018 / Published: 10 May 2018
Abstract
The Menzies Remote Short-item Dietary Assessment Tool (MRSDAT) can be used to derive a dietary index score, which measures the degree of compliance with the Australian Dietary Guidelines. This study aimed to determine the relative validity of a dietary index score for children aged 6–24 months, living in a Remote Aboriginal Community (RAC), derived using MRSDAT. This validation study compared dietary index scores derived using MRSDAT with those derived from the average of three 24-h recalls. Participants were aged 6–36 months at the first dietary assessment and were living in a RAC. The level of agreement between the two methods was explored using Lin's concordance correlation coefficient (CCC), Bland-Altman plots, weighted Cohen's kappa, and Fischer's exact and paired
t
-tests. Forty participants were recruited. The CCC was poor between methods (
R
= 0.35, 95% CI 0.06, 0.58), with MRSDAT estimating higher dietary intake scores for all food groups except fruit, and higher dietary quality scores by an average of 4.78 points/100. Community-based Aboriginal researchers were central to this validation study. MRSDAT was within the performance range of other short-item dietary assessment tools developed for young children, and shows promise for use with very young children in RACs.
View Full-Text
►

▼

Figures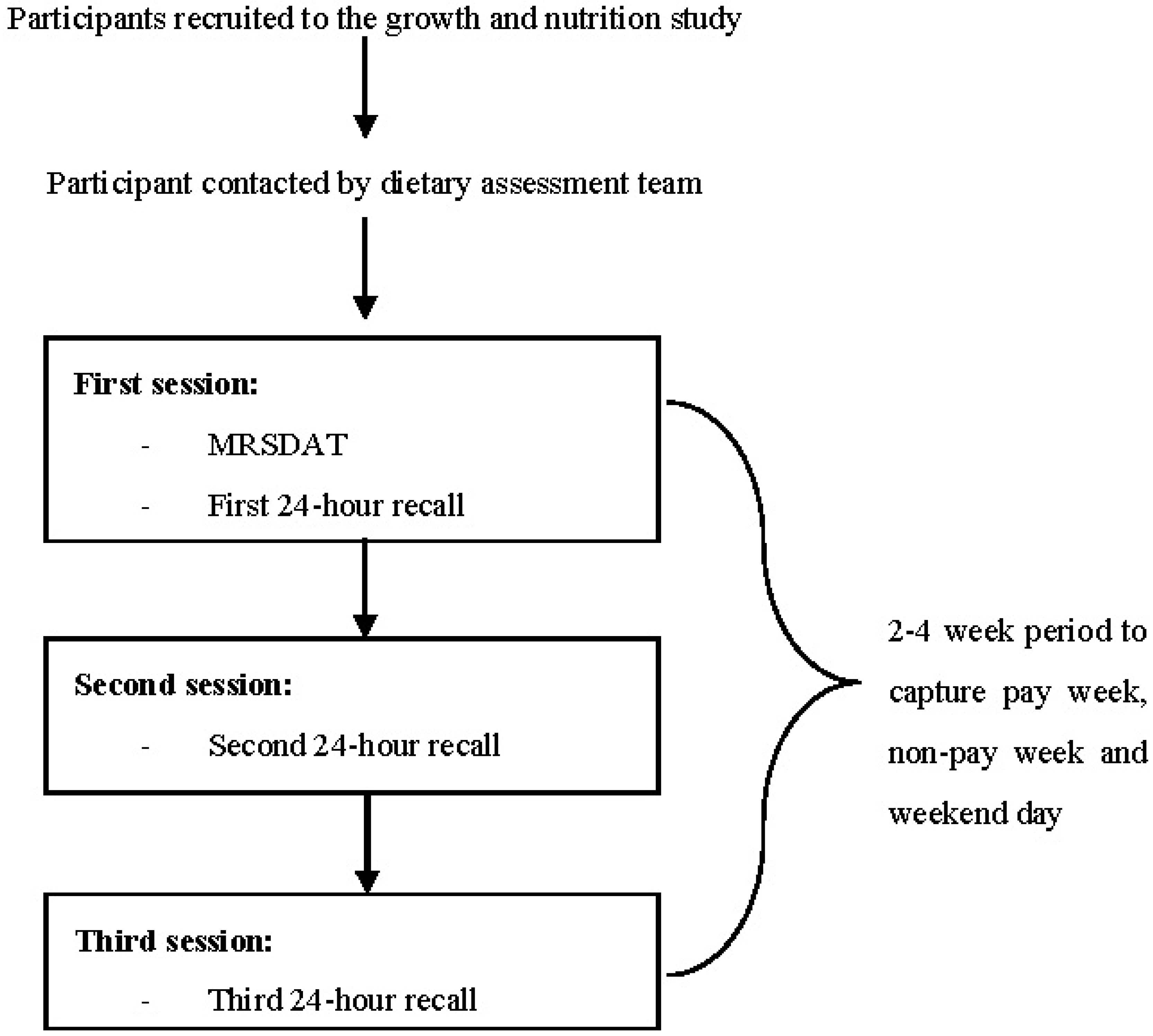 Figure 1
This is an open access article distributed under the
Creative Commons Attribution License
which permits unrestricted use, distribution, and reproduction in any medium, provided the original work is properly cited (CC BY 4.0).

Share & Cite This Article
MDPI and ACS Style
Tonkin, E.; Kennedy, D.; Golley, R.; Byrne, R.; Rohit, A.; Kearns, T.; Hanieh, S.; Biggs, B.-A.; Brimblecombe, J. The Relative Validity of the Menzies Remote Short-Item Dietary Assessment Tool (MRSDAT) in Aboriginal Australian Children Aged 6–36 Months. Nutrients 2018, 10, 590.
Note that from the first issue of 2016, MDPI journals use article numbers instead of page numbers. See further details here.
Related Articles
Comments
[Return to top]