Preterm Infant Feeding: A Mechanistic Comparison between a Vacuum Triggered Novel Teat and Breastfeeding
1
School of Molecular Sciences, Faculty of Science, The University of Western Australia, Perth, WA 6009, Australia
2
Centre for Neonatal Research and Education, School of Medicine, Faculty of Health and Medical Sciences, The University of Western Australia, Perth, WA 6009, Australia
3
The Neonatal Directorate, King Edward Memorial Hospital, Perth, WA 6008, Australia
*
Author to whom correspondence should be addressed.
Received: 12 February 2018 / Revised: 7 March 2018 / Accepted: 15 March 2018 / Published: 19 March 2018
Abstract
The goal for preterm infants is to achieve full oral feeds quickly and ultimately progress to full breastfeeding. Supplementary oral feeds are often given when the mother is not available to breastfeed. Bottles typically deliver milk in a different fashion compared to breastfeeding, which is thought to hamper transition to full breastfeeding. The aim of this study was to compare the sucking dynamics of preterm infants fed at the breast to feeding with an experimental novel teat (NT) designed to release milk only upon the application of vacuum. Simultaneous ultrasound imaging of the infant oral cavity and measurement of intra-oral vacuum was performed during a breastfeed and a feed with the NT. Test weighs were used to measure milk intake. Linear mixed effects models were performed to investigate differences by feed type, and simultaneous linear regression was performed to investigate individual patterns. Tongue movement was not different between breastfeeding and the NT. Intra-oral vacuums (median (interquartile range: IQR)) were significantly lower with the NT (Baseline vacuum: −5.8 mmHg (−11.0, 0.1); Peak: 40.0 mmHg (−54.6, −27.1)) compared to breastfeeding (Baseline: −31.1 mmHg (−60.0, −12.7); Peak: −106.2 mmHg (−153.0, −65.5)). Milk intake was significantly higher with the NT (33 mL (22.5, 42.5)) compared to the breastfeed (12 mL (3, 15.5)). The novel teat encouraged a similar tongue action to breastfeeding, and infants transferred a greater volume of milk with the novel teat. Intra-oral vacuums were lower in strength with the novel teat compared to the breast. Use of the novel teat for the training of sucking dynamics in preterm infants has the potential to improve breastfeeding success and requires further investigation.
View Full-Text
►

▼

Figures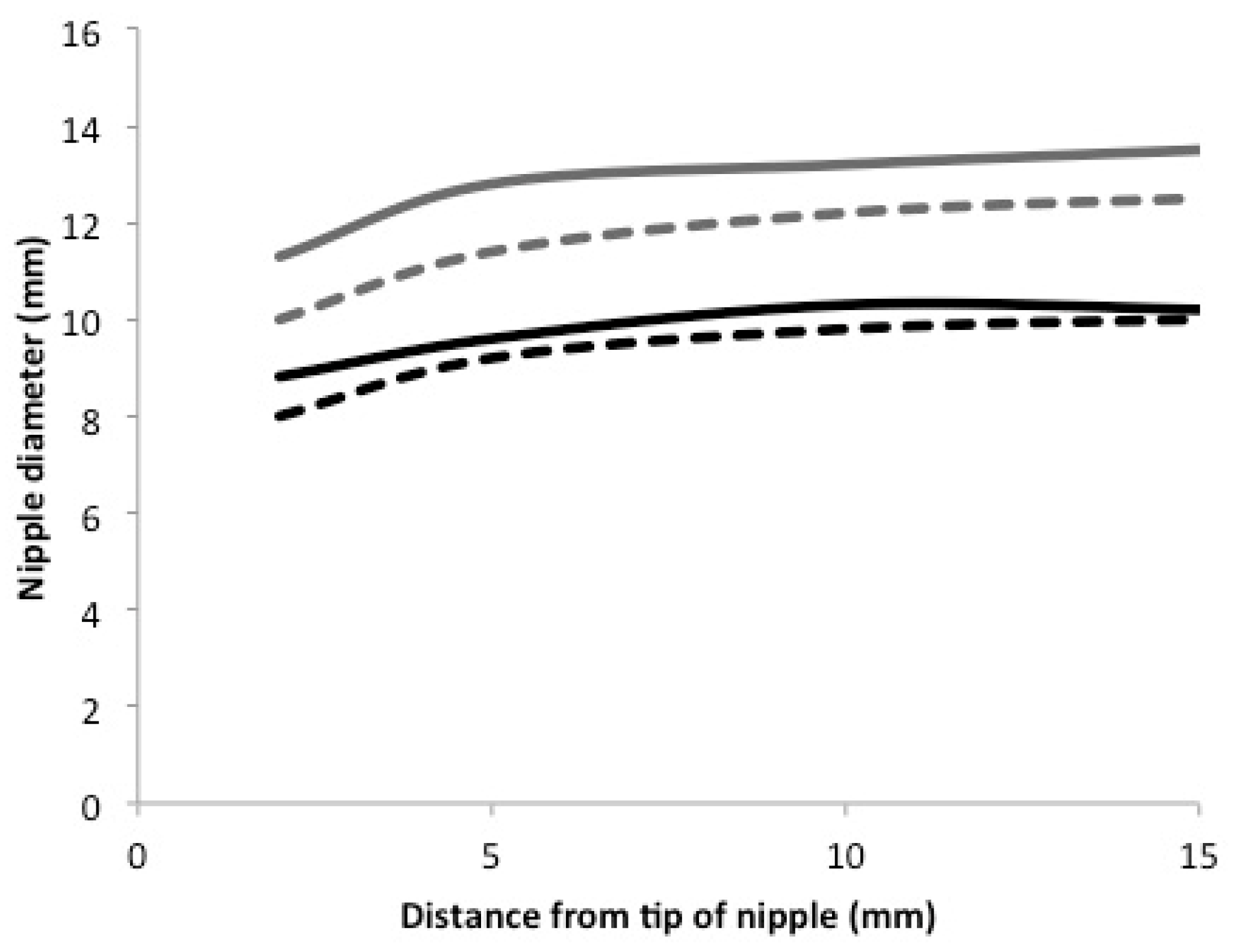 Figure 1
This is an open access article distributed under the
Creative Commons Attribution License
which permits unrestricted use, distribution, and reproduction in any medium, provided the original work is properly cited (CC BY 4.0).

Share & Cite This Article
MDPI and ACS Style
Geddes, D.; Kok, C.; Nancarrow, K.; Hepworth, A.; Simmer, K. Preterm Infant Feeding: A Mechanistic Comparison between a Vacuum Triggered Novel Teat and Breastfeeding. Nutrients 2018, 10, 376.
Note that from the first issue of 2016, MDPI journals use article numbers instead of page numbers. See further details here.
Related Articles
Comments
[Return to top]