Integration of PSI, MAI, and Intensity-Based Sub-Pixel Offset Tracking Results for Landslide Monitoring with X-Band Corner Reflectors—Italian Alps (Corvara)
1
Institute for Earth Observation, Eurac Research, 39100 Bolzano-Bozen, Italy
2
Department of Information Engineering and Computer Science, University of Trento, 38122 Trento, Italy
3
ESA Climate Office, European Centre for Space Applications and Telecommunications (ECSAT), Didcot OX11 0FD, UK
*
Author to whom correspondence should be addressed.
Received: 17 January 2018 / Revised: 23 February 2018 / Accepted: 1 March 2018 / Published: 6 March 2018
Abstract
This paper presents an analysis of the integration between interferometric and intensity-offset tracking-based SAR remote sensing for landslide hazard mitigation in the Italian Alps. Despite the advantages of Synthetic Aperture Radar Interferometry (InSAR) methods for quantifying landslide deformation, some limitations remain. The temporal decorrelation, the 1-D Line Of Sight (LOS) observation restriction, the high velocity rate and the multi-directional movement properties make it difficult to monitor accurately complex landslides in areas covered by vegetation. Therefore, complementary and integrated approaches, such as offset tracking-based techniques, are needed to overcome these InSAR limitations for monitoring ground surface deformations. As sub-pixel offset tracking is highly sensitive to data spatial resolution, the latest generations of SAR sensors, such as TerraSAR-X and COSMO-SkyMed, open interesting perspective for a more accurate hazard assessment. In this paper, we consider high-resolution X-band data acquired by the COSMO-SkyMed (CSK) constellation for Permanent Scatterers Interferometry (PSI), Multi-Aperture Interferometry (MAI) and offset tracking processing. We analyze the offset tracking techniques considering area and feature-based matching algorithms to evaluate their applicability to CSK data by improving sub-pixel offset estimations. To this end, PSI and MAI are used for extracting LOS and azimuthal displacement components. Then, four well-known area-based and five feature-based matching algorithms (taken from computer vision) are applied to 16 X-band corner reflectors. Results show that offset estimation accuracy can be considerably improved up to less than 3% of the pixel size using the combination of the different feature-based detectors and descriptors. A sensitivity analysis of these techniques applied to CSK data to monitor complex landslides in the Italian Alps provides indications on advantages and disadvantages of each of them.
View Full-Text
►

▼

Figures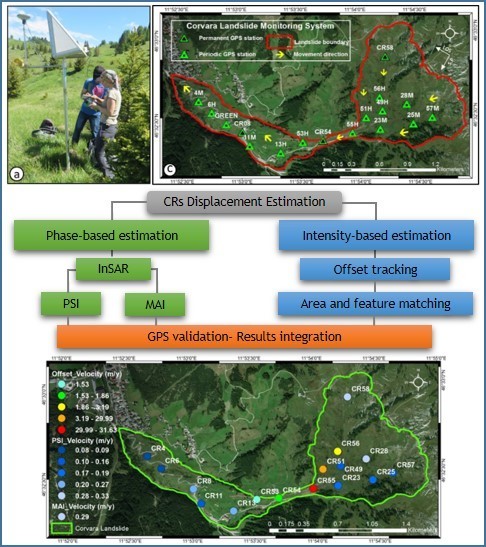 Graphical abstract
This is an open access article distributed under the
Creative Commons Attribution License
which permits unrestricted use, distribution, and reproduction in any medium, provided the original work is properly cited (CC BY 4.0).

Share & Cite This Article
MDPI and ACS Style
Darvishi, M.; Schlögel, R.; Bruzzone, L.; Cuozzo, G. Integration of PSI, MAI, and Intensity-Based Sub-Pixel Offset Tracking Results for Landslide Monitoring with X-Band Corner Reflectors—Italian Alps (Corvara). Remote Sens. 2018, 10, 409.
Note that from the first issue of 2016, MDPI journals use article numbers instead of page numbers. See further details here.
Related Articles
Comments
[Return to top]