Development and Evaluation of Alginate Membranes with Curcumin-Loaded Nanoparticles for Potential Wound-Healing Applications
1
Departamento de Farmacia, Facultad de Química, Universidad Nacional Autónoma de México, Ciudad Universitaria, Circuito Exterior S/N, Del. Coyoacán, Ciudad de México 04510, México
2
Laboratorio de Posgrado en Tecnología Farmacéutica, FES-Cuautitlán, Universidad Nacional Autónoma de México, Cuautitlán Izcalli 54740, México
3
Departamento de Biología Celular y Tisular, Facultad de Medicina, Universidad Nacional Autónoma de México (UNAM), Edificio "A" 3er piso, Circuito Interior, Avenida Universidad 3000, Ciudad Universitaria, Coyoacán, Ciudad de México 04510, México
4
Laboratorio de Medicina Genómica, Departamento de Genética, Instituto Nacional de Rehabilitación Luis Guillermo Ibarra Ibarra, Ciudad de México 14389, México
5
CONACyT-Laboratorio de Biotecnología, Instituto Nacional de Rehabilitación Luis Guillermo Ibarra Ibarra, Ciudad de México 14389, México
6
Instituto Tecnológico y de Estudios Superiores de Monterrey, Campus Ciudad de México 14380, México
7
Laboratorio de Biología Molecular del Cáncer, UMIEZ, Facultad de Estudios Superiores Zaragoza, Universidad Nacional Autónoma de México, Ciudad de México 09230, México
8
CONACyT-Laboratorio de Genómica, Dirección de Investigación, Instituto Nacional de Cancerología. Av. San Fernando 22, Tlalpan, Sección XVI, Ciudad de México 14080, México
9
Departamento de Fisiología, Biofísica & Neurociencias, Centro de Investigación y de Estudios Avanzados del Instituto Politécnico Nacional, Ciudad de México 07360, México
*
Author to whom correspondence should be addressed.
†
Mónica C. Guadarrama-Acevedo and Raisa A. Mendoza-Flores equally contributed as first authors to the present work.
Received: 6 June 2019 / Revised: 25 July 2019 / Accepted: 30 July 2019 / Published: 3 August 2019
Abstract
Non-biodegradable materials with a low swelling capacity and which are opaque and occlusive are the main problems associated with the clinical performance of some commercially available wound dressings. In this work, a novel biodegradable wound dressing was developed by means of alginate membrane and polycaprolactone nanoparticles loaded with curcumin for potential use in wound healing. Curcumin was employed as a model drug due to its important properties in wound healing, including antimicrobial, antifungal, and anti-inflammatory effects. To determine the potential use of wound dressing, in vitro, ex vivo, and in vivo studies were carried out. The novel membrane exhibited the diverse functional characteristics required to perform as a substitute for synthetic skin, such as a high capacity for swelling and adherence to the skin, evidence of pores to regulate the loss of transepidermal water, transparency for monitoring the wound, and drug-controlled release by the incorporation of nanoparticles. The incorporation of the nanocarriers aids the drug in permeating into different skin layers, solving the solubility problems of curcumin. The clinical application of this system would cover extensive areas of mixed first- and second-degree wounds, without the need for removal, thus decreasing the patient's discomfort and the risk of altering the formation of the new epithelium.
View Full-Text
►

▼

Figures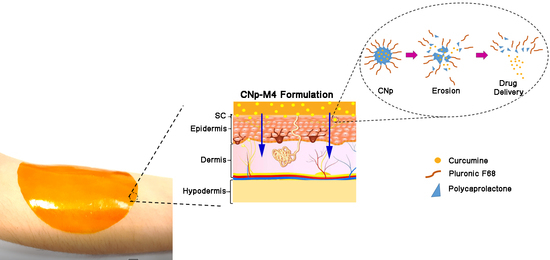 Graphical abstract
This is an open access article distributed under the
Creative Commons Attribution License
which permits unrestricted use, distribution, and reproduction in any medium, provided the original work is properly cited (CC BY 4.0).

Share & Cite This Article
MDPI and ACS Style
Guadarrama-Acevedo, M.C.; Mendoza-Flores, R.A.; Del Prado-Audelo, M.L.; Urbán-Morlán, Z.; Giraldo-Gomez, D.M.; Magaña, J.J.; González-Torres, M.; Reyes-Hernández, O.D.; Figueroa-González, G.; Caballero-Florán, I.H.; Florán-Hernández, C.D.; Florán, B.; Cortés, H.; Leyva-Gómez, G. Development and Evaluation of Alginate Membranes with Curcumin-Loaded Nanoparticles for Potential Wound-Healing Applications. Pharmaceutics 2019, 11, 389.
Note that from the first issue of 2016, MDPI journals use article numbers instead of page numbers. See further details here.
Related Articles
Comments
[Return to top]