Formulation, Colloidal Characterization, and In Vitro Biological Effect of BMP-2 Loaded PLGA Nanoparticles for Bone Regeneration
1
Biocolloid and Fluid Physics Group, Department of Applied Physics, University of Granada, 18071 Granada, Spain
2
Department of Oral Surgery and Implant Dentistry, University of Granada, 18071 Granada, Spain
3
Department of Pathology, School of Medicine & IBIMER, University of Granada, 18071 Granada, Spain
4
Excellence Research Unit "Modeling Nature" (MNat), University of Granada, 18071 Granada, Spain
5
Department of Applied Physics II, University of Malaga, 29071 Malaga, Spain
*
Author to whom correspondence should be addressed.
Received: 20 June 2019 / Revised: 15 July 2019 / Accepted: 31 July 2019 / Published: 3 August 2019
Abstract
Nanoparticles (NPs) based on the polymer poly (lactide-co-glycolide) acid (PLGA) have been widely studied in developing delivery systems for drugs and therapeutic biomolecules, due to the biocompatible and biodegradable properties of the PLGA. In this work, a synthesis method for bone morphogenetic protein (BMP-2)-loaded PLGA NPs was developed and optimized, in order to carry out and control the release of BMP-2, based on the double-emulsion (water/oil/water, W/O/W) solvent evaporation technique. The polymeric surfactant Pluronic F68 was used in the synthesis procedure, as it is known to have an effect on the reduction of the size of the NPs, the enhancement of their stability, and the protection of the encapsulated biomolecule. Spherical solid polymeric NPs were synthesized, showing a reproducible multimodal size distribution, with diameters between 100 and 500 nm. This size range appears to allow the protein to act on the cell surface and at the cytoplasm level. The effect of carrying BMP-2 co-adsorbed with bovine serum albumin on the NP surface was analyzed. The colloidal properties of these systems (morphology by SEM, hydrodynamic size, electrophoretic mobility, temporal stability, protein encapsulation, and short-term release profile) were studied. The effect of both BMP2-loaded NPs on the proliferation, migration, and osteogenic differentiation of mesenchymal stromal cells from human alveolar bone (ABSC) was also analyzed in vitro.
View Full-Text
►

▼

Figures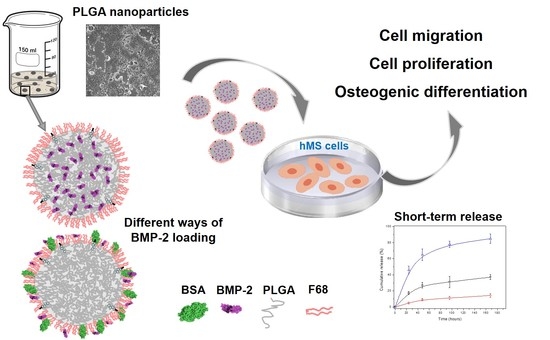 Graphical abstract
This is an open access article distributed under the
Creative Commons Attribution License
which permits unrestricted use, distribution, and reproduction in any medium, provided the original work is properly cited (CC BY 4.0).

Share & Cite This Article
MDPI and ACS Style
del Castillo-Santaella, T.; Ortega-Oller, I.; Padial-Molina, M.; O'Valle, F.; Galindo-Moreno, P.; Jódar-Reyes, A.B.; Peula-García, J.M. Formulation, Colloidal Characterization, and In Vitro Biological Effect of BMP-2 Loaded PLGA Nanoparticles for Bone Regeneration. Pharmaceutics 2019, 11, 388.
Note that from the first issue of 2016, MDPI journals use article numbers instead of page numbers. See further details here.
Related Articles
Comments
[Return to top]