Controlled Drug Delivery Systems for Oral Cancer Treatment—Current Status and Future Perspectives
1
Laboratory of Oral, Head and Neck Cancer—Personalized Diagnostics and Therapeutics, Department of Surgery—Division of Head and Neck Surgery, College of Medicine, University of Saskatchewan, Saskatoon, SK S7N 5E5, Canada
2
Laboratory of Precision Oral Health and Chronobiology, College of Dentistry, University of Saskatchewan, Saskatoon, SK S7N 5E4, Canada
3
Division of Biomedical Engineering, University of Saskatchewan, Saskatoon, SK S7K 5A9, Canada
4
Center for Biomedical Engineering, Massachusetts Institute of Technology, Cambridge, MA 02139, USA
5
Departmnet of Radiology, School of Medicine, University of Michigan, Ann Arbor, MI 48109, USA
6
Department of Mechanical Engineering, University of Saskatchewan, Saskatoon, SK S7K 5A9, Canada
7
Department of Otolaryngology-Head and Neck Surgery, School of Medicine, University of Michigan, Ann Arbor, MI 48109, USA
*
Author to whom correspondence should be addressed.
Received: 9 June 2019 / Revised: 25 June 2019 / Accepted: 26 June 2019 / Published: 30 June 2019
Abstract
Oral squamous cell carcinoma (OSCC), which encompasses the oral cavity-derived malignancies, is a devastating disease causing substantial morbidity and mortality in both men and women. It is the most common subtype of the head and neck squamous cell carcinoma (HNSCC), which is ranked the sixth most common malignancy worldwide. Despite promising advancements in the conventional therapeutic approaches currently available for patients with oral cancer, many drawbacks are still to be addressed; surgical resection leads to permanent disfigurement, altered sense of self and debilitating physiological consequences, while chemo- and radio-therapies result in significant toxicities, all affecting patient wellbeing and quality of life. Thus, the development of novel therapeutic approaches or modifications of current strategies is paramount to improve individual health outcomes and survival, while early tumour detection remains a priority and significant challenge. In recent years, drug delivery systems and chronotherapy have been developed as alternative methods aiming to enhance the benefits of the current anticancer therapies, while minimizing their undesirable toxic effects on the healthy non-cancerous cells. Targeted drug delivery systems have the potential to increase drug bioavailability and bio-distribution at the site of the primary tumour. This review confers current knowledge on the diverse drug delivery methods, potential carriers (e.g., polymeric, inorganic, and combinational nanoparticles; nanolipids; hydrogels; exosomes) and anticancer targeted approaches for oral squamous cell carcinoma treatment, with an emphasis on their clinical relevance in the era of precision medicine, circadian chronobiology and patient-centred health care.
View Full-Text
►

▼

Figures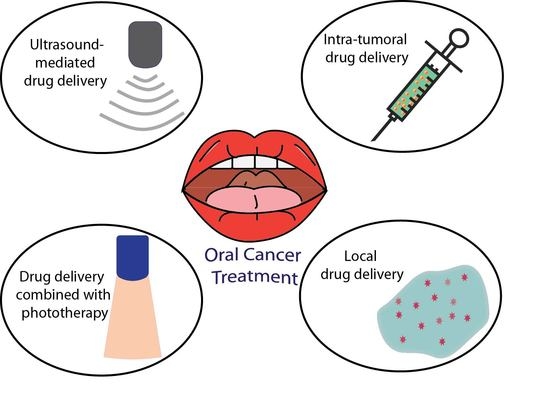 Graphical abstract
This is an open access article distributed under the
Creative Commons Attribution License
which permits unrestricted use, distribution, and reproduction in any medium, provided the original work is properly cited (CC BY 4.0).

Share & Cite This Article
MDPI and ACS Style
Ketabat, F.; Pundir, M.; Mohabatpour, F.; Lobanova, L.; Koutsopoulos, S.; Hadjiiski, L.; Chen, X.; Papagerakis, P.; Papagerakis, S. Controlled Drug Delivery Systems for Oral Cancer Treatment—Current Status and Future Perspectives. Pharmaceutics 2019, 11, 302.
Note that from the first issue of 2016, MDPI journals use article numbers instead of page numbers. See further details here.
Related Articles
Comments
[Return to top]