Entrapment of
N

-Hydroxyphthalimide Carbon Dots in Different Topical Gel Formulations: New Composites with Anticancer Activity

1

Department of Natural and Synthetic Polymers, Faculty of Chemical Engineering and Environmental Protection, "Gheorghe Asachi" Technical University of Iasi, 71, Prof., Dr. Docent Dimitrie Mangeron Street, 700050 Iasi, Romania

2

Regional Institute of Oncology, 2-4, General Henri Mathias Berthelot Street, 700483 Iasi, Romania

3

"Petru Poni" Institute of Macromolecular Chemistry, 41A Aleea Grigore Ghica Vodă street, 700487 Iasi, Romania

*

Authors to whom correspondence should be addressed.

Received: 7 May 2019 / Revised: 21 June 2019 / Accepted: 23 June 2019 / Published: 1 July 2019
Abstract
In the present study, the antitumoral potential of three gel formulations loaded with carbon dots prepared from
N
-hydroxyphthalimide (CD-NHF) was examined and the influence of the gels on two types of skin melanoma cell lines and two types of breast cancer cell lines in 2D (cultured cells in normal plastic plates) and 3D (Matrigel) models was investigated. Antitumoral gels based on sodium alginate (AS), carboxymethyl cellulose (CMC), and the carbomer Ultrez 10 (CARB) loaded with CD-NHF were developed according to an adapted method reported by Hellerbach. Viscoelastic properties of CD-NHF-loaded gels were analyzed by rheological analysis. Also, for both CD-NHF and CD-NHF-loaded gels, the fluorescence properties were analyzed. Cell proliferation, apoptosis, and mitochondrial activity were analyzed according to basic methods used to evaluate modulatory activities of putative anticancer agents, which include reference cancer cell line culture assays in both classic 2D and 3D cultures. Using the rheological measurements, the mechanical properties of gel formulations were analyzed; all samples presented gel-like rheological characteristics. The presence of CD-NHF within the gels induces a slight decrease of the dynamic moduli, indicating a flexible gel structure. The fluorescence investigations showed that for the gel-loaded CD-NHF, the most intense emission peak was located at 370 nm (upon excitation at 330 nm). 3D cell cultures displayed visibly larger structure of tumor cells with less active phenotype appearance. The in vitro results for tested CD-NHF-loaded gel formulations revealed that the new composites are able to affect the number, size, and cellular organization of spheroids and impact individual tumor cell ability to proliferate and aggregate in spheroids.
View Full-Text
►

▼

Figures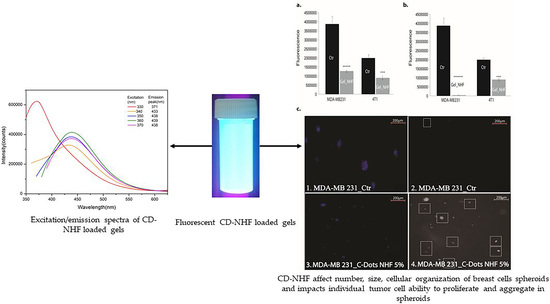 Graphical abstract
This is an open access article distributed under the
Creative Commons Attribution License
which permits unrestricted use, distribution, and reproduction in any medium, provided the original work is properly cited (CC BY 4.0).

Share & Cite This Article
MDPI and ACS Style
Savin, C.-L.; Tiron, C.; Carasevici, E.; Stan, C.S.; Ibanescu, S.A.; Simionescu, B.C.; Peptu, C.A. Entrapment of N-Hydroxyphthalimide Carbon Dots in Different Topical Gel Formulations: New Composites with Anticancer Activity. Pharmaceutics 2019, 11, 303.
Note that from the first issue of 2016, MDPI journals use article numbers instead of page numbers. See further details here.
Related Articles
Comments
[Return to top]