Cyprinid Herpesvirus 3

Evolves in vitro through an Assemblage of Haplotypes that Alternatively become Dominant or Under-Represented

1

Institute of Infectology, Friedrich-Loeffer-Institut, Federal Research Institute for Animal Health, 17493 Greifswald-Insel Riems, Germany

2

ISEM, IRD, CNRS, EPHE, University of Montpellier, 34095 Montpellier, France

3

Institute of Molecular Virology and Cell Biology, Friedrich Loeffer Institut, Federal Research Institute for Animal Health, 17493 Greifswald-Insel Riems, Germany

4

Research Institute for Freshwater Aquaculture and Fisheries Extension, Bogor 16129, Indonesia

5

GenReach Biotechnology, Taichung City 407, Taiwan

6

Faculty of Sciences, University of Montpellier, 34095 Montpellier, France

7

DGIMI, University of Montpellier, INRA, 34095 Montpellier, France

*

Authors to whom correspondence should be addressed.

Received: 28 June 2019 / Revised: 8 August 2019 / Accepted: 11 August 2019 / Published: 15 August 2019
Abstract
Viruses are able to evolve in vitro by mutations after serial passages in cell cultures, which can lead to either a loss, or an increase, of virulence. Cyprinid herpesvirus 3 (CyHV-3), a 295-kb double-stranded DNA virus, is the etiological agent of the koi herpesvirus disease (KHVD). To assess the influence of serial passages, an isolate of CyHV-3 (KHV-T) was passaged 99 times onto common carp brain (CCB) cells, and virus virulence was evaluated during passages through the experimental infections of common carp. After 78 CCB passages, the isolate was much less virulent than the original form. A comparative genomic analysis of these three forms of KHV-T (P0, P78 and P99) revealed a limited number of variations. The largest one was a deletion of 1363 bp in the predicted ORF150, which was detected in P78, but not in P99. This unexpected finding was confirmed by conventional PCR and digital PCR. The results presented here primarily suggest that, CyHV-3 evolves, at least in vitro, through an assemblage of haplotypes that alternatively become dominant or under-represented.
View Full-Text
►

▼

Figures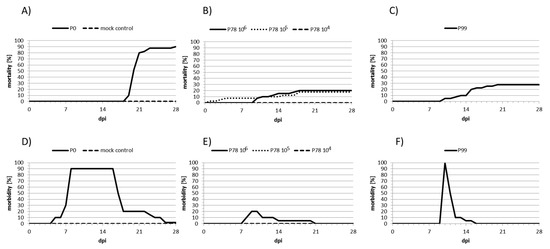 Figure 1
This is an open access article distributed under the
Creative Commons Attribution License
which permits unrestricted use, distribution, and reproduction in any medium, provided the original work is properly cited (CC BY 4.0).

Share & Cite This Article
MDPI and ACS Style
Klafack, S.; Fiston-Lavier, A.-S.; Bergmann, S.M.; Hammoumi, S.; Schröder, L.; Fuchs, W.; Lusiastuti, A.; Lee, P.-Y.; Heredia, S.V.; Master student consortium; Gosselin-Grenet, A.-S.; Avarre, J.-C. Cyprinid Herpesvirus 3 Evolves in vitro through an Assemblage of Haplotypes that Alternatively become Dominant or Under-Represented. Viruses 2019, 11, 754.
Note that from the first issue of 2016, MDPI journals use article numbers instead of page numbers. See further details here.
Related Articles
Comments
[Return to top]