A Single Mutation N166D in Hemagglutinin Affects Antigenicity and Pathogenesis of H9N2 Avian Influenza Virus
1
Key Laboratory of Jiangsu Preventive Veterinary Medicine, Key Laboratory for Avian Preventive Medicine, Ministry of Education, College of Veterinary Medicine, Yangzhou University, Yangzhou 225009, China
2
Jiangsu Co-innovation Centre for Prevention and Control of Important Animal Infectious Diseases and Zoonosis, Yangzhou 225009, China
3
Joint International Research Laboratory of Agriculture and Agri-Product Safety, the Ministry of Education of China, Yangzhou University, Yangzhou 225009, China
4
Institutes of Agricultural Science and Technology Development, Yangzhou University, Yangzhou 225009, China
5
College of Animal Science and Technology, Yangzhou University, Yangzhou 225009, China
6
Sinopharm Yangzhou VAC Biological Engineering Co. Ltd., Yangzhou 225127, China
*
Author to whom correspondence should be addressed.
Received: 29 June 2019 / Revised: 29 July 2019 / Accepted: 31 July 2019 / Published: 2 August 2019
Abstract
Some immune escape mutants of H9N2 virus and the corresponding mutations in hemagglutinin (HA) have been documented, but little is known about the impact of a single mutation on the antigenicity and pathogenesis of H9N2. In this study, seven critical sites in HA associated with the antigenicity were identified and the effects of a HA mutation (N166D) derived from a H9N2 escape mutant (m3F2) were investigated. Although N166D did not significantly affect viral replication in Madin–Darby canine kidney (MDCK) cells and viral shedding in the larynx and cloaca of chicken, N166D attenuated the pathogenesis of the virus in mice. Compared to the rescued RgPR8-H9_166D, RgPR8-H9_166N caused greater body weight loss and higher viral titers in the lungs of the infected mice. Moreover, hemagglutination inhibition (HI) assay for the sera from the chickens infected with wild type H9N2 and mutant m3F2 showed that N166D mutation could result in weak antibody response in chickens. Considering the field strains of H9N2 with N166D mutation are frequently isolated in the countries with H9N2 vaccination, the findings that the single mutation in HA, N166D, affected both the antigenicity and pathogenesis of H9N2 highlight the significance of surveillance on such mutation that may contribute to the failure of H9N2 vaccination in the field.
View Full-Text
►

▼

Figures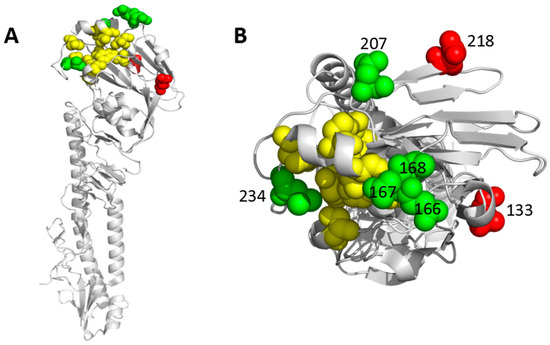 Figure 1
This is an open access article distributed under the
Creative Commons Attribution License
which permits unrestricted use, distribution, and reproduction in any medium, provided the original work is properly cited (CC BY 4.0).

Share & Cite This Article
MDPI and ACS Style
Jin, F.; Dong, X.; Wan, Z.; Ren, D.; Liu, M.; Geng, T.; Zhang, J.; Gao, W.; Shao, H.; Qin, A.; Ye, J. A Single Mutation N166D in Hemagglutinin Affects Antigenicity and Pathogenesis of H9N2 Avian Influenza Virus. Viruses 2019, 11, 709.
Note that from the first issue of 2016, MDPI journals use article numbers instead of page numbers. See further details here.
Related Articles
Comments
[Return to top]