Importance of the Host Phenotype on the Preservation of the Genetic Diversity in Codling Moth Granulovirus
1
LGEI, Ecole des Mines d'Alès, Institut Mines-Telecom et Université de Montpellier Sud de France, 6 Avenue de Clavières, 30319 Alès, France
2
Natural Plant Protection, Arysta LifeScience group, Avenue Léon Blum, 64000 Pau, France
3
INRA, 6, Avenue de Clavières, 30319 Alès, France
4
INRA, unité PSH, Agroparc, CEDEX 9, 84914 Avignon, France
*
Author to whom correspondence should be addressed.
†
Present address: Bioline agrosciences, 1306 route de Biot, 06560 Valbonne, France.
Received: 22 May 2019 / Revised: 24 June 2019 / Accepted: 2 July 2019 / Published: 5 July 2019
Abstract
To test the importance of the host genotype in maintaining virus genetic diversity, five experimental populations were constructed by mixing two
Cydia pomonella
granulovirus isolates, the Mexican isolate CpGV-M and the CpGV-R5, in ratios of 99% M + 1% R, 95% M + 5% R, 90% M + 10% R, 50% M + 50% R, and 10% M + 90% R. CpGV-M and CpGV-R5 differ in their ability to replicate in codling moth larvae carrying the type I resistance. This ability is associated with a genetic marker located in the virus
pe38
gene. Six successive cycles of replication were carried out with each virus population on a fully-permissive codling moth colony (CpNPP), as well as on a host colony (R
GV
) that carries the type I resistance, and thus blocks CpGV-M replication. The infectivity of offspring viruses was tested on both hosts. Replication on the CpNPP leads to virus lineages preserving the
pe38
markers characteristic of both isolates, while replication on the R
GV
colony drastically reduces the frequency of the CpGV-M
pe38
marker. Virus progeny obtained after replication on CpNPP show consistently higher pathogenicity than that of progeny viruses obtained by replication on R
GV
, independently of the host used for testing.
View Full-Text
►

▼

Figures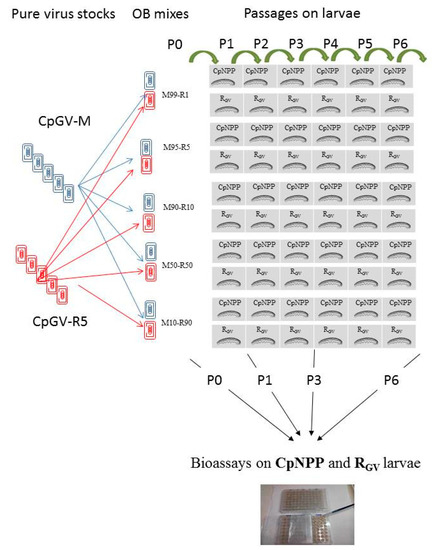 Figure 1
This is an open access article distributed under the
Creative Commons Attribution License
which permits unrestricted use, distribution, and reproduction in any medium, provided the original work is properly cited (CC BY 4.0).

Share & Cite This Article
MDPI and ACS Style
Graillot, B.; Blachere-López, C.; Besse, S.; Siegwart, M.; López-Ferber, M. Importance of the Host Phenotype on the Preservation of the Genetic Diversity in Codling Moth Granulovirus. Viruses 2019, 11, 621.
Note that from the first issue of 2016, MDPI journals use article numbers instead of page numbers. See further details here.
Related Articles
Comments
[Return to top]