Hepatitis E and Allogeneic Hematopoietic Stem Cell Transplantation: A French Nationwide SFGM-TC Retrospective Study
1
Service d'hématologie-greffe, Hôpital Saint-Louis, Université Paris-Diderot, 75010 Paris, France
2
Service de virologie, Hôpital Paul-Brousse, 94804 Villejuif, France
3
INSERM 1193 et CNR hépatite A et E, Université Paris-Sud, 94804 Villejuif, France
4
Service d'hépatologie, Hôpital Cochin, Université Paris Descartes, INSERM U1223, Institut Pasteur, 75014 Paris, France
5
Service d'hématologie, Hôpital La Pitié-Salpêtrière, 75013 Paris, France
6
Service d'hématologie, Centre Hospitalier Universitaire, 06000 Nice, France
7
Service d'hématologie, CHU Bordeaux, 33600 Pessac, France
8
Service d'hématologie, Hôpital Percy, 92140 Clamart, France
9
Service d'hématologie, CHU, 37000 Tours, France
10
Laboratoire de virologie et CNR hépatite E, CHU, 31000 Toulouse, France
11
Service d'hématologie, CHU, 31000 Toulouse, France
*
Author to whom correspondence should be addressed.
Received: 24 April 2019 / Revised: 2 July 2019 / Accepted: 4 July 2019 / Published: 5 July 2019
Abstract
Usually self-limited, hepatitis E virus (HEV) infection may evolve to chronicity and cirrhosis in immunosuppressed patients. HEV infection has been described in solid-organ transplantation and hematology patients, but for allogeneic hematopoietic stem cell transplant (alloHSCT) recipients, only small cohorts are available. This retrospective nationwide multi-center series aimed to describe HEV diagnostic practices in alloHSCT French centers, and the course of infection in the context of alloHSCT. Twenty-nine out of 37 centers participated. HEV search in case of liver function tests (LFT) abnormalities was never performed in 24% of centers, occasionally in 55%, and systematically in 21%. Twenty-five cases of active HEV infection were diagnosed in seven centers, all because of LFT abnormalities, by blood nucleic acid testing. HEV infection was diagnosed in three patients before alloHSCT; HEV infection did not influence transplantation planning, and resolved spontaneously before or after alloHSCT. Twenty-two patients were diagnosed a median of 283 days after alloHSCT. Nine patients (41%) had spontaneous viral clearance, mostly after immunosuppressive treatment decrease. Thirteen patients (59%) received ribavirin, with sustained viral clearance in 11/12 evaluable patients. We observed three HEV recurrences but no HEV-related death or liver failure, nor evolution to cirrhosis.
View Full-Text
►

▼

Figures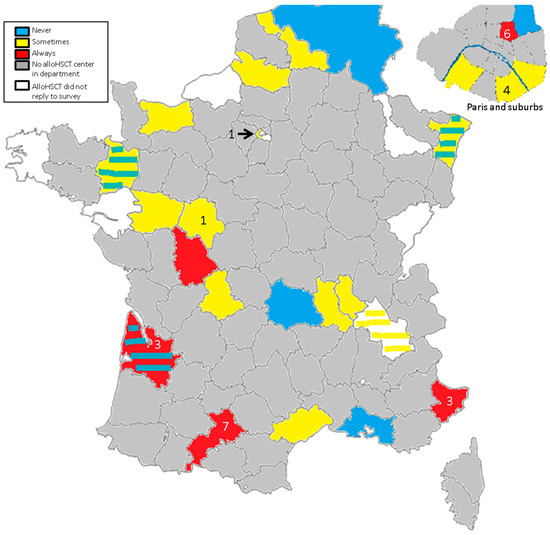 Figure 1
This is an open access article distributed under the
Creative Commons Attribution License
which permits unrestricted use, distribution, and reproduction in any medium, provided the original work is properly cited (CC BY 4.0).

Share & Cite This Article
MDPI and ACS Style
Xhaard, A.; Roque-Afonso, A.-M.; Mallet, V.; Ribaud, P.; Nguyen-Quoc, S.; Rohrlich, P.-S.; Tabrizi, R.; Konopacki, J.; Lissandre, S.; Abravanel, F.; Latour, R.P.; Huynh, A. Hepatitis E and Allogeneic Hematopoietic Stem Cell Transplantation: A French Nationwide SFGM-TC Retrospective Study. Viruses 2019, 11, 622.
Note that from the first issue of 2016, MDPI journals use article numbers instead of page numbers. See further details here.
Related Articles
Comments
[Return to top]