Conserved Residue Asn-145 in the C-Terminal Heptad Repeat Region of HIV-1 gp41 is Critical for Viral Fusion and Regulates the Antiviral Activity of Fusion Inhibitors
1
NHC Key Laboratory of Systems Biology of Pathogens, Institute of Pathogen Biology, Chinese Academy of Medical Sciences and Peking Union Medical College, Beijing 100730, China
2
Center for AIDS Research, Chinese Academy of Medical Sciences and Peking Union Medical College, Beijing 100730, China
*
Authors to whom correspondence should be addressed.
†
These authors contributed equally to this work.
Received: 17 June 2019 / Revised: 29 June 2019 / Accepted: 29 June 2019 / Published: 3 July 2019
Abstract
Entry of HIV-1 into target cells is mediated by its envelope (Env) glycoprotein composed of the receptor binding subunit gp120 and the fusion protein gp41. Refolding of the gp41 N- and C-terminal heptad repeats (NHR and CHR) into a six-helix bundle (6-HB) conformation drives the viral and cellular membranes in close apposition and generates huge amounts of energy to overcome the kinetic barrier leading to membrane fusion. In this study, we focused on characterizing the structural and functional properties of a single Asn-145 residue, which locates at the middle CHR site of gp41 and is extremely conserved among all the HIV-1, HIV-2, and simian immunodeficiency virus (SIV) isolates. By mutational analysis, we found that Asn-145 plays critical roles for Env-mediated cell-cell fusion and HIV-1 entry. As determined by circular dichroism (CD) spectroscopy and isothermal titration calorimetry (ITC), the substitution of Asn-145 with alanine (N145A) severely impaired the interactions between the NHR and CHR helices. Asn-145 was also verified to be important for the antiviral activity of CHR-derived peptide fusion inhibitors and served as a turn-point for the inhibitory potency. Intriguingly, Asn-145 could regulate the functionality of the M-T hook structure at the N-terminus of the inhibitors and displayed comparable activities with the C-terminal IDL anchor. Crystallographic studies further demonstrated the importance of Asn-145-mediated interhelical and intrahelical interactions in the 6-HB structure. Combined, the present results have provided valuable information for the structure-function relationship of HIV-1 gp41 and the structure-activity relationship of gp41-dependent fusion inhibitors.
View Full-Text
►

▼

Figures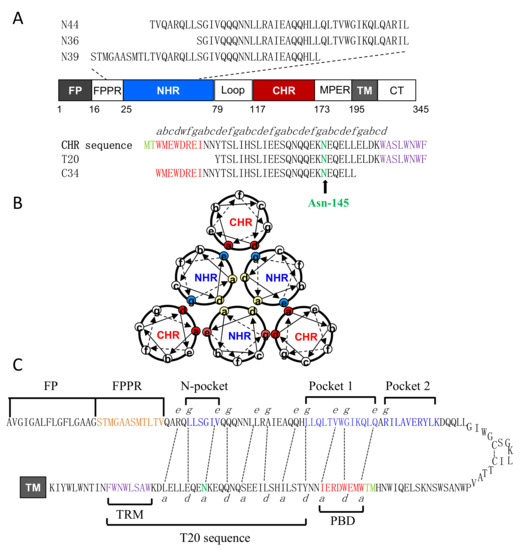 Figure 1
This is an open access article distributed under the
Creative Commons Attribution License
which permits unrestricted use, distribution, and reproduction in any medium, provided the original work is properly cited (CC BY 4.0).

Share & Cite This Article
MDPI and ACS Style
Geng, X.; Liu, Z.; Yu, D.; Qin, B.; Zhu, Y.; Cui, S.; Chong, H.; He, Y. Conserved Residue Asn-145 in the C-Terminal Heptad Repeat Region of HIV-1 gp41 is Critical for Viral Fusion and Regulates the Antiviral Activity of Fusion Inhibitors. Viruses 2019, 11, 609.
Note that from the first issue of 2016, MDPI journals use article numbers instead of page numbers. See further details here.
Related Articles
Comments
[Return to top]