Early Multiphasic HBV Infection Initiation Kinetics Is Not Clone-Specific and Is Not Affected by Hepatitis D Virus (HDV) Infection
1
The Program for Experimental & Theoretical Modeling, Division of Hepatology, Department of Medicine, Loyola University Medical Center, Maywood, IL 60153, USA
2
Department of Gastroenterology and Metabolism, Graduate School of Biomedical & Health Sciences, Hiroshima University, Hiroshima 734-8551, Japan
3
Research Center for Hepatology and Gastroenterology, Hiroshima University, Hiroshima 734-8551, Japan
4
Natural Science Center for Basic Research and Development, Hiroshima University, Hiroshima 734-8551, Japan
5
Liver Diseases Branch, NIDDK, NIH, Bethesda, MD 20892, USA
6
PhoenixBio Co., Ltd., Higashi-Hiroshima, Hiroshima 739-0046, Japan
7
Department of Medicine, Division of Gastroenterology and Hepatology, Stanford University School of Medicine, Stanford, CA 94305, USA
*
Author to whom correspondence should be addressed.
Received: 11 February 2019 / Revised: 8 March 2019 / Accepted: 13 March 2019 / Published: 15 March 2019
Abstract
Backgrounds and Aims:
We previously demonstrated that serum hepatitis B virus (HBV) DNA in HBV infected humanized mice exhibited a highly dynamic multiphasic kinetic pattern from infection initiation to steady-state. Here, we investigated whether this pattern is consistent across different HBV clones or in the presence of hepatitis D virus (HDV) co-infection.
Methods:
We analyzed early serum viral kinetics using 26 HBV genotype C (GtC) mono-infected mice [clones: PXB, Hiroshima GtC CL4 (CL4) and Hiroshima GtC CL5 (CL5)] and four HBV CL4/HDV genotype one co-infected mice.
Results:
The HBV kinetics observed with clones CL4 and CL5 were similar to that previously defined in HBV PXB infected mice. Additionally, no significant differences in HBV DNA levels were observed between HBV mono-infected and HBV/HDV co-infected mice through 4 weeks post-inoculation (p.i.). However, HBV DNA levels at 6 weeks p.i. in HBV/HDV co-infected mice were significantly lower than those in HBV mono-infected mice (
P
= 0.002), consistent with HDV suppression of chronic HBV.
Conclusions:
HBV infection initiation is multiphasic across multiple viral clones and is not altered by HDV co-infection. The latter suggests that higher HDV titers (>8 log IU/mL) and/or longer duration of HDV infection might be needed to trigger HDV-induced suppression on HBV.
View Full-Text
►

▼

Figures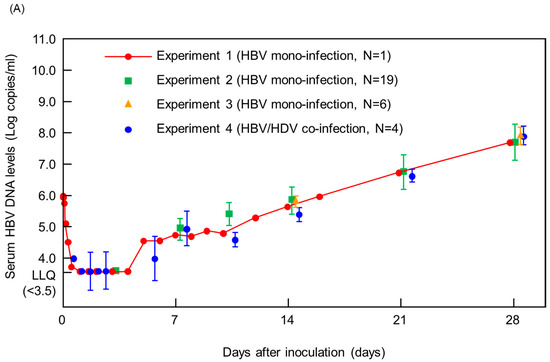 Figure 1
This is an open access article distributed under the
Creative Commons Attribution License
which permits unrestricted use, distribution, and reproduction in any medium, provided the original work is properly cited (CC BY 4.0).

Share & Cite This Article
MDPI and ACS Style
Tsuge, M.; Uchida, T.; Walsh, K.; Ishida, Y.; Tateno, C.; Kumar, U.; Glenn, J.S.; Koh, C.; Heller, T.; Uprichard, S.L.; Dahari, H.; Chayama, K. Early Multiphasic HBV Infection Initiation Kinetics Is Not Clone-Specific and Is Not Affected by Hepatitis D Virus (HDV) Infection. Viruses 2019, 11, 263.
Note that from the first issue of 2016, MDPI journals use article numbers instead of page numbers. See further details here.
Related Articles
Comments
[Return to top]