Characterization of Mouse Monoclonal Antibodies Against the HA of A(H7N9) Influenza Virus
1
Division of Virology, Department of Microbiology and Immunology, Institute of Medical Science, University of Tokyo, Minato-ku, Tokyo 108-8639, Japan
2
TAUNS Laboratories, Inc., Izunokuni, Shizuoka 410-2325, Japan
3
Department of Special Pathogens, International Research Center for Infectious Diseases, Institute of Medical Science, University of Tokyo, Minato-ku, Tokyo 108-8639, Japan
4
Department of Pathobiological Sciences, School of Veterinary Medicine, University of Wisconsin-Madison, Madison, WI 53706, USA
*
Authors to whom correspondence should be addressed.
Received: 22 January 2019 / Revised: 8 February 2019 / Accepted: 8 February 2019 / Published: 11 February 2019
Abstract
Many cases of human infection with the H7N9 virus have been detected in China since 2013. H7N9 viruses are maintained in chickens and are transmitted to humans at live bird markets. During circulation in birds, H7N9 viruses have accumulated amino acid substitutions in their hemagglutinin (HA), which resulted in an antigenically change in the recent H7N9 viruses. Here, we characterized 46 mouse monoclonal antibodies against the HA of the prototype strain. 16 H7-HA-specific monoclonal antibodies (mAbs) possessed hemagglutination inhibition (HI) and neutralization activities by recognizing the major antigenic site A; four other H7-HA-specific clones also showed HI and neutralizing activities via recognition of the major antigenic sites A and D; seven mAbs that reacted with several HA subtypes and possibly recognized the HA stem partially protected mice from lethal infection with prototype H7N9 virus; and the remaining 19 mAbs had neither HI nor neutralization activity. All human H7N9 viruses tested showed a similar neutralization sensitivity to the first group of 16 mAbs, whereas human H7N9 viruses isolated in 2016–2017 were not neutralized by a second group of 4 mAbs. These results suggest that amino acid substitutions at the epitope of the second mAb group appear to be involved in the antigenic drift of the H7N9 viruses. Further analysis is required to fully understand the antigenic change in H7N9 viruses.
View Full-Text
►

▼

Figures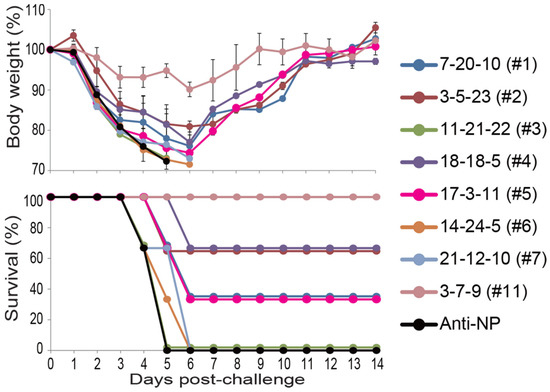 Figure 1
This is an open access article distributed under the
Creative Commons Attribution License
which permits unrestricted use, distribution, and reproduction in any medium, provided the original work is properly cited (CC BY 4.0).

Share & Cite This Article
MDPI and ACS Style
Ito, M.; Yamayoshi, S.; Murakami, K.; Saito, K.; Motojima, A.; Nakaishi, K.; Kawaoka, Y. Characterization of Mouse Monoclonal Antibodies Against the HA of A(H7N9) Influenza Virus. Viruses 2019, 11, 149.
Note that from the first issue of 2016, MDPI journals use article numbers instead of page numbers. See further details here.
Related Articles
Comments
[Return to top]