Persistent Viral Reservoirs in Lymphoid Tissues in SIV-Infected Rhesus Macaques of Chinese-Origin on Suppressive Antiretroviral Therapy
1
Division of Comparative Pathology, Tulane National Primate Research Center, Covington, LA 70433, USA
2
Department of Microbiology & Immunology, Schulich School of Medicine & Dentistry, University of Western Ontario, London, ON N6A 5C1, Canada
3
Division of Veterinary Medicine, Tulane National Primate Research Center, Covington, LA 70433, USA
4
Department of Medicine, Tulane University School of Medicine, New Orleans, LA 70112, USA
5
Theoretical Biology and Biophysics Group, Los Alamos National Laboratory, Los Alamos, NM 87545, USA
6
Nebraska Center for Virology, School of Biological Sciences, University of Nebraska-Lincoln, Lincoln, NE 68583, USA
7
Tulane Center for Aging, Tulane University School of Medicine, New Orleans, LA 70112, USA
8
Department of Microbiology & Immunology, Tulane University School of Medicine, New Orleans, LA 70112, USA
*
Author to whom correspondence should be addressed.
†
Current address: Hayward Genetics Center, Tulane University School of Medicine, New Orleans, LA 70112, USA.
Received: 20 December 2018 / Revised: 21 January 2019 / Accepted: 24 January 2019 / Published: 27 January 2019
Abstract
Understanding HIV latent reservoirs in tissues is essential for the development of new strategies targeting these sites for eradication. Here, we assessed the size of latent reservoirs and the source of residual viruses in multiple lymphoid tissues of SIV-infected and fully suppressed rhesus macaques of Chinese-origin (cRMs). Eight cRMs were infected with SIVmac251 and treated with tenofovir and emtricitabine daily for 24 weeks initiated 4 weeks post-infection. Four of the eight animals reached sustained full viral suppression with undetectable viremia. The levels of cell-associated SIV DNA varied in peripheral blood mononuclear cells (PBMCs) and multiple lymphoid tissues, but with higher levels in the mesenteric lymph nodes (MesLNs). The levels of cell-associated SIV RNA also varied in different tissues. The higher frequency of viral RNA detection in the MesLNs was also observed by in situ hybridization. Consistently, the infection unit per million cells (IUPM) in the MesLNs was higher than in PBMCs and other tested lymphoid tissues by quantitative viral outgrowth assay (QVOA). Furthermore,
env
gp120 from tissue SIV RNA was amplified by single genome amplification. Phylogenetic analysis revealed diverse variants from tissues parallel to the viral inoculum in all viral suppressed animals. These results demonstrate that the latency and viral reservoirs in the lymphoid tissues still exist in aviremic macaques under full suppressive therapy. Moreover, the size of viral latent reservoirs differs in various lymphoid tissues with a relatively larger size in the MesLNs.
View Full-Text
►

▼

Figures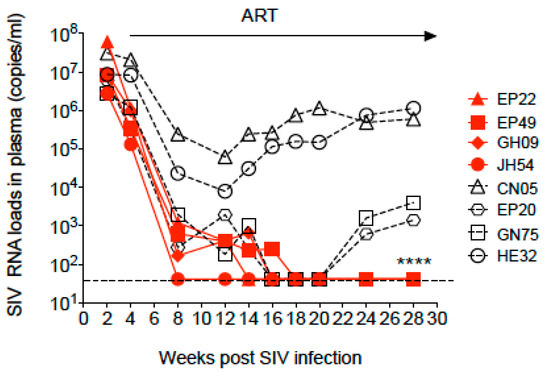 Figure 1
This is an open access article distributed under the
Creative Commons Attribution License
which permits unrestricted use, distribution, and reproduction in any medium, provided the original work is properly cited (CC BY 4.0).

Share & Cite This Article
MDPI and ACS Style
Siddiqui, S.; Perez, S.; Gao, Y.; Doyle-Meyers, L.; Foley, B.T.; Li, Q.; Ling, B. Persistent Viral Reservoirs in Lymphoid Tissues in SIV-Infected Rhesus Macaques of Chinese-Origin on Suppressive Antiretroviral Therapy. Viruses 2019, 11, 105.
Note that from the first issue of 2016, MDPI journals use article numbers instead of page numbers. See further details here.
Related Articles
Comments
[Return to top]