The Characteristics and Genome Analysis of vB_AviM_AVP, the First Phage Infecting
Aerococcus viridans
1
Key Laboratory of Zoonosis Research, Ministry of Education, College of Veterinary Medicine, Jilin University, Changchun 130062, China
2
State Key Laboratory of Pathogen and Biosecurity, Beijing Institute of Microbiology and Epidemiology, Beijing 100071, China
3
College of Veterinary Sciences & Animal Husbandry, Abdul Wali Khan University, Mardan 23200, Pakistan
4
Jiangsu Co-Innovation Center for the Prevention and Control of Important Animal Infectious Disease and Zoonose, Yangzhou University, Yangzhou 225009, China
†
These authors contributed equally to this study.
*
Authors to whom correspondence should be addressed.
Received: 31 October 2018 / Revised: 20 January 2019 / Accepted: 23 January 2019 / Published: 26 January 2019
Abstract
Aerococcus viridans
is an opportunistic pathogen that is clinically associated with various human and animal diseases. In this study, the first identified
A. viridans
phage, vB_AviM_AVP (abbreviated as AVP), was isolated and studied. AVP belongs to the family Myoviridae. AVP harbors a double-stranded DNA genome with a length of 133,806 bp and a G + C content of 34.51%. The genome sequence of AVP showed low similarity (<1% identity) to those of other phages, bacteria, or other organisms in the database. Among 165 predicted open reading frames (ORFs), there were only 69 gene products exhibiting similarity (≤65% identity) to proteins of known functions in the database. In addition, the other 36 gene products did not match any viral or prokaryotic sequences in any publicly available database. On the basis of the putative functions of the ORFs, the genome of AVP was divided into three modules: nucleotide metabolism and replication, structural components, and lysis. A phylogenetic analysis of the terminase large subunits and capsid proteins indicated that AVP represents a novel branch of phages. The observed characteristics of AVP indicate that it represents a new class of phages.
View Full-Text
►

▼

Figures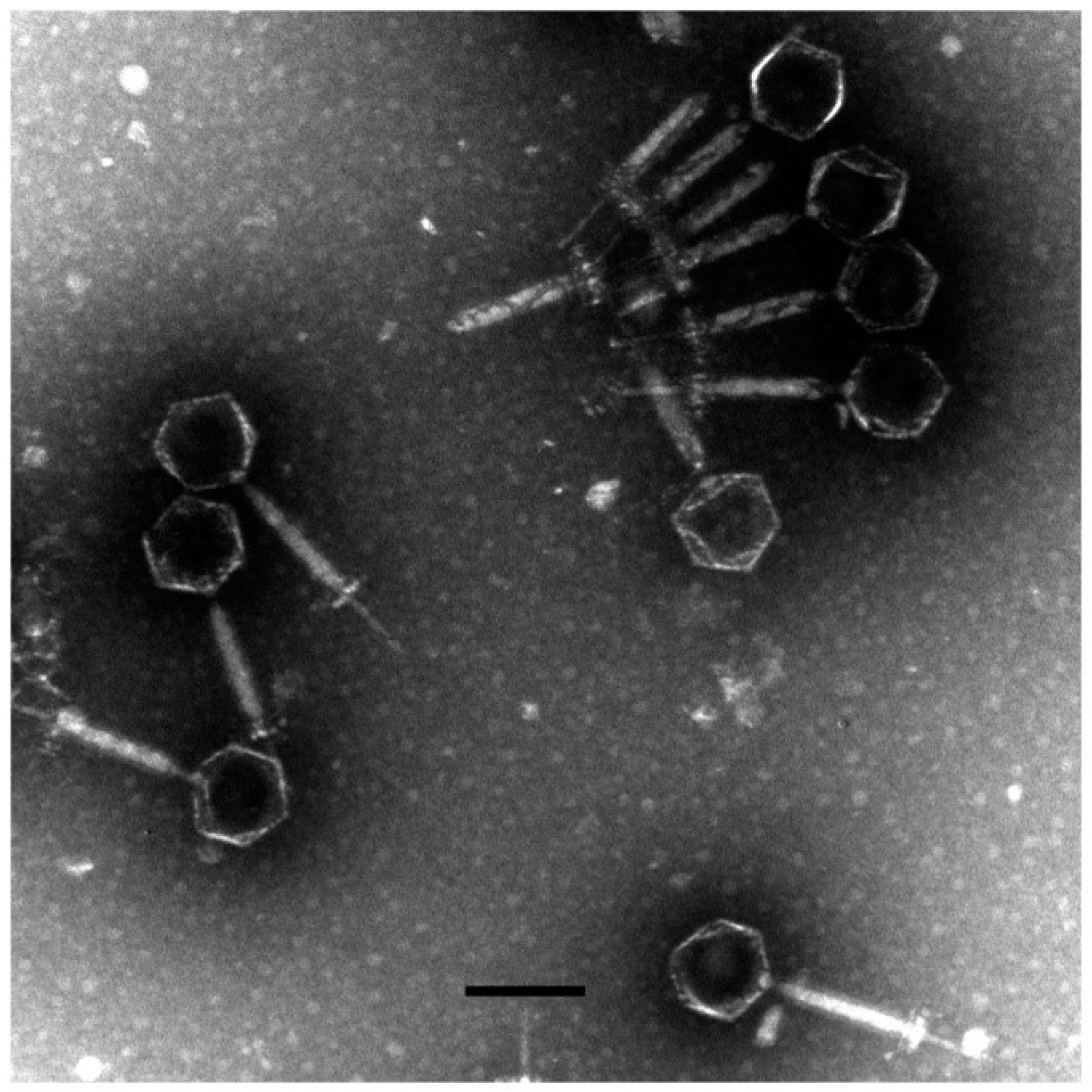 Figure 1
This is an open access article distributed under the
Creative Commons Attribution License
which permits unrestricted use, distribution, and reproduction in any medium, provided the original work is properly cited (CC BY 4.0).

Share & Cite This Article
MDPI and ACS Style
Xi, H.; Dai, J.; Tong, Y.; Cheng, M.; Zhao, F.; Fan, H.; Li, X.; Cai, R.; Ji, Y.; Sun, C.; Feng, X.; Lei, L.; Rahman, S.; Han, W.; Gu, J. The Characteristics and Genome Analysis of vB_AviM_AVP, the First Phage Infecting Aerococcus viridans. Viruses 2019, 11, 104.
Note that from the first issue of 2016, MDPI journals use article numbers instead of page numbers. See further details here.
Related Articles
Comments
[Return to top]