Differential Role of Anti-Viral Sensing Pathway for the Production of Type I Interferon β in Dendritic Cells and Macrophages Against Respiratory Syncytial Virus A2 Strain Infection
1
Graduate School of Medical Science and Engineering, Korea Advanced Institute of Science and Technology (KAIST), Daejeon 34141, Republic of Korea
2
Department of Internal Medicine, CHA Bundang Medical Center, CHA University, Seongnam 13496, Republic of Korea
3
KAIST Institute for Health Science and Technology, KAIST, Daejeon 34141, Republic of Korea
*
Author to whom correspondence should be addressed.
†
These authors contributed equally to the work.
Received: 18 December 2018 / Revised: 10 January 2019 / Accepted: 12 January 2019 / Published: 15 January 2019
Abstract
Respiratory syncytial virus (RSV) is a major cause of respiratory infectious disease in infants and young children. Dendritic cells (DCs) and macrophages (MACs) are known to play important roles in RSV recognition, and in the production of type I interferons (IFNs) and pro-inflammatory cytokine in RSV infection. Toll-like receptor 7 (TLR7), myeloid differentiation primary response 88 (MyD88), and mitochondrial antiviral-signaling protein (MAVS) are known to be important for the RSV sensing pathway in DCs and MACs. However, despite the critical roles of type I IFNs in the anti-RSV immune response, the pattern recognition receptors (PRRs) that are required for RSV sensing in DCs and MACs remain unclear. Here, we investigate the pathway activated by RSV A2 strain infection using an IFN-β/YFP reporter mouse model to visualize IFN-β-producing cells and in vitro RSV infection in bone marrow-derived DCs (BM-DCs) and macrophages (BM-DMs). We present our finding that MyD88, but not TLR7, are important for RSV recognition and type I IFN and pro-inflammatory production in DCs and MACs. MAVS-deficient BM-DCs and BM-DMs show impaired induction of IFN-β production upon RSV stimulation, and this effect is RSV replication-dependent. Our study provides information on cell type-specific PRR requirements in innate immune responses against RSV infection.
View Full-Text
►

▼

Figures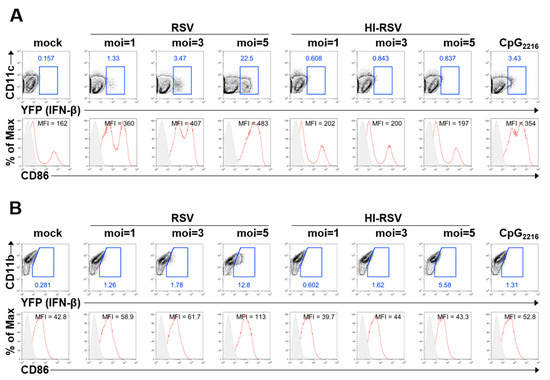 Figure 1
This is an open access article distributed under the
Creative Commons Attribution License
which permits unrestricted use, distribution, and reproduction in any medium, provided the original work is properly cited (CC BY 4.0).

Share & Cite This Article
MDPI and ACS Style
Oh, D.S.; Kim, T.H.; Lee, H.K. Differential Role of Anti-Viral Sensing Pathway for the Production of Type I Interferon β in Dendritic Cells and Macrophages Against Respiratory Syncytial Virus A2 Strain Infection. Viruses 2019, 11, 62.
Note that from the first issue of 2016, MDPI journals use article numbers instead of page numbers. See further details here.
Related Articles
Comments
[Return to top]