The Phylogeny and Pathogenesis of
Sacbrood Virus

(SBV) Infection in European Honey Bees,

Apis mellifera

1

USDA-ARS Bee Research Laboratory, USDA-ARS, Bldg. 306, BARC-East, Beltsville, MD 20705, USA

2

College of Bee Science, Fujian Agriculture and Forestry University, Fuzhou 350002, China

3

USDA APHIS, National Program Manager for Honey Bee Health, Riverdale, MD 20737, USA

4

Institute of Apicultural Research, Chinese Academy of Agriculture Sciences, Beijing 100081, China

5

Laboratorio de Patología Apícola, Centro de Investigación Apícola y Agroambiental, IRIAF, Consejería de Agricultura de la Junta de Comunidades de Castilla-La Mancha, 19180 Marchamalo, Spain

6

National Center for Biotechnology Information, National Institutes of Health, Bethesda, MD 20894, USA

7

Institute of Animal Science and Veterinary Medicine, Zhejiang Academy of Agricultural Sciences, Hangzhou 310021, China

*

Author to whom correspondence should be addressed.

Received: 15 August 2018 / Revised: 5 January 2019 / Accepted: 9 January 2019 / Published: 14 January 2019
Abstract
RNA viruses that contain single-stranded RNA genomes of positive sense make up the largest group of pathogens infecting honey bees.
Sacbrood virus
(SBV) is one of the most widely distributed honey bee viruses and infects the larvae of honey bees, resulting in failure to pupate and death. Among all of the viruses infecting honey bees, SBV has the greatest number of complete genomes isolated from both European honey bees
Apis mellifera
and Asian honey bees
A. cerana
worldwide. To enhance our understanding of the evolution and pathogenicity of SBV, in this study, we present the first report of whole genome sequences of two U.S. strains of SBV. The complete genome sequences of the two U.S. SBV strains were deposited in GenBank under accession numbers: MG545286.1 and MG545287.1. Both SBV strains show the typical genomic features of the
Iflaviridae
family. The phylogenetic analysis of the single polyprotein coding region of the U.S. strains, and other GenBank SBV submissions revealed that SBV strains split into two distinct lineages, possibly reflecting host affiliation. The phylogenetic analysis based on the 5′UTR revealed a monophyletic clade with the deep parts of the tree occupied by SBV strains from both
A. cerane
and
A. mellifera
, and the tips of branches of the tree occupied by SBV strains from
A. mellifera
. The study of the cold stress on the pathogenesis of the SBV infection showed that cold stress could have profound effects on sacbrood disease severity manifested by increased mortality of infected larvae. This result suggests that the high prevalence of sacbrood disease in early spring may be due to the fluctuating temperatures during the season. This study will contribute to a better understanding of the evolution and pathogenesis of SBV infection in honey bees, and have important epidemiological relevance.
View Full-Text
►

▼

Figures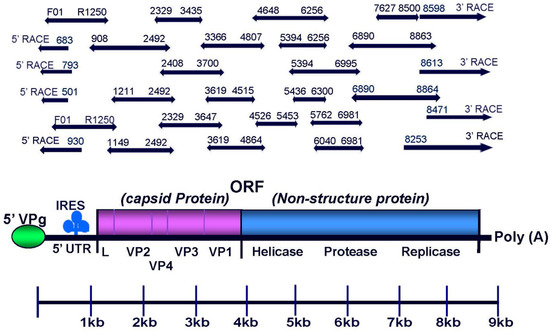 Figure 1
This is an open access article distributed under the
Creative Commons Attribution License
which permits unrestricted use, distribution, and reproduction in any medium, provided the original work is properly cited (CC BY 4.0).

Share & Cite This Article
MDPI and ACS Style
Li, J.; Wang, T.; Evans, J.D.; Rose, R.; Zhao, Y.; Li, Z.; Li, J.; Huang, S.; Heerman, M.; Rodríguez-García, C.; Banmeke, O.; Brister, J.R.; Hatcher, E.L.; Cao, L.; Hamilton, M.; Chen, Y. The Phylogeny and Pathogenesis of Sacbrood Virus (SBV) Infection in European Honey Bees, Apis mellifera. Viruses 2019, 11, 61.
Note that from the first issue of 2016, MDPI journals use article numbers instead of page numbers. See further details here.
Related Articles
Comments
[Return to top]