The ND10 Complex Represses Lytic Human Herpesvirus 6A Replication and Promotes Silencing of the Viral Genome
1
Institut für Virologie, Freie Universität Berlin, Robert von Ostertag-Straße 7-13, 14163 Berlin, Germany
2
Institute for Molecular Infection Biology, Julius-Maximilians-Universität Wϋrzburg, 97080 Wϋrzburg, Germany
3
School of Science and Sport, University of the West of Scotland, ML3 0JB Glasgow, UK
4
MRC University of Glasgow Centre for Virus Research, G61 1QH Glasgow, UK
5
Division of Infectious Disease and Immunity, CHU de Québec Research Center, Quebec City, QC G1V 4G2, Canada
6
Department of Microbiology, Infectious Disease and Immunology, Faculty of Medicine, Université Laval, Quebec City, Québec G1V 0A6, Canada
*
Authors to whom correspondence should be addressed.
Received: 7 June 2018 / Revised: 19 July 2018 / Accepted: 27 July 2018 / Published: 29 July 2018
Abstract
Human herpesvirus 6A (HHV-6A) replicates in peripheral blood mononuclear cells (PBMCs) and various T-cell lines in vitro. Intriguingly, the virus can also establish latency in these cells, but it remains unknown what influences the decision between lytic replication and the latency of the virus. Incoming virus genomes are confronted with the nuclear domain 10 (ND10) complex as part of an intrinsic antiviral response. Most herpesviruses can efficiently subvert ND10, but its role in HHV-6A infection remains poorly understood. In this study, we investigated if the ND10 complex affects HHV-6A replication and contributes to the silencing of the virus genome during latency. We could demonstrate that ND10 complex was not dissociated upon infection, while the number of ND10 bodies was reduced in lytically infected cells. Virus replication was significantly enhanced upon knock down of the ND10 complex using shRNAs against its major constituents promyelocytic leukemia protein (PML), hDaxx, and Sp100. In addition, we could demonstrate that viral genes are more efficiently silenced in the presence of a functional ND10 complex. Our data thereby provides the first evidence that the cellular ND10 complex plays an important role in suppressing HHV-6A lytic replication and the silencing of the virus genome in latently infected cells.
View Full-Text
►

▼

Figures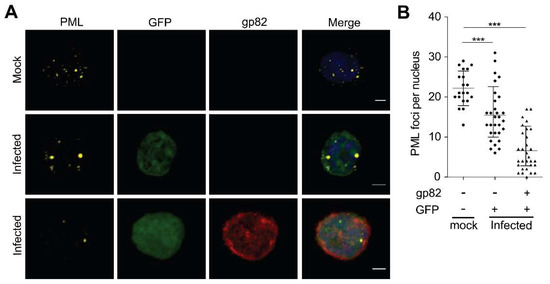 Figure 1
This is an open access article distributed under the
Creative Commons Attribution License
which permits unrestricted use, distribution, and reproduction in any medium, provided the original work is properly cited (CC BY 4.0).

Share & Cite This Article
MDPI and ACS Style
Sanyal, A.; Wallaschek, N.; Glass, M.; Flamand, L.; Wight, D.J.; Kaufer, B.B. The ND10 Complex Represses Lytic Human Herpesvirus 6A Replication and Promotes Silencing of the Viral Genome. Viruses 2018, 10, 401.
Note that from the first issue of 2016, MDPI journals use article numbers instead of page numbers. See further details here.
Related Articles
Comments
[Return to top]