Genetic Characterization and Pathogenicity of a Novel Recombined Porcine Reproductive and Respiratory Syndrome Virus 2 among Nadc30-Like, Jxa1-Like, and Mlv-Like Strains
1
School of Life Science, Sichuan University, Animal Disease Prevention and Food Safety Key Laboratory of Sichuan Province, Key Laboratory of Bio-resources and Eco-environment, Ministry of Education, Chengdu 610064, Sichuan, China
2
Sichuan Animal Science Academy, Sichuan Provincial Key laboratory of Animal Breeding and Genetics, Chengdu 610066, Sichuan, China
3
Chengdu Chia Tai Agro-industry & Food, Animal healthy disease service, Chengdu 610081, Sichuan, China
†
These authors contributed equally to this work.
*
Author to whom correspondence should be addressed.
Received: 6 August 2018 / Revised: 28 September 2018 / Accepted: 28 September 2018 / Published: 9 October 2018
Abstract
Recombination among porcine reproductive and respiratory syndrome viruses (PRRSVs), coupled with point mutations, insertions, and deletions occurring in the genome, is considered to contribute to the emergence of new variants. Here, we report the complete genome sequences of a PRRSV field strain, designated SCN17, isolated from a RespPRRS MLV-vaccinated piglet in China in 2017. Sequence alignment revealed that SCN17 had discontinuous 131-amino acid (111 + 1 + 19-aa) deletion in the NSP2-coding region identical to that of NADC30 when compared to VR-2332. Notably, the strain, SCN17, contained an additional 1-aa deletion in NSP2, a 1-aa deletion in ORF5, and a unique 3-nt deletion in the 3′-UTR. Phylogenetic analysis showed that SCN17 clustered into NADC30-like lineage based on ORF5 genotyping, whereas it belonged to an inter-lineage between the NADC30-like and VR-2332-like lineages as established based on the full-length genome. Importantly, the SCN17 was identified as a novel virus recombined between a NADC30-like (moderately pathogenic), a JXA1-like (highly pathogenic), and an attenuated vaccine strain, RespPRRS MLV (parental strain VR-2332). Furthermore, we tested its pathogenicity in piglets. SCN17 infection caused a persistent fever, moderate interstitial pneumonia, and increased the viremia and antibody levels in the inoculated piglets. Of note, all SCN17-infected piglets survived throughout the study. The new virus was showed to be a moderately virulent isolate and have lower pathogenicity than HP-PRRSV strain, SCwhn09CD. Our results provide evidence for the continuing evolution of PRRSV field strain by genetic recombination and mutation leading to outbreaks in the vaccinated pig populations in China.
View Full-Text
►

▼

Figures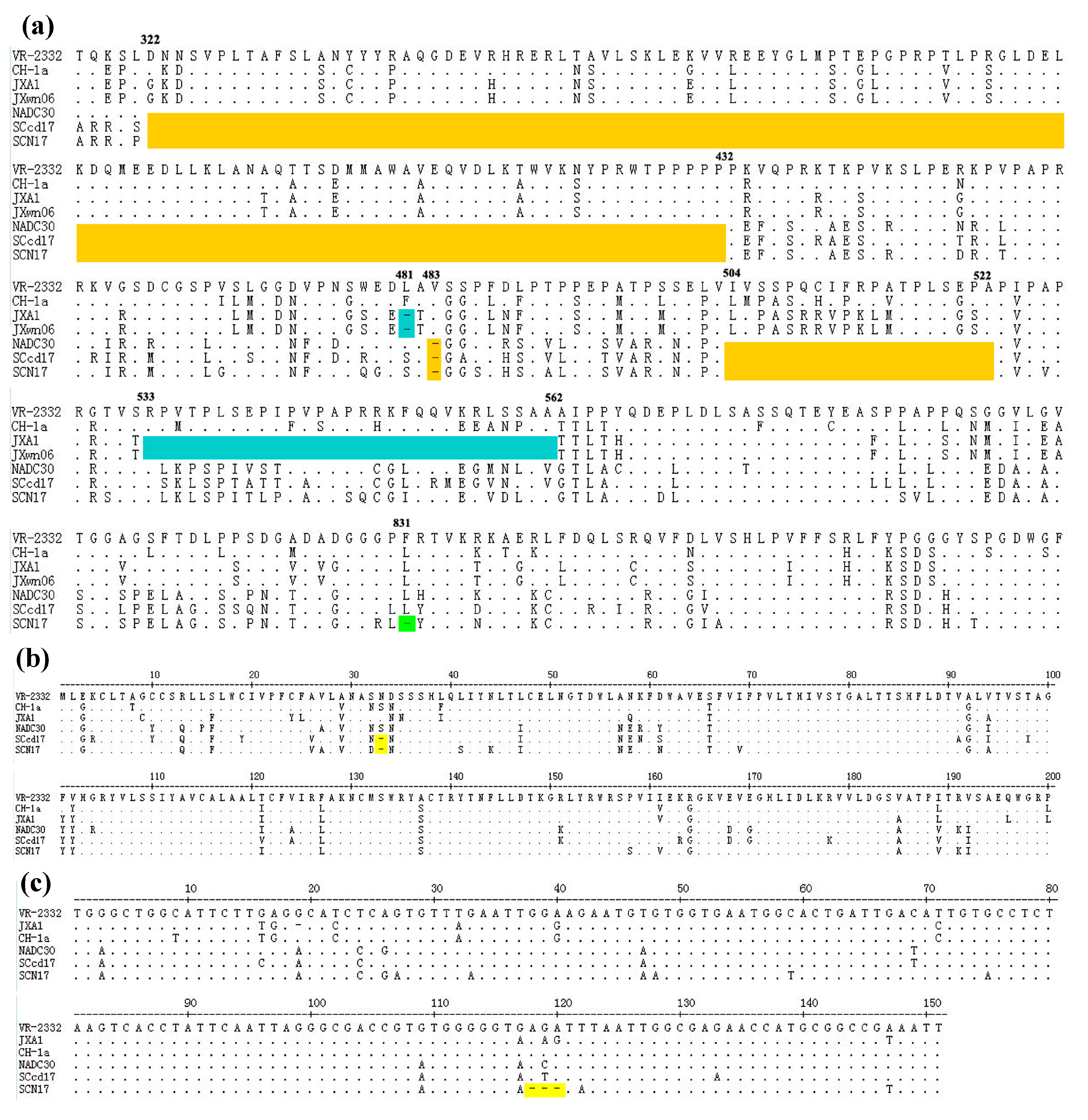 Figure 1
This is an open access article distributed under the
Creative Commons Attribution License
which permits unrestricted use, distribution, and reproduction in any medium, provided the original work is properly cited (CC BY 4.0).

Share & Cite This Article
MDPI and ACS Style
Zhou, L.; Kang, R.; Yu, J.; Xie, B.; Chen, C.; Li, X.; Xie, J.; Ye, Y.; Xiao, L.; Zhang, J.; Yang, X.; Wang, H. Genetic Characterization and Pathogenicity of a Novel Recombined Porcine Reproductive and Respiratory Syndrome Virus 2 among Nadc30-Like, Jxa1-Like, and Mlv-Like Strains. Viruses 2018, 10, 551.
Note that from the first issue of 2016, MDPI journals use article numbers instead of page numbers. See further details here.
Related Articles
Comments
[Return to top]