Preparation of Extracellular Matrix Developed Using Porcine Articular Cartilage and
In Vitro

Feasibility Study of Porcine Articular Cartilage as an Anti-Adhesive Film

1

Department of Molecular Science and Technology, Ajou University, Suwon 443-749, Korea

2

Advanced Radiation Technology, Korea Atomic Energy Research Institute, Jeollabuk-do 580-185, Korea

3

Cell Therapy Center, Ajou University Medical Center, Suwon 443-749, Korea

*

Authors to whom correspondence should be addressed.

†

These authors are equal first authors in this work.

Academic Editor: Carla Renata Arciola

Received: 12 November 2015 / Revised: 4 January 2016 / Accepted: 12 January 2016 / Published: 14 January 2016
Abstract
In this study, we examined whether porcine articular cartilage (PAC) is a suitable and effective anti-adhesive material. PAC, which contained no non-collagenous tissue components, was collected by mechanical manipulation and decellularization of porcine knee cartilage. The PAC film for use as an anti-adhesive barrier was easily shaped into various sizes using homemade silicone molds. The PAC film was cross-linked to study the usefulness of the anti-adhesive barrier shape. The cross-linked PAC (Cx-PAC) film showed more stable physical properties over extended periods compared to uncross-linked PAC (UnCx-PAC) film. To control the mechanical properties, C
x
-PAC film was thermally treated at 45 °C or 65 °C followed by incubation at room temperature. The Cx-PAC films exhibited varying enthalpies, ultimate tensile strength values, and contact angles before and after thermal treatment and after incubation at room temperature. Next, to examine the anti-adhesive properties, human umbilical vein endothelial cells (HUVECs) were cultured on Cx-PAC and thermal-treated Cx-PAC films. Scanning electron microscopy, fluorescence, and MTT assays showed that HUVECs were well adhered to the surface of the plate and proliferated, indicating no inhibition of the attachment and proliferation of HUVECs. In contrast, Cx-PAC and thermal-treated Cx-PAC exhibited little and/or no cell attachment and proliferation because of the inhibition effect on HUVECs. In conclusion, we successfully developed a Cx-PAC film with controllable mechanical properties that can be used as an anti-adhesive barrier.
View Full-Text
►

▼

Figures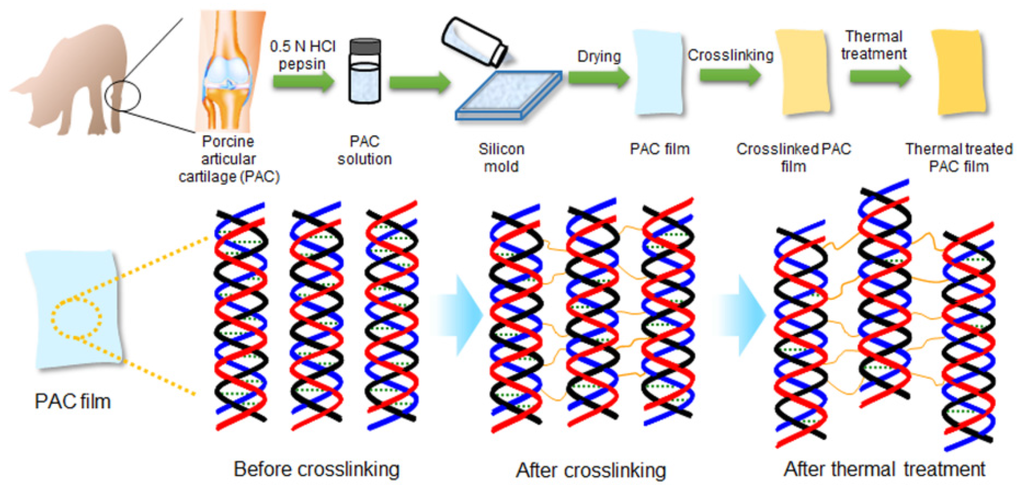 Figure 1
This is an open access article distributed under the
Creative Commons Attribution License
which permits unrestricted use, distribution, and reproduction in any medium, provided the original work is properly cited (CC BY 4.0).

Share & Cite This Article
MDPI and ACS Style
Baek, J.H.; Kim, K.; Yang, S.S.; Park, S.H.; Song, B.R.; Yun, H.-W.; Jeong, S.I.; Kim, Y.J.; Min, B.H.; Kim, M.S. Preparation of Extracellular Matrix Developed Using Porcine Articular Cartilage and In Vitro Feasibility Study of Porcine Articular Cartilage as an Anti-Adhesive Film. Materials 2016, 9, 49.
Note that from the first issue of 2016, MDPI journals use article numbers instead of page numbers. See further details here.
Related Articles
Comments
[Return to top]