Nanocrystalline Transition-Metal Gallium Oxide Spinels from Acetylacetonate Precursors via Solvothermal Synthesis
1
Department of Chemistry, University of Warwick, Coventry CV4 7AL, UK
2
Department of Physics, University of Warwick, Coventry CV4 7AL, UK
3
Departamento de Física, Universidade Federal de Minas Gerais, UFMG, Avenida Antônio Carlos 6627, Belo Horizonte MG, CEP 31270-901, Brazil
4
Departamento de Química, Universidade Federal de Minas Gerais, UFMG, Avenida Antônio Carlos 6627, Belo Horizonte MG, CEP 31270-901, Brazil
5
Centro de Desenvolvimento em Tecnologia Nuclear, CDTN/CNEN, Avenida Antônio Carlos 6627, Belo Horizonte MG, CEP 31270-901, Brazil
*
Author to whom correspondence should be addressed.
Received: 5 February 2019 / Revised: 27 February 2019 / Accepted: 6 March 2019 / Published: 12 March 2019
Abstract
The synthesis of mixed-metal spinels based on substituted γ-Ga
2
O
3
is reported using metal acetylacetonate precursors in solvothermal reactions with alcohols as solvents at 240 °C. New oxides of Cr, Mn and Fe have been produced, all of which are formed as nanocrystalline powders, as seen by high-resolution transmission electron microscopy (HR-TEM). The first chromium-gallium mixed oxide is thus formed, with composition
0.33
Ga
1.87
Cr
0.8
O
4
( = vacant site). X-ray absorption near-edge spectroscopy (XANES) at the chromium K-edge shows the presence of solely octahedral Cr
3+
, which in turn implies a mixture of tetrahedral and octahedral Ga
3+
, and the material is stable on annealing to at least 850 °C. An analogous manganese material with average chemical composition close to MnGa
2
O
4
is shown to contain octahedral Mn
2+
, along with some Mn
3+
, but a different inversion factor to materials reported by conventional solid-state synthesis in the literature, which are known to have a significant proportion of tetrahedral Mn
2+
. In the case of iron, higher amounts of the transition metal can be included to give an Fe:Ga ratio of 1:1. Elemental mapping using energy dispersive X-ray spectroscopy on the TEM, however, reveals inhomogeneity in the distribution of the two metals. This is consistent with variable temperature
57
Fe Mössbauer spectroscopy that shows the presence of Fe
2+
and Fe
3+
in more than one phase in the sample. Variable temperature magnetisation and electron paramagnetic resonance (EPR) indicate the presence of superparamagnetism at room temperature in the iron-gallium oxides.
View Full-Text
►

▼

Figures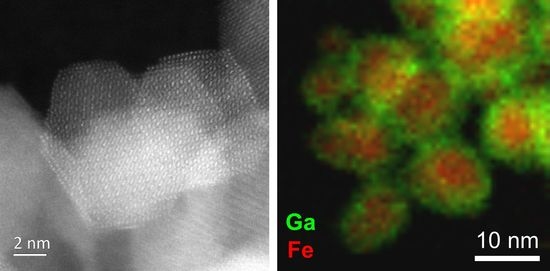 Graphical abstract
This is an open access article distributed under the
Creative Commons Attribution License
which permits unrestricted use, distribution, and reproduction in any medium, provided the original work is properly cited (CC BY 4.0).

Share & Cite This Article
MDPI and ACS Style
Cook, D.S.; Kashtiban, R.J.; Krambrock, K.; de Lima, G.M.; Stumpf, H.O.; Lara, L.R.S.; Ardisson, J.D.; Walton, R.I. Nanocrystalline Transition-Metal Gallium Oxide Spinels from Acetylacetonate Precursors via Solvothermal Synthesis. Materials 2019, 12, 838.
Note that from the first issue of 2016, MDPI journals use article numbers instead of page numbers. See further details here.
Related Articles
Comments
[Return to top]