Sintering Temperature-Dependence on Radiopacity of Bi(2−x) ZrxO(3+x/2) Powders Prepared by Sol-Gel Process
1
School of Oral Hygiene, College of Oral Medicine, Taipei Medical University, Taipei 11031, Taiwan
2
Department of Dentistry, Taipei Medical University Hospital, Taipei 11031, Taiwan
3
Department of Mechanical Engineering, National Taiwan University of Science and Technology, Taipei 10607, Taiwan
4
College of Nursing, Taipei Medical University, Taipei 11031, Taiwan
5
Department of Materials Science and Engineering, Feng Chia University, Taichung 40724, Taiwan
6
School of Dentistry, College of Oral Medicine, Taipei Medical University, Taipei 110, Taiwan
7
Dental Department, Taipei Medical University, Shuang-Ho Hospital, New Taipei 235, Taiwan
8
Graduate Institute of Nanomedicine and Medical Engineering, College of Biomedical Engineering, Taipei Medical University, Taipei 110-52, Taiwan
9
School of Dental Technology, College of Oral Medicine, Taipei Medical University, Taipei 11031, Taiwan
10
Research Center of Digital Oral Science and Technology, College of Oral Medicine, Taipei Medical University, Taipei 11031, Taiwan
*
Authors to whom correspondence should be addressed.
Received: 17 August 2018 / Revised: 30 August 2018 / Accepted: 10 September 2018 / Published: 11 September 2018
Abstract
Bismuth oxide (Bi
2
O
3
) is an effective additive used to enhance radiography resolution for dental materials. However, there are potential concerns regarding its biocompatibility and connection to tissue discoloration. In the present study, we modified the radiopacity properties of Bi
2
O
3
with zirconium oxide (ZrO
2
) using a sol-gel process and investigated the composition, as well as the effects of heat treatment temperature using Thermogravimetry analysis (TGA), differential scanning calorimetry (DSC), Fourier transform infrared spectroscopy (FT-IR), transmission electron microscopy (TEM), and X-ray diffraction (XRD). The harvested Bi
2−x
Zr
x
O
3+x/2
particles showed that the dominant phase transferred from
α
-Bi
2
O
3
to
β
-Bi
7.38
Zr
0.62
O
12.31
after a heat treatment of over 750 °C for 2 h. As the x values of Bi
2−x
Zr
x
O
3+x/2
increased from 0.2 to 1.0, more zirconium oxide precipitated onto the particle surface, thus enhancing the surface roughness of particles. For sol-gel Bi
1.8
Zr
0.2
O
3.1
powders (x = 0.2), the radiopacity values became 4.90 ± 0.23 and 5.83 ± 0.22 mmAl after a heat treatment of 500 °C and 750 °C, respectively.
View Full-Text
►

▼

Figures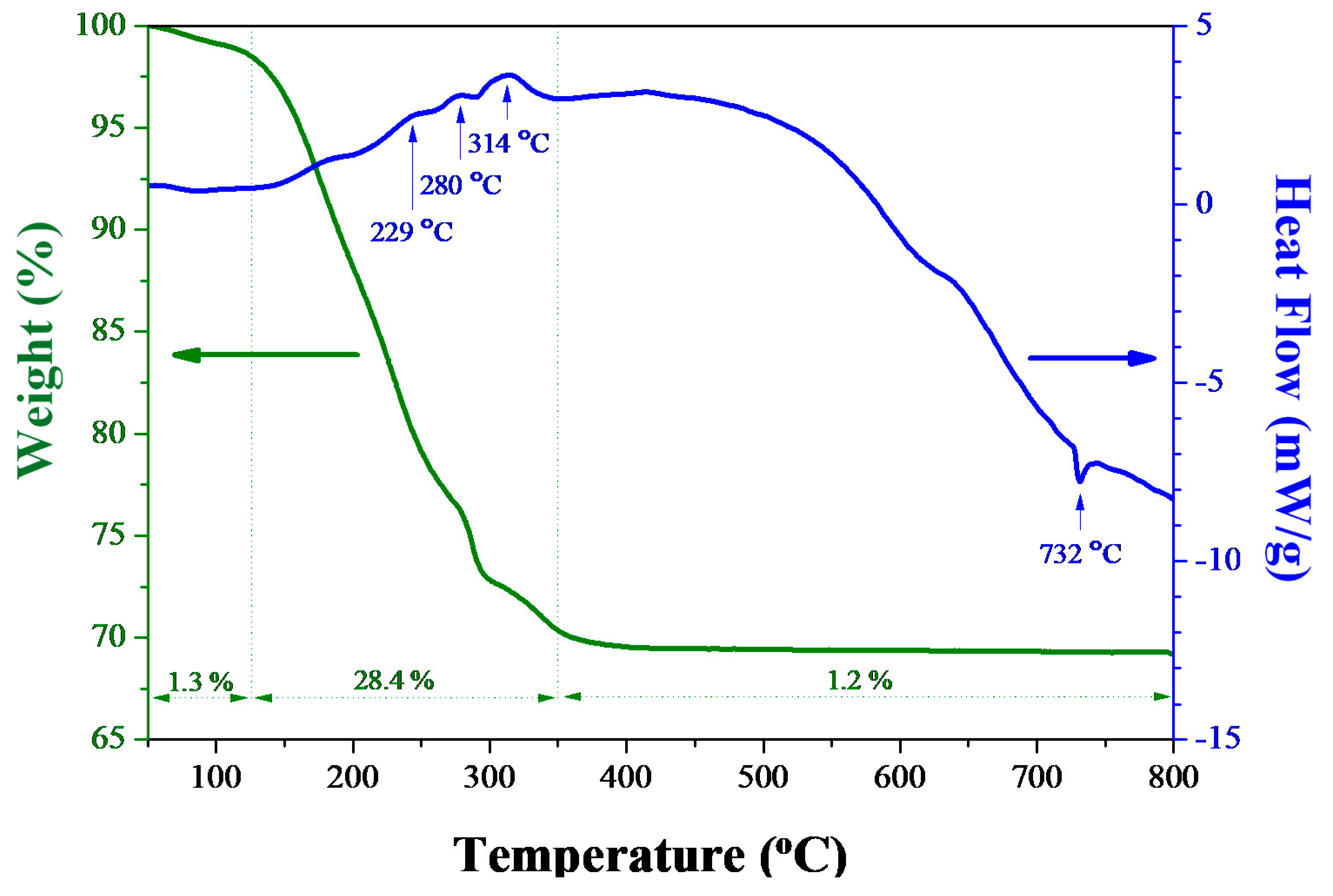 Figure 1
This is an open access article distributed under the
Creative Commons Attribution License
which permits unrestricted use, distribution, and reproduction in any medium, provided the original work is properly cited (CC BY 4.0).

Share & Cite This Article
MDPI and ACS Style
Chen, M.-S.; Chen, S.-H.; Lai, F.-C.; Chen, C.-Y.; Hsieh, M.-Y.; Chang, W.-J.; Yang, J.-C.; Lin, C.-K. Sintering Temperature-Dependence on Radiopacity of Bi(2−x) ZrxO(3+x/2) Powders Prepared by Sol-Gel Process. Materials 2018, 11, 1685.
Note that from the first issue of 2016, MDPI journals use article numbers instead of page numbers. See further details here.
Related Articles
Comments
[Return to top]