Associations of Class-Time Sitting, Stepping and Sit-to-Stand Transitions with Cognitive Functions and Brain Activity in Children
1
School of Health and Social Development, Faculty of Health, Deakin University, Geelong VIC 3220, Australia
2
Physical Education and Sports Science (PESS) Academic Group, National Institute of Education (NIE), Nanyang Technological University, Singapore 637616, Singapore
3
School of Exercise and Nutrition Sciences, Faculty of Health, Deakin University, Geelong VIC 3220, Australia
4
Institute for Physical Activity and Nutrition (IPAN), Deakin University, Geelong VIC 3220, Australia
5
Department of Movement, Human and Health Sciences, Italian University of Sport and Movement, 00135 Rome, Italy
6
Cognitive Neuroscience Unit, School of Psychology, Deakin University, Geelong VIC 3220, Australia
7
Cognitive Neurophysiology Laboratory, Research Institute for Neuroscience, Education and Didactics, Patrizio Paoletti Foundation, 06081 Assisi, Italy
*
Authors to whom correspondence should be addressed.
Received: 8 March 2019 / Revised: 18 April 2019 / Accepted: 19 April 2019 / Published: 26 April 2019
Abstract
Previous research showed that children's physical activity is positively related to executive functions, whilst screen time shows negative associations. However, it is unclear how school-based sitting time and transitions from sitting to standing relate to cognition. We investigated the relationship between class time sitting/stepping/sit-to-stand transitions and cognitive functions in Grade 1–2 children. Overall, 149 children (7.7 ± 0.6 years old, 54% boys) participated. Measures included class time sitting/stepping/sit-to-stand transitions and: (i) response inhibition (i.e., response time and accuracy); (ii) lapses of attention; (iii) working memory; and (iv) brain activity (cortical haemodynamic response). Linear mixed-models, adjusting for age, sex, and clustering at the classroom level, found that more sitting time was associated with higher lapses of attention (
β
= 0.12,
p
< 0.05). Children who stepped more had quicker inhibition response time (
β
= −0.95,
p
< 0.01); however, they were less accurate in their responses (
β
= −0.30,
p
< 0.05) and this was also observed with sit-to-stand transitions (
β
= −0.26,
p
< 0.05). No associations were found with brain activity. In conclusion, reducing and breaking up sitting may help keep children focused, but the evidence regarding response inhibition is unclear.
View Full-Text
►

▼

Figures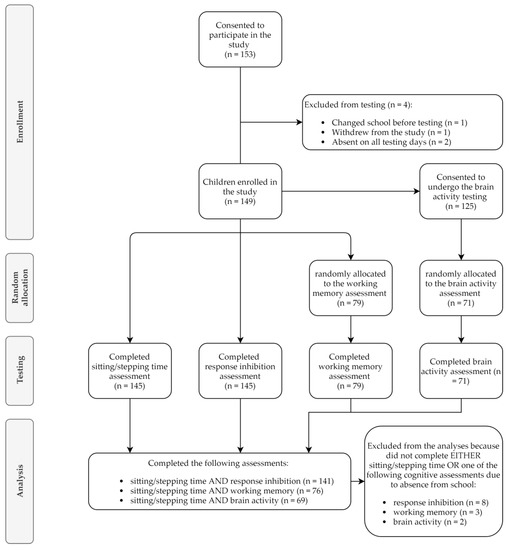 Figure 1
This is an open access article distributed under the
Creative Commons Attribution License
which permits unrestricted use, distribution, and reproduction in any medium, provided the original work is properly cited (CC BY 4.0).

Share & Cite This Article
MDPI and ACS Style
Mazzoli, E.; Teo, W.-P.; Salmon, J.; Pesce, C.; He, J.; Ben-Soussan, T.D.; Barnett, L.M. Associations of Class-Time Sitting, Stepping and Sit-to-Stand Transitions with Cognitive Functions and Brain Activity in Children. Int. J. Environ. Res. Public Health 2019, 16, 1482.
Note that from the first issue of 2016, MDPI journals use article numbers instead of page numbers. See further details here.
Related Articles
Comments
[Return to top]