Assessment of Cholesterol, Glycemia Control and Short- and Long-Term Antihypertensive Effects of Smooth Hound Viscera Peptides in High-Salt and Fructose Diet-Fed Wistar Rats
1
Laboratory of Enzyme Engineering and Microbiology, National School of Engineering of Sfax (ENIS), University of Sfax, P.O. Box 1173, Sfax 3038, Tunisia
2
Laboratory of Biochemistry, CHU HediChaker, University of Sfax, Sfax 3000, Tunisia
3
Higher Institute of Biotechnology of Monastir, University of Monastir, Monastir 5000, Tunisia
4
Higher Institute of Biotechnology of Beja, University of Jendouba, Beja 9000, Tunisia
5
Instituto de Agroquímica y Tecnologíade Alimentos (CSIC), Avenue Agustín Escardino 7, Paterna, 46980 Valencia, Spain
6
Centre Régional de Transfusion Sanguine de Sfax, Route El-Ain Km 0.5, Sfax 3003, Tunisia
*
Author to whom correspondence should be addressed.
Received: 22 December 2018 / Revised: 21 March 2019 / Accepted: 22 March 2019 / Published: 27 March 2019
Abstract
In this study, the antihypertensive activity of Purafect
®
-smooth hound viscera protein hydrolysate (VPH) and its peptide fraction with molecular weight (MW) below 1 kDa (VPH-I) was investigated. In addition, the lipase inhibitory activity, as well the anticoagulant potential, in vitro, were assessed. The antihypertensive effects of VPH and VPH-I were studied during 24 h (short-term effect) and 30 days (long-term effect) using high-salt (18% NaCl) and -fructose (10%) diet (HSFD)-induced hypertension. Data showed that, 4 h post-administration of VPH and VPH-I (200 mg/kg BW), the systolic blood pressure of rats was reduced by about 6 and 9 mmHg, respectively. These effects were similar to that obtained with Captopril (~9 mmHg at t = 4 h). On the other hand, exposing the rats to daily to HSFD, coupled to the administration of viscera peptides, was found to attenuate hypertension. In addition, the proteins' treatments were able to correct lipid and glycemic disorders, by reducing the total cholesterol and triglyceride contents and resorting to the plasma glucose level, compared to the HSFD group. Overall, the present findings demonstrated the preventive effect of VPH-peptides from hypertension complications, as a result of their biological properties.
View Full-Text
►

▼

Figures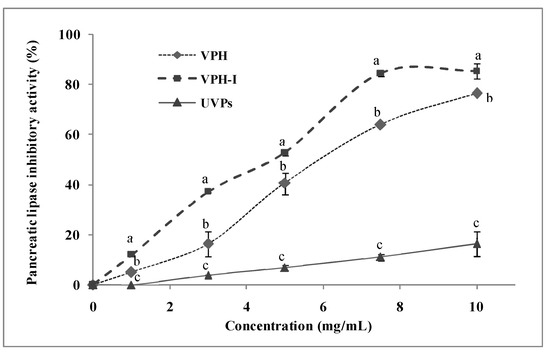 Figure 1
This is an open access article distributed under the
Creative Commons Attribution License
which permits unrestricted use, distribution, and reproduction in any medium, provided the original work is properly cited (CC BY 4.0).

Share & Cite This Article
MDPI and ACS Style
Abdelhedi, O.; Khemakhem, H.; Nasri, R.; Jridi, M.; Mora, L.; Ben Amor, I.; Jamoussi, K.; Toldrá, F.; Gargouri, J.; Nasri, M. Assessment of Cholesterol, Glycemia Control and Short- and Long-Term Antihypertensive Effects of Smooth Hound Viscera Peptides in High-Salt and Fructose Diet-Fed Wistar Rats. Mar. Drugs 2019, 17, 194.
Note that from the first issue of 2016, MDPI journals use article numbers instead of page numbers. See further details here.
Related Articles
Comments
[Return to top]