Functional Characterization of OXYL, A SghC1qDC LacNAc-specific Lectin from The Crinoid Feather Star
Anneissia Japonica
1
Graduate School of NanoBio Sciences, Yokohama City University, 22-2 Seto, Kanazawa-ku, Yokohama 236-0027, Japan
2
Department of Biochemistry and Molecular Biology, Faculty of Science, University of Rajshahi, Rajshahi 6205, Bangladesh
3
Department of Life Sciences, University of Trieste, Via Licio Giorgieri 5, 34127 Trieste, Italy
4
Graduate School of Pharmaceutical Sciences, Nagasaki International University, 2825-7 Huis Ten Bosch, Sasebo, Nagasaki 859-3298, Japan
*
Author to whom correspondence should be addressed.
Received: 29 January 2019 / Revised: 14 February 2019 / Accepted: 18 February 2019 / Published: 25 February 2019
Abstract
We identified a lectin (carbohydrate-binding protein) belonging to the complement 1q(C1q) family in the feather star
Anneissia japonica
(a crinoid pertaining to the phylum Echinodermata). The combination of Edman degradation and bioinformatics sequence analysis characterized the primary structure of this novel lectin, named OXYL, as a secreted 158 amino acid-long globular head (sgh)C1q domain containing (C1qDC) protein. Comparative genomics analyses revealed that OXYL pertains to a family of intronless genes found with several paralogous copies in different crinoid species. Immunohistochemistry assays identified the tissues surrounding coelomic cavities and the arms as the main sites of production of OXYL. Glycan array confirmed that this lectin could quantitatively bind to type-2 N-acetyllactosamine (LacNAc: Galβ1-4GlcNAc), but not to type-1 LacNAc (Galβ1-3GlcNAc). Although OXYL displayed agglutinating activity towards
Pseudomonas aeruginosa
, it had no effect on bacterial growth. On the other hand, it showed a significant anti-biofilm activity. We provide evidence that OXYL can adhere to the surface of human cancer cell lines BT-474, MCF-7, and T47D, with no cytotoxic effect. In BT-474 cells, OXYL led to a moderate activation of the p38 kinase in the MAPK signaling pathway, without affecting the activity of caspase-3. Bacterial agglutination, anti-biofilm activity, cell adhesion, and p38 activation were all suppressed by co-presence of LacNAc. This is the first report on a type-2 LacNAc-specific lectin characterized by a C1q structural fold.
View Full-Text
►

▼

Figures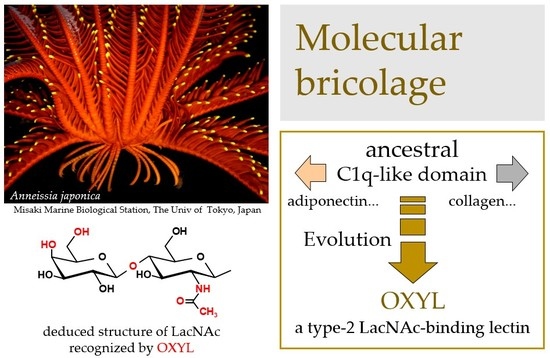 Graphical abstract
This is an open access article distributed under the
Creative Commons Attribution License
which permits unrestricted use, distribution, and reproduction in any medium, provided the original work is properly cited (CC BY 4.0).

Share & Cite This Article
MDPI and ACS Style
Hasan, I.; Gerdol, M.; Fujii, Y.; Ozeki, Y. Functional Characterization of OXYL, A SghC1qDC LacNAc-specific Lectin from The Crinoid Feather Star Anneissia Japonica. Mar. Drugs 2019, 17, 136.
Note that from the first issue of 2016, MDPI journals use article numbers instead of page numbers. See further details here.
Related Articles
Comments
[Return to top]