Chemical Diversity and Biological Activities of Marine Sponges of the Genus
Suberea

: A Systematic Review

1

Institut de Chimie des Substances Naturelles, CNRS UPR 2301, Univ. Paris-Sud, University of Paris-Saclay, 1, Avenue de la Terrasse, 91198 Gif-Sur-Yvette, France

2

Organic Chemistry Division, Chemistry Department, Faculty of Science, Mansoura University, 35516 Mansoura, Egypt

3

Department of Pharmacognosy, University of Vienna, 1090 Vienna, Austria

4

Institute of Genetics and Animal Breeding of the Polish Academy of Sciences, 05-552 Jastrzebiec, Poland

5

Faculty of Human Nutrition and Consumer Sciences, Warsaw University of Life Sciences, 02-776 Warsaw, Poland

6

Department of Pharmacognosy and chemistry of natural products, Faculty of Pharmacy, National and kapodistrian University of Athens, Panepistimiopolis Zografou, 15771 Athens, Greece

7

Department of Biochemistry, Faculty of Agriculture, Fayoum University, 63514 Fayoum, Egypt

8

Queensland Museum, P.O. Box 3300, South Brisbane BC, QLD 4101, Australia

9

Department of Food Engineering, Faculty of Engineering and Architecture, Killis 7 Aralik University, 79000 Kilis, Turkey

10

ICBAS—Instituto de Ciências Biomédicas Abel Salazar & CIIMAR, Universidade do Porto, Rua de Jorge Viterbo Ferreira, 228, 4050-313 Porto, Portugal

*

Authors to whom correspondence should be addressed.

Received: 16 January 2019 / Revised: 2 February 2019 / Accepted: 11 February 2019 / Published: 12 February 2019
Abstract
Marine natural products (MNPs) continue to be in the spotlight in the global drug discovery endeavor. Currently, more than 30,000 structurally diverse secondary metabolites from marine sources have been isolated, making MNPs a profound, renewable source to investigate novel drug compounds. Marine sponges of the genus
Suberea
(family: Aplysinellidae) are recognized as producers of bromotyrosine derivatives, which are considered distinct chemotaxonomic markers for the marine sponges belonging to the order Verongida. This class of compounds exhibits structural diversity, ranging from simple monomeric molecules to more complex molecular scaffolds, displaying a myriad of biological and pharmacological potentialities. In this review, a comprehensive literature survey covering the period of 1998–2018, focusing on the chemistry and biological/pharmacological activities of marine natural products from marine sponges of the genus
Suberea
, with special attention to the biogenesis of the different skeletons of halogenated compounds, is presented.
View Full-Text
►

▼

Figures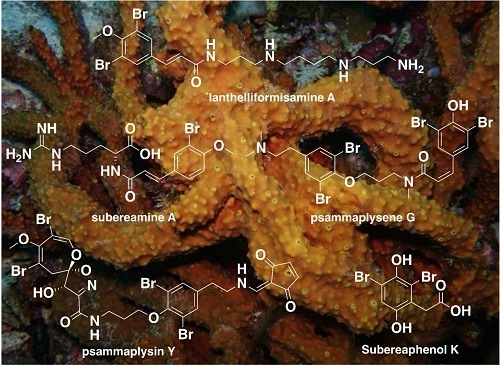 Graphical abstract
This is an open access article distributed under the
Creative Commons Attribution License
which permits unrestricted use, distribution, and reproduction in any medium, provided the original work is properly cited (CC BY 4.0).

Share & Cite This Article
MDPI and ACS Style
El-Demerdash, A.; Atanasov, A.G.; Horbanczuk, O.K.; Tammam, M.A.; Abdel-Mogib, M.; Hooper, J.N.A.; Sekeroglu, N.; Al-Mourabit, A.; Kijjoa, A. Chemical Diversity and Biological Activities of Marine Sponges of the Genus Suberea: A Systematic Review. Mar. Drugs 2019, 17, 115.
Note that from the first issue of 2016, MDPI journals use article numbers instead of page numbers. See further details here.
Related Articles
Comments
[Return to top]