The Holo-Transcriptome of the Zoantharian
Protopalythoa variabilis

(Cnidaria: Anthozoa): A Plentiful Source of Enzymes for Potential Application in Green Chemistry, Industrial and Pharmaceutical Biotechnology

1

Northeast Biotechnology Network (RENORBIO), Post-Graduation Program in Biotechnology, Federal University of Ceará, Fortaleza 60440-900, Brazil

2

Laboratory of Biochemistry and Biotechnology, Institute for Marine Sciences, Federal University of Ceará, Fortaleza 60165-081, Brazil

3

State Key Laboratory of Quality Research in Chinese Medicine and Institute of Chinese Medical Sciences, University of Macau, Macau 519020, China

4

Department of Biology, Federal Rural University of Pernambuco, Recife 52171-900, Brazil

5

Academic Center in Vitória, Federal University of Pernambuco, Vitória de Santo Antão 50670-901, Pernambuco, Brazil

6

Laboratory of Genetics, Butantan Institute, São Paulo 05503-900, Brazil

*

Authors to whom correspondence should be addressed.

Received: 1 May 2018 / Revised: 5 June 2018 / Accepted: 8 June 2018 / Published: 13 June 2018
Abstract
Marine invertebrates, such as sponges, tunicates and cnidarians (zoantharians and scleractinian corals), form functional assemblages, known as holobionts, with numerous microbes. This type of species-specific symbiotic association can be a repository of myriad valuable low molecular weight organic compounds, bioactive peptides and enzymes. The zoantharian
Protopalythoa variabilis
(Cnidaria: Anthozoa) is one such example of a marine holobiont that inhabits the coastal reefs of the tropical Atlantic coast and is an interesting source of secondary metabolites and biologically active polypeptides. In the present study, we analyzed the entire holo-transcriptome of
P. variabilis
, looking for enzyme precursors expressed in the zoantharian-microbiota assemblage that are potentially useful as industrial biocatalysts and biopharmaceuticals. In addition to hundreds of predicted enzymes that fit into the classes of hydrolases, oxidoreductases and transferases that were found, novel enzyme precursors with multiple activities in single structures and enzymes with incomplete Enzyme Commission numbers were revealed. Our results indicated the predictive expression of thirteen multifunctional enzymes and 694 enzyme sequences with partially characterized activities, distributed in 23 sub-subclasses. These predicted enzyme structures and activities can prospectively be harnessed for applications in diverse areas of industrial and pharmaceutical biotechnology.
View Full-Text
►

▼

Figures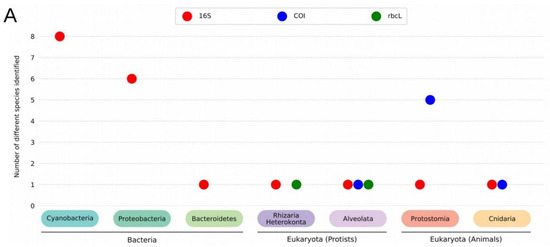 Figure 1
This is an open access article distributed under the
Creative Commons Attribution License
which permits unrestricted use, distribution, and reproduction in any medium, provided the original work is properly cited (CC BY 4.0).

Share & Cite This Article
MDPI and ACS Style
R. L. Morlighem, J.-É.; Huang, C.; Liao, Q.; Braga Gomes, P.; Daniel Pérez, C.; De Brandão Prieto-da-Silva, Á.R.; Ming-Yuen Lee, S.; Rádis-Baptista, G. The Holo-Transcriptome of the Zoantharian Protopalythoa variabilis (Cnidaria: Anthozoa): A Plentiful Source of Enzymes for Potential Application in Green Chemistry, Industrial and Pharmaceutical Biotechnology. Mar. Drugs 2018, 16, 207.
Note that from the first issue of 2016, MDPI journals use article numbers instead of page numbers. See further details here.
Related Articles
Comments
[Return to top]