Identification of Novel Gymnodimines and Spirolides from the Marine Dinoflagellate
Alexandrium ostenfeldii
1
Marine Chemistry, University of Bremen, Leobener Straße 6, 28359 Bremen, Germany
2
Alfred Wegener Institute, Helmholtz Centre for Polar and Marine Research, Section Ecological Chemistry, Am Handelshafen 12, 27570 Bremerhaven, Germany
*
Authors to whom correspondence should be addressed.
Received: 13 September 2018 / Revised: 26 October 2018 / Accepted: 5 November 2018 / Published: 14 November 2018
Abstract
Cyclic imine toxins are neurotoxic, macrocyclic compounds produced by marine dinoflagellates. Mass spectrometric screenings of extracts from natural plankton assemblages revealed a high chemical diversity among this toxin class, yet only few toxins are structurally known. Here we report the structural characterization of four novel cyclic-imine toxins (two gymnodimines (GYMs) and two spirolides (SPXs)) from cultures of
Alexandrium ostenfeldii
. A GYM with
m
/
z
510 (
1
) was identified as 16-desmethylGYM D. A GYM with
m
/
z
526 was identified as the hydroxylated degradation product of (
1
) with an exocyclic methylene at C-17 and an allylic hydroxyl group at C-18. This compound was named GYM E (
2
). We further identified a SPX with
m
/
z
694 as 20-hydroxy-13,19-didesmethylSPX C (
10
) and a SPX with
m
/
z
696 as 20-hydroxy-13,19-didesmethylSPX D (
11
). This is the first report of GYMs without a methyl group at ring D and SPXs with hydroxyl groups at position C-20. These compounds can be conceived as derivatives of the same nascent polyketide chain, supporting the hypothesis that GYMs and SPXs are produced through common biosynthetic genes. Both novel GYMs
1
and
2
were detected in significant amounts in extracts from natural plankton assemblages (
1
: 447 pg;
2
: 1250 pg;
11
: 40 pg per mL filtered seawater respectively).
View Full-Text
►

▼

Figures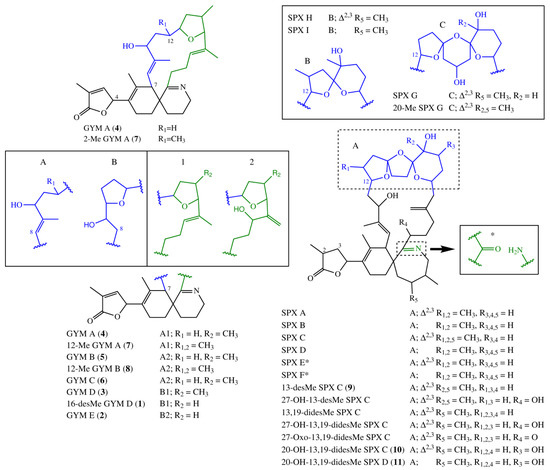 Figure 1
This is an open access article distributed under the
Creative Commons Attribution License
which permits unrestricted use, distribution, and reproduction in any medium, provided the original work is properly cited (CC BY 4.0).
Supplementary materials
Supplementary File 1:

PDF-Document (PDF, 11656 KB)

Externally hosted supplementary file 1
Link: https://doi.pangaea.de/10.1594/PANGAEA.895116
Description: The following are available online at www.mdpi.com/xxx/s1, Figure S1: Structures of known and novel gymnodimines; Figure S2: Structures of known and novel spirolides; Figure S4-S22 NMR-spectra of 1; Figure S23: CD-spectra of 1 and 4 and simulated CD spectra of 1, S24-S31 NMR-spectra of 2; Figure S32-S53 NMR-spectra of 10; Figure S54-S62 NMR-spectra of 11; Table S1: Mass transitions of spiroimines included in LC-MS/MS analysis; Figure S63: LC-MS/MS chromatogram of station SL92-2. Raw NMR data (Topspin) and annotated Mestre files are available in the data repository PANGAEA https://doi.pangaea.de/10.1594/PANGAEA.895116 .

Share & Cite This Article
MDPI and ACS Style
Zurhelle, C.; Nieva, J.; Tillmann, U.; Harder, T.; Krock, B.; Tebben, J. Identification of Novel Gymnodimines and Spirolides from the Marine Dinoflagellate Alexandrium ostenfeldii. Mar. Drugs 2018, 16, 446.
Note that from the first issue of 2016, MDPI journals use article numbers instead of page numbers. See further details here.
Related Articles
Comments
[Return to top]