Synthesis of Poly(norbornene-methylamine), a Biomimetic of Chitosan, by Ring-Opening Metathesis Polymerization (ROMP)
School of Materials Science & Engineering, Beijing Institute of Technology, Beijing 100081, China
*
Author to whom correspondence should be addressed.
†
These authors contributed equally to this work.
Received: 12 June 2017 / Revised: 5 July 2017 / Accepted: 9 July 2017 / Published: 14 July 2017
Abstract
ROMP is an effective method for preparing functional polymers due to its having characteristics of "living" polymerization and rapid development of catalysts. In the present work, poly(norbornene-methylamine), a mimic of chitosan, was synthesized via ROMP reaction. The amino-protected product, 5-norbornene-2-(
N
-methyl)-phthalimide, was prepared by a reaction of 5-norbornene-2-methylamine with phthalic anhydride, which was then subjected to the ROMP reaction in the presence of Hoveyda-Grubbs 2nd catalyst to afford poly(norbornene-(
N
-methyl)-phthalimide). The target product, poly(norbornene-methylamine), was obtained by deprotection reaction of poly(norbornene-(
N
-methyl)-phthalimide). The products in each step were characterized by FTIR and
1
H-NMR, and their thermal stabilities were determined by TG analysis. The effects of molar ratio between monomer ([M]/[I]) and catalyst on the average relative molecular weight (
) and molecular weight distribution of the produced polymer products were determined by gel permeation chromatography (GPC). It was found that the
of poly(norbornene-(
N
-methyl)-phthalimide) was controllable and exhibited a narrow polydispersity index (PDI) (~1.10). The synthesis condition of 5-norbornene-2-(
N
-methyl)-phthalimide was optimized by determining the yields at different reaction temperatures and reaction times. The highest yield was obtained at a reaction temperature of 130 °C and a reaction time of 20 min. Our work provides a new strategy to synthesize polymers with controllable structures and free –NH
2
groups via ROMP.
View Full-Text
►

▼

Figures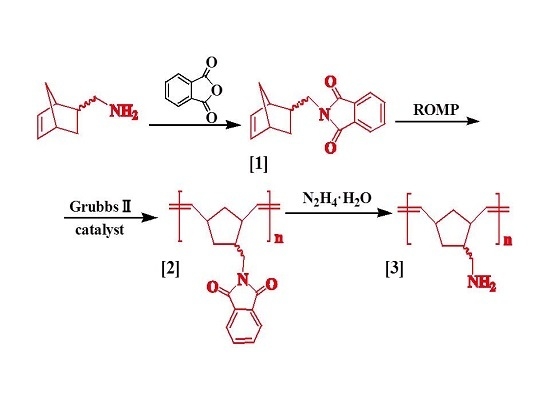 Graphical abstract
This is an open access article distributed under the
Creative Commons Attribution License
which permits unrestricted use, distribution, and reproduction in any medium, provided the original work is properly cited (CC BY 4.0).

Share & Cite This Article
MDPI and ACS Style
Li, N.; Wang, H.; Qu, X.; Chen, Y. Synthesis of Poly(norbornene-methylamine), a Biomimetic of Chitosan, by Ring-Opening Metathesis Polymerization (ROMP). Mar. Drugs 2017, 15, 223.
Note that from the first issue of 2016, MDPI journals use article numbers instead of page numbers. See further details here.
Related Articles
Comments
[Return to top]