Synthesis, Evaluation of Cytotoxicity and Molecular Docking Studies of the 7-Acetamido Substituted 2-Aryl-5-bromo-3-trifluoroacetylindoles as Potential Inhibitors of Tubulin Polymerization
1
Department of Chemistry, College of Science, Engineering and Technology, University of South Africa, Private Bag X06, Florida 1710, South Africa
2
Department of Life & Consumer Sciences, College of Agriculture and Environmental Sciences, University of South Africa, Private Bag X06, Florida 1710, South Africa
*
Author to whom correspondence should be addressed.
Received: 9 May 2018 / Revised: 22 May 2018 / Accepted: 25 May 2018 / Published: 11 June 2018
Abstract
The 3-trifluoroacetyl–substituted 7-acetamido-2-aryl-5-bromoindoles
5a
–
h
were prepared and evaluated for potential antigrowth effect in vitro against human lung cancer (A549) and cervical cancer (HeLa) cells and for the potential to inhibit tubulin polymerization. The corresponding intermediates, namely, the 3-unsubstituted 7-acetyl-2-aryl-5-bromoindole
2a
–
d
and 7-acetamido-2-aryl-5-bromoindole
4a
–
d
were included in the assays in order to correlate both structural variations and cytotoxicity. No cytotoxicity was observed for compounds
2a
–
d
and their 3-trifluoroacetyl–substituted derivatives
5a
–
d
against both cell lines. The 7-acetamido derivatives
4
–
d
exhibited modest cytotoxicity against both cell lines. All of the 3-trifluoroacetyl–substituted 7-acetamido-2-aryl-5-bromoindoles
5e
–
h
were found to be more active against both cell lines when compared to the chemotherapeutic drug, Melphalan. The most active compound,
5g
, induced programmed cell death (apoptosis) in a caspase-dependent manner for both A549 and HeLa cells. Compounds
5e
–
h
were found to significantly inhibit tubulin polymerization against indole-3-carbinol and colchicine as reference standards. Molecular docking of
5g
into the colchicine-binding site suggests that the compounds bind to tubulin by different type of interactions including pi-alkyl, amide-pi stacked and alkyl interactions as well as hydrogen bonding with the protein residues to elicit anticancer activity.
View Full-Text
►

▼

Figures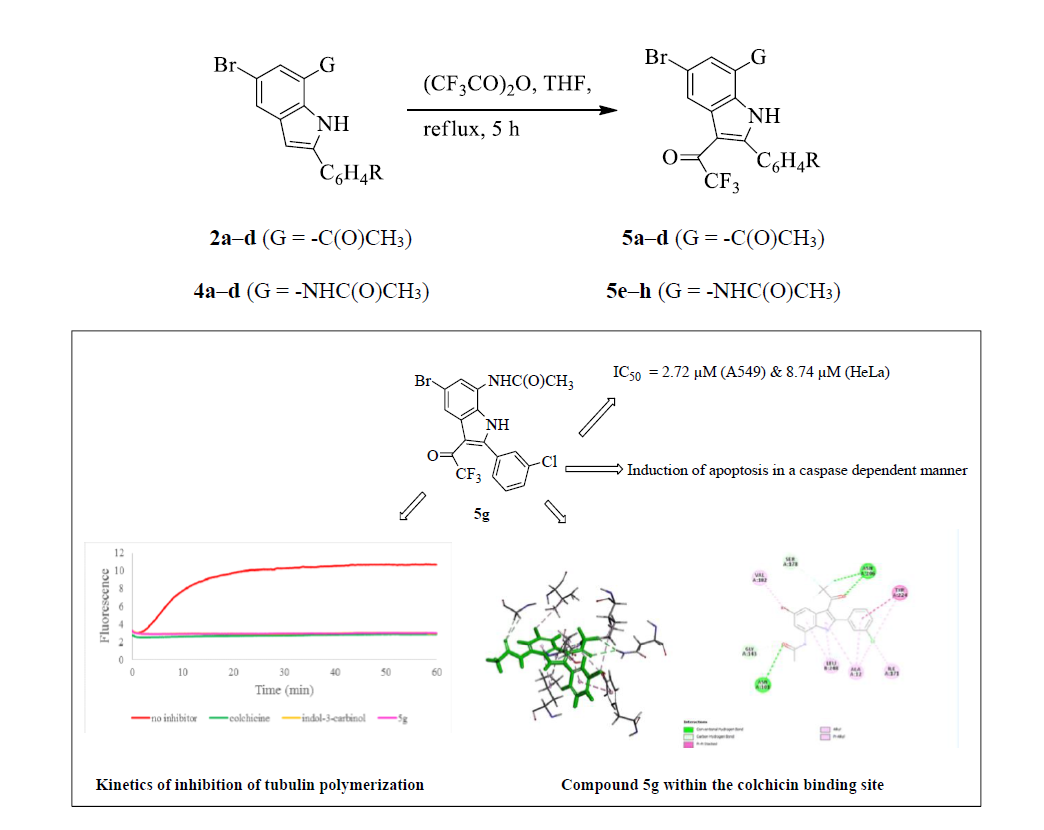 Graphical abstract
This is an open access article distributed under the
Creative Commons Attribution License
which permits unrestricted use, distribution, and reproduction in any medium, provided the original work is properly cited (CC BY 4.0).

Share & Cite This Article
MDPI and ACS Style
Mphahlele, M.J.; Parbhoo, N. Synthesis, Evaluation of Cytotoxicity and Molecular Docking Studies of the 7-Acetamido Substituted 2-Aryl-5-bromo-3-trifluoroacetylindoles as Potential Inhibitors of Tubulin Polymerization. Pharmaceuticals 2018, 11, 59.
Note that from the first issue of 2016, MDPI journals use article numbers instead of page numbers. See further details here.
Related Articles
Comments
[Return to top]