Parallel Evolution of Host-Attachment Proteins in Phage PP01 Populations Adapting to
Escherichia coli

O157:H7

1

Department of Immunology and Infectious Diseases, Harvard T.H. Chan School of Public Health, Boston, MA 02120, USA

2

Department of Ecology and Evolutionary Biology, Yale University, New Haven, CT 06511, USA

3

Coli Genetic Stock Center, Department of Molecular, Cellular and Developmental Biology, Yale University, New Haven, CT 06511, USA

*

Author to whom correspondence should be addressed.

Received: 12 April 2018 / Revised: 7 June 2018 / Accepted: 11 June 2018 / Published: 20 June 2018
Abstract
The emergence of antibiotic resistance has sparked interest in phage therapy, which uses virulent phages as antibacterial agents. Bacteriophage PP01 has been studied for potential bio-control of
Escherichia coli
O157:H7, its natural host, but in the laboratory, PP01 can be inefficient at killing this bacterium. Thus, the goal of this study was to improve the therapeutic potential of PP01 through short-term experimental evolution. Four replicate populations of PP01 were serially passaged 21 times on non-evolving
E. coli
O157:H7 with the prediction that the evolved phage populations would adsorb faster and more efficiently kill the host bacteria. Dead-cell adsorption assays and in vitro killing assays confirmed that evolved viruses improved their adsorption ability on
E. coli
O157:H7, and adapted to kill host bacteria faster than the wildtype ancestor. Sequencing of candidate tail-fiber genes revealed that the phage populations evolved in parallel; the lineages shared two point mutations in
gp38
that encodes a host recognition protein, and surprisingly shared a ~600 bp deletion in
gp37
that encodes the distal tail fibers. In contrast, no mutations were observed in the
gp12
gene encoding PP01's short tail fibers. We discuss the functional role of the observed mutations, including the possible adaptive role of the evolved deletions. This study demonstrates how experimental evolution can be used to select for viral traits that improve phage attack of an important bacterial pathogen, and that the molecular targets of selection include loci contributing to cell attachment and phage virulence.
View Full-Text
►

▼

Figures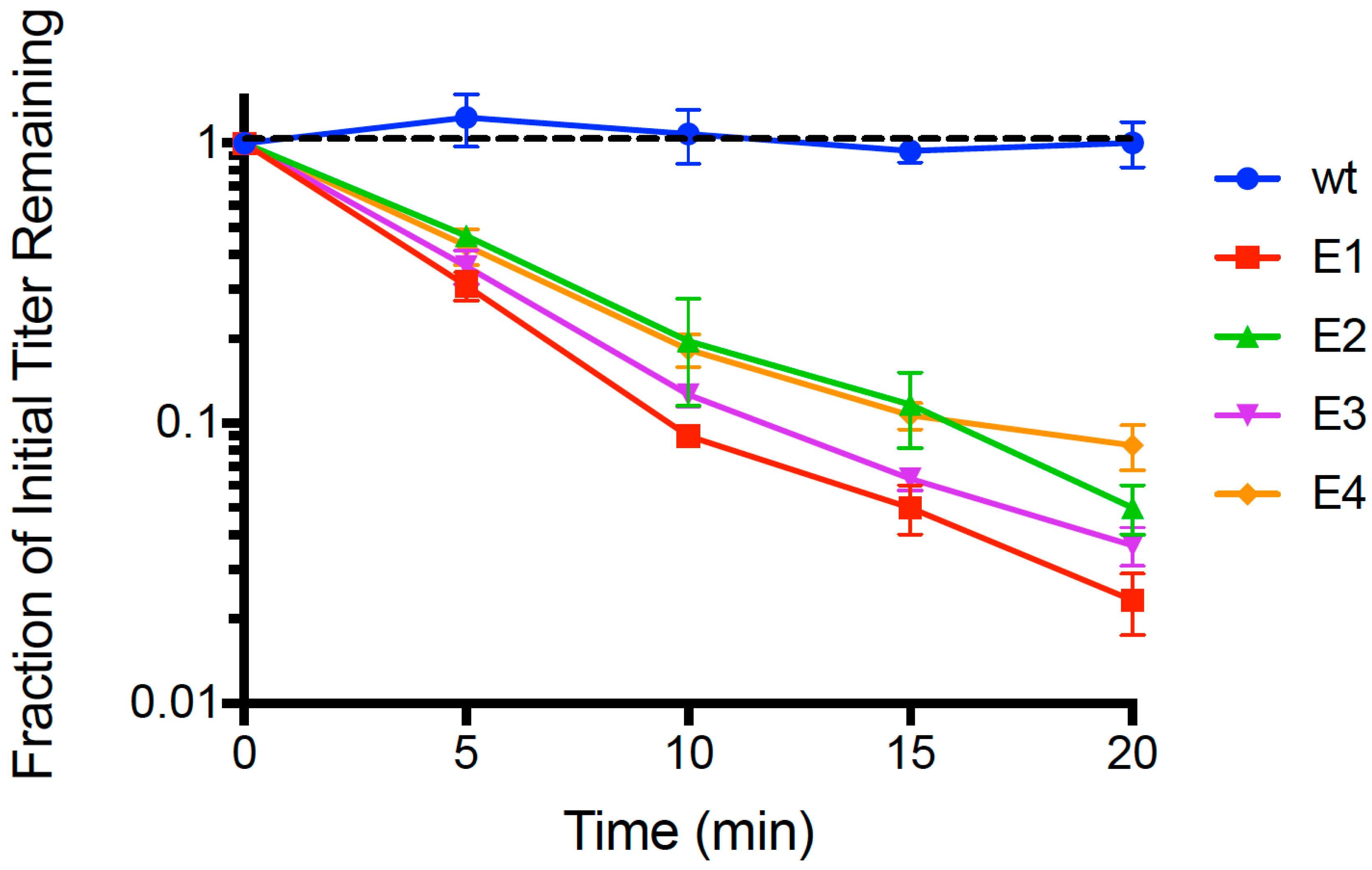 Figure 1
This is an open access article distributed under the
Creative Commons Attribution License
which permits unrestricted use, distribution, and reproduction in any medium, provided the original work is properly cited (CC BY 4.0).

Share & Cite This Article
MDPI and ACS Style
Akusobi, C.; Chan, B.K.; Williams, E.S.; Wertz, J.E.; Turner, P.E. Parallel Evolution of Host-Attachment Proteins in Phage PP01 Populations Adapting to Escherichia coli O157:H7. Pharmaceuticals 2018, 11, 60.
Note that from the first issue of 2016, MDPI journals use article numbers instead of page numbers. See further details here.
Related Articles
Comments
[Return to top]