Biochemical and Anatomical Investigation of
Sesbania herbacea

(Mill.) McVaugh Nodules Grown under Flooded and Non-Flooded Conditions

1

Plant Genetics Research Unit, USDA-ARS, Columbia, MO 65211, USA

2

Plant Science Division, University of Missouri, Columbia, MO 65211, USA

3

Plant Science Division, University of Missouri, Delta Center, Portageville, MO 63873, USA

4

Food Composition and Methods Development Laboratory, BHNRC, USDA-ARS, Beltsville, MD 20705, USA

5

Soybean Genomics and Improvement Laboratory, USDA-ARS, Beltsville, MD 20705, USA

*

Author to whom correspondence should be addressed.

Received: 7 March 2019 / Revised: 9 April 2019 / Accepted: 10 April 2019 / Published: 12 April 2019
Abstract
Sesbania herbacea
, a native North American fast-growing legume, thrives in wet and waterlogged conditions. This legume enters into symbiotic association with rhizobia, resulting in the formation of nitrogen-fixing nodules on the roots. A flooding-induced anaerobic environment imposes a challenge for the survival of rhizobia and negatively impacts nodulation. Very little information is available on how
S. herbacea
is able to thrive and efficiently fix N
2
in flooded conditions. In this study, we found that Sesbania plants grown under flooded conditions were significantly taller, produced more biomass, and formed more nodules when compared to plants grown on dry land. Transmission electron microscopy of Sesbania nodules revealed bacteroids from flooded nodules contained prominent polyhydroxybutyrate crystals, which were absent in non-flooded nodules. Gas and ion chromatography mass spectrometry analysis of nodule metabolites revealed a marked decrease in asparagine and an increase in the levels of gamma aminobutyric acid in flooded nodules. 2-D gel electrophoresis of nodule bacteroid proteins revealed flooding-induced changes in their protein profiles. Several of the bacteroid proteins that were prominent in flooded nodules were identified by mass spectrometry to be members of the ABC transporter family. The activities of several key enzymes involved in nitrogen metabolism was altered in Sesbania flooded nodules. Aspartate aminotransferase (AspAT), an enzyme with a vital role in the assimilation of reduced nitrogen, was dramatically elevated in flooded nodules. The results of our study highlight the potential of
S. herbacea
as a green manure and sheds light on the morphological, structural, and biochemical adaptations that enable
S. herbacea
to thrive and efficiently fix N
2
in flooded conditions.
View Full-Text
►

▼

Figures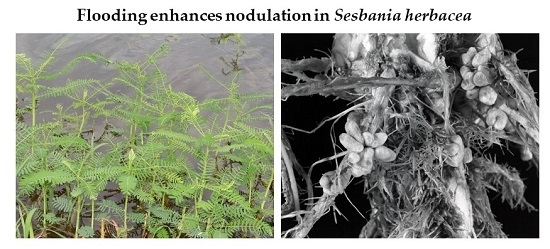 Graphical abstract
This is an open access article distributed under the
Creative Commons Attribution License
which permits unrestricted use, distribution, and reproduction in any medium, provided the original work is properly cited (CC BY 4.0).

Share & Cite This Article
MDPI and ACS Style
Krishnan, H.B.; Oehrle, N.W.; Alaswad, A.A.; Stevens, W.G.; Maria John, K.M.; Luthria, D.L.; Natarajan, S.S. Biochemical and Anatomical Investigation of Sesbania herbacea (Mill.) McVaugh Nodules Grown under Flooded and Non-Flooded Conditions. Int. J. Mol. Sci. 2019, 20, 1824.
Note that from the first issue of 2016, MDPI journals use article numbers instead of page numbers. See further details here.
Related Articles
Comments
[Return to top]