Analysis of Extracellular Vesicles in Gastric Juice from Gastric Cancer Patients
1
Department of General and Gastroenterological Surgery, Osaka Medical College, 2-7 Daigaku-machi, Takatsuki, Osaka 569-8686, Japan
2
Translational Research Program, Osaka Medical College, 2-7 Daigaku-machi, Takatsuki, Osaka 569-8686, Japan
3
Department of Anatomy and Cell Biology, Division of Life Sciences, Osaka Medical College, 2-7 Daigaku-machi, Takatsuki, Osaka 569-8686, Japan
4
United Graduate School of Drug Discovery and Medical Information Sciences, Gifu University, 1-1 Yanagido, Gifu 501-1193, Japan
5
Department of Biology, Osaka Medical College, 2-7 Daigaku-machi, Takatsuki, Osaka 569-8686, Japan
*
Author to whom correspondence should be addressed.
Received: 7 February 2019 / Revised: 17 February 2019 / Accepted: 20 February 2019 / Published: 22 February 2019
Abstract
Extracellular vesicles (EVs) are secretory membrane vesicles containing lipids, proteins, and nucleic acids; they function in intercellular transport by delivering their components to recipient cells. EVs are observed in various body fluids, i.e., blood, saliva, urine, amniotic fluid, and ascites. EVs secreted from cancer cells play important roles in the formation of their environment, including fibrosis, angiogenesis, evasion of immune surveillance, and even metastasis. However, EVs in gastric juice (GJ-EVs) have been largely unexplored. In this study, we sought to clarify the existence of GJ-EVs derived from gastric cancer patients. GJ-EVs were isolated by the ultracentrifuge method combined with our own preprocessing from gastric cancer (GC) patients. We verified GJ-EVs by morphological experiments, i.e., nanoparticle tracking system analysis and electron microscopy. In addition, protein and microRNA markers of EVs were examined by Western blotting analysis, Bioanalyzer, or quantitative reverse transcription polymerase chain reaction. GJ-EVs were found to promote the proliferation of normal fibroblast cells. Our findings suggest that isolates from the GJ of GC patients contain EVs and imply that GJ-EVs partially affect their microenvironments and that analysis using GJ-EVs from GC patients will help to clarify the pathophysiology of GC.
View Full-Text
►

▼

Figures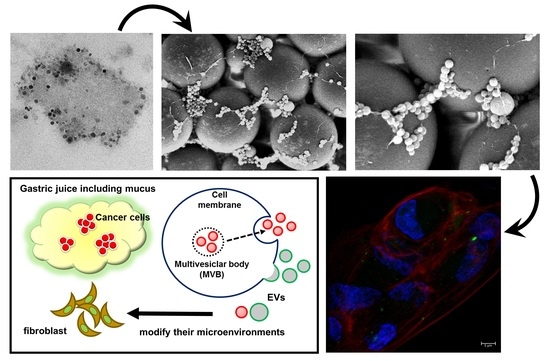 Graphical abstract
This is an open access article distributed under the
Creative Commons Attribution License
which permits unrestricted use, distribution, and reproduction in any medium, provided the original work is properly cited (CC BY 4.0).

Share & Cite This Article
MDPI and ACS Style
Kagota, S.; Taniguchi, K.; Lee, S.-W.; Ito, Y.; Kuranaga, Y.; Hashiguchi, Y.; Inomata, Y.; Imai, Y.; Tanaka, R.; Tashiro, K.; Kawai, M.; Akao, Y.; Uchiyama, K. Analysis of Extracellular Vesicles in Gastric Juice from Gastric Cancer Patients. Int. J. Mol. Sci. 2019, 20, 953.
Note that from the first issue of 2016, MDPI journals use article numbers instead of page numbers. See further details here.
Related Articles
Comments
[Return to top]