HER2 Signaling Implicated in Regulating Alveolar Epithelial Permeability with Cyclic Stretch
1
Department of Bioengineering, University of Pennsylvania, 40 Skirkanich Hall, 210 South 33rd Street, Philadelphia, PA 19104, USA
2
Department of Anesthesiology and Critical Care Medicine, Children' Hospital of Philadelphia and University of Pennsylvania, Suite 7C-26, 3401 Civic Center Boulevard, Philadelphia, PA 19104, USA
3
Wallace H. Coulter Department of Biomedical Engineering, Georgia Tech College of Engineering, Emory University School of Medicine, Atlanta, GA 30332, USA
*
Author to whom correspondence should be addressed.
Received: 22 January 2019 / Revised: 11 February 2019 / Accepted: 19 February 2019 / Published: 22 February 2019
Abstract
Mechanical ventilation can be damaging, and can cause or exacerbate ventilator-induced lung injury (VILI). The human epidermal growth factor receptor (HER) ligand neuregulin-1 (NRG1) activates HER2 heterodimerization with HER3, and has been implicated in inflammatory injuries. We hypothesized that HER2 activation contributes to VILI. We analyzed a database of differentially expressed genes between cyclically stretched and unstretched rat alveolar epithelial cells (RAEC) for HER ligands and validated the differential expression. The effect of the ligand and HER2 inhibition on RAEC permeability was tested, and in vivo relevance was assessed in a rat model of VILI. Analysis of our expression array revealed the upregulation of NRG1 and amphiregulin (AREG) with stretch. NRG1 protein, but not AREG, increased after stretch in culture media. Treatment with an NRG1-cleavage inhibitor (TAPI2) or an inhibitor of NRG1-binding (anti-HER3 antibody) reduced HER2 phosphorylation and partially mitigated stretch-induced permeability, with the upregulation of claudin-7. The results were reproduced by treatment with a direct inhibitor of HER2 phosphorylation (AG825). The transfection of microRNA miR-15b, predicted to negatively regulate NRG1, also attenuated stretch-induced permeability, and was associated with lower NRG1 mRNA levels. In rats ventilated at damaging tidal volumes, AG825 partly attenuated VILI. We concluded that cyclic stretch activates HER2 via the HER3 ligand NRG1, leading to increased permeability. Outcomes were mitigated by the downregulation of NRG1, prevention of NRG1 binding, and most strongly by the direct inhibition of HER2. In vivo HER2 inhibition also attenuated VILI. Ligand-dependent HER2 activation is a potential target for reducing VILI.
View Full-Text
►

▼

Figures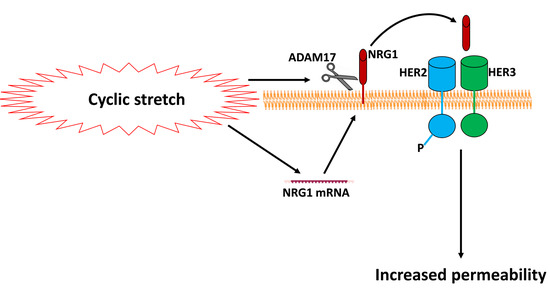 Graphical abstract
This is an open access article distributed under the
Creative Commons Attribution License
which permits unrestricted use, distribution, and reproduction in any medium, provided the original work is properly cited (CC BY 4.0).

Share & Cite This Article
MDPI and ACS Style
Yehya, N.; Song, M.J.; Lawrence, G.G.; Margulies, S.S. HER2 Signaling Implicated in Regulating Alveolar Epithelial Permeability with Cyclic Stretch. Int. J. Mol. Sci. 2019, 20, 948.
Note that from the first issue of 2016, MDPI journals use article numbers instead of page numbers. See further details here.
Related Articles
Comments
[Return to top]