Increased Cytotoxicity of Herpes Simplex Virus Thymidine Kinase Expression in Human Induced Pluripotent Stem Cells
1
Department of Pharmacology, Hoshi University School of Pharmacy and Pharmaceutical Sciences, 2-4-41, Ebara, Shinagawa-ku, Tokyo 142-8501, Japan
2
Department of Neurosurgery, Keio University School of Medicine, 35 Shinanomachi, Shinjuku-ku, Tokyo 160-8582, Japan
3
Department of Biochemistry, Keio University School of Medicine, 35 Shinanomachi, Shinjuku-ku, Tokyo 160-8582, Japan
4
Department of Physiology, Keio University School of Medicine, 35 Shinanomachi, Shinjuku-ku, Tokyo 160-8582, Japan
5
Department of Orthopedic Surgery, Keio University School of Medicine, 35 Shinanomachi, Shinjuku-ku, Tokyo 160-8582, Japan
*
Authors to whom correspondence should be addressed.
Received: 19 November 2018 / Revised: 7 February 2019 / Accepted: 11 February 2019 / Published: 14 February 2019
Abstract
Human induced pluripotent stem cells (iPSCs) hold enormous promise for regenerative medicine. The major safety concern is the tumorigenicity of transplanted cells derived from iPSCs. A potential solution would be to introduce a suicide gene into iPSCs as a safety switch. The herpes simplex virus type 1 thymidine kinase (
HSV-TK
) gene, in combination with ganciclovir, is the most widely used enzyme/prodrug suicide system from basic research to clinical applications. In the present study, we attempted to establish human iPSCs that stably expressed HSV-TK with either lentiviral vectors or CRISPR/Cas9-mediated genome editing. However, this task was difficult to achieve, because high-level and/or constitutive expression of HSV-TK resulted in the induction of cell death or silencing of HSV-TK expression. A nucleotide metabolism analysis suggested that excessive accumulation of thymidine triphosphate, caused by HSV-TK expression, resulted in an imbalance in the dNTP pools. This unbalanced state led to DNA synthesis inhibition and cell death in a process similar to a "thymidine block", but more severe. We also demonstrated that the Tet-inducible system was a feasible solution for overcoming the cytotoxicity of HSV-TK expression. Our results provided a warning against using the
HSV-TK
gene in human iPSCs, particularly in clinical applications.
View Full-Text
►

▼

Figures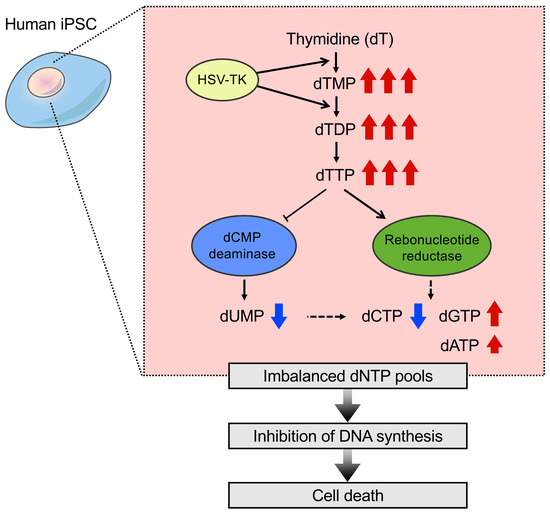 Graphical abstract
This is an open access article distributed under the
Creative Commons Attribution License
which permits unrestricted use, distribution, and reproduction in any medium, provided the original work is properly cited (CC BY 4.0).

Share & Cite This Article
MDPI and ACS Style
Iwasawa, C.; Tamura, R.; Sugiura, Y.; Suzuki, S.; Kuzumaki, N.; Narita, M.; Suematsu, M.; Nakamura, M.; Yoshida, K.; Toda, M.; Okano, H.; Miyoshi, H. Increased Cytotoxicity of Herpes Simplex Virus Thymidine Kinase Expression in Human Induced Pluripotent Stem Cells. Int. J. Mol. Sci. 2019, 20, 810.
Note that from the first issue of 2016, MDPI journals use article numbers instead of page numbers. See further details here.
Related Articles
Comments
[Return to top]