"Biological Adhesion" is a Significantly Regulated Molecular Process during Long-Term Primary In Vitro Culture of Oviductal Epithelial Cells (Oecs): A Transcriptomic and Proteomic Study
1
Department of Histology and Embryology, Poznan University of Medical Sciences, 60-781 Poznan, Poland
2
Department of Inorganic and Analytical Chemistry, Poznan University of Medical Sciences, 60-870 Poznań, Poland
3
Department of Anatomy, Poznan University of Medical Sciences, 60-781 Poznan, Poland
4
Veterinary Center, Nicolaus Copernicus University in Toruń, 87-100 Torun, Poland
5
Department of Obstetrics and Gynecology, University Hospital and Masaryk University, 601 77 Brno, Czech Republic
6
Department of Toxicology, Poznan University of Medical Sciences, 61-631 Poznan, Poland
*
Author to whom correspondence should be addressed.
Received: 23 January 2019 / Revised: 25 June 2019 / Accepted: 8 July 2019 / Published: 10 July 2019
Abstract
Oviductal epithelial cells (OECs) actively produce stimulating and protecting factors, favoring survival and viability of gametes and early embryos. The oviduct participates in the initial reproductive events, which strongly depends on adhesion. The analysis of differential gene expression in OECs, during long-term in vitro culture, enables recognition of new molecular markers regulating several processes, including "biological adhesion". Porcine oviducts were stained with hematoxylin and eosin, as well as with antibodies against epithelial markers. Then, OECs were long-term in vitro cultured and after 24 h, 7, 15, and 30 days of culture were subjected to transcriptomic and proteomic assays. Microarrays were employed to evaluate gene expression, with Matrix-assisted laser desorption/ionization-time of light (MALDI-TOF) mass spectrometry applied to determine the proteome. The results revealed proper morphology of the oviducts and typical epithelial structure of OECs during the culture. From the set of differentially expressed genes (DEGs), we have selected the 130 that encoded proteins detected by MALDI-TOF MS analysis. From this gene pool, 18 significantly enriched gene ontology biological processes (GO BP) terms were extracted. Among them we focused on genes belonging to "biological adhesion" GO BP. It is suggested that increased expression of studied genes can be attributed to the process of intensive secretion of substances that exhibit favorable influence on oviductal environment, which prime gametes adhesion and viability, fertilization, and early embryo journey.
View Full-Text
►

▼

Figures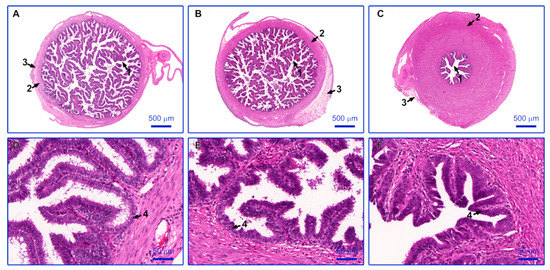 Figure 1
This is an open access article distributed under the
Creative Commons Attribution License
which permits unrestricted use, distribution, and reproduction in any medium, provided the original work is properly cited (CC BY 4.0).

Share & Cite This Article
MDPI and ACS Style
Budna-Tukan, J.; Światły-Błaszkiewicz, A.; Celichowski, P.; Kałużna, S.; Konwerska, A.; Sujka-Kordowska, P.; Jankowski, M.; Kulus, M.; Jeseta, M.; Piotrowska-Kempisty, H.; Józkowiak, M.; Antosik, P.; Bukowska, D.; Skowroński, M.T.; Matysiak, J.; Nowicki, M.; Kempisty, B. "Biological Adhesion" is a Significantly Regulated Molecular Process during Long-Term Primary In Vitro Culture of Oviductal Epithelial Cells (Oecs): A Transcriptomic and Proteomic Study. Int. J. Mol. Sci. 2019, 20, 3387.
Note that from the first issue of 2016, MDPI journals use article numbers instead of page numbers. See further details here.
Related Articles
Comments
[Return to top]