Long Non-Coding RNAs as New Master Regulators of Resistance to Systemic Treatments in Breast Cancer
1
Laboratorio de Genómica, Instituto Nacional de Cancerología (INCan), Av. San Fernando 22, Col. Sección XVI, Tlalpan, C.P. 14080 Ciudad de México, Mexico
2
Unidad de Biomedicina, FES-IZTACALA, Universidad Nacional Autónoma de México (UNAM), Av. De Los Barrios 1. Col. Los Reyes Iztacala, C.P. 54090 Tlalnepantla, Mexico
3
Posgrado en Ciencias Genómicas, Universidad Autónoma de la Ciudad de México, San Lorenzo 290, Del Valle Sur, Benito Juárez, C.P. 03100 Ciudad de México, Mexico
4
Laboratorio de Genómica Humana, Facultad de Medicina, Universidad Veracruzana (UV), Médicos, Unidad del Bosque, Xalapa, C.P. 91010 Veracruz, Mexico
5
Decanato. Ciencias de la salud. Universidad Autónoma de Guadalajara. Av. Patria 1201, Col. Lomas del Valle, C.P. 45129 Zapopan, Mexico
*
Author to whom correspondence should be addressed.
Received: 7 August 2018 / Revised: 30 August 2018 / Accepted: 4 September 2018 / Published: 11 September 2018
Abstract
Predicting response to systemic treatments in breast cancer (BC) patients is an urgent, yet still unattained health aim. Easily detectable molecules such as long non-coding RNAs (lncRNAs) are the ideal biomarkers when they act as master regulators of many resistance mechanisms, or of mechanisms that are common to more than one treatment. These kinds of markers are pivotal in quasi-personalized treatment selection, and consequently, in improvement of outcome prediction. In order to provide a better approach to understanding development of disease and resistance to treatments, we reviewed current literature searching for lncRNA-associated systemic BC treatments including endocrine therapies, aromatase inhibitors, selective estrogen receptor modulators (SERMs), trastuzumab, paclitaxel, docetaxel, 5-fluorouracil (5-FU), anthracyclines, and cisplatin. We found that the engagement of lncRNAs in resistance is well described, and that lncRNAs such as urotelial carcinoma-associated 1 (UCA1) and regulator of reprogramming (ROR) are indeed involved in multiple resistance mechanisms, which offers tantalizing perspectives for wide usage of lncRNAs as treatment resistance biomarkers. Thus, we propose this work as the foundation for a wide landscape of functions and mechanisms that link more lncRNAs to resistance to current and new treatments in years of research to come.
View Full-Text
►

▼

Figures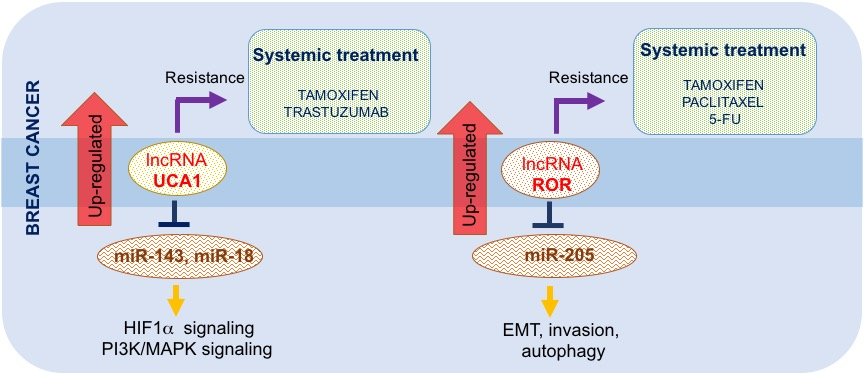 Graphical abstract
This is an open access article distributed under the
Creative Commons Attribution License
which permits unrestricted use, distribution, and reproduction in any medium, provided the original work is properly cited (CC BY 4.0).

Share & Cite This Article
MDPI and ACS Style
Campos-Parra, A.D.; López-Urrutia, E.; Orozco Moreno, L.T.; López-Camarillo, C.; Meza-Menchaca, T.; Figueroa González, G.; Bustamante Montes, L.P.; Pérez-Plasencia, C. Long Non-Coding RNAs as New Master Regulators of Resistance to Systemic Treatments in Breast Cancer. Int. J. Mol. Sci. 2018, 19, 2711.
Note that from the first issue of 2016, MDPI journals use article numbers instead of page numbers. See further details here.
Related Articles
Comments
[Return to top]