Chronic Blockade of Brain Endothelin Receptor Type-A (ETA) Reduces Blood Pressure and Prevents Catecholaminergic Overactivity in the Right Olfactory Bulb of DOCA-Salt Hypertensive Rats
1
Cátedra de Fisiología, Facultad de Farmacia y Bioquímica, Universidad de Buenos Aires, 1113 Buenos Aires, Argentina
2
Instituto de Química y Metabolismo del Fármaco (IQUIMEFA), CONICET—Universidad de Buenos Aires, 1113 Buenos Aires, Argentina
3
Cátedra de Fisiopatología, Facultad de Farmacia y Bioquímica, Universidad de Buenos Aires, 1113 Buenos Aires, Argentina
4
Instituto de Inmunología, Genética y Metabolismo (INIGEM), CONICET—Universidad de Buenos Aires, 1113 Buenos Aires, Argentina
*
Author to whom correspondence should be addressed.
Received: 19 December 2017 / Revised: 5 February 2018 / Accepted: 8 February 2018 / Published: 27 February 2018
Abstract
Overactivity of the sympathetic nervous system and central endothelins (ETs) are involved in the development of hypertension. Besides the well-known brain structures involved in the regulation of blood pressure like the hypothalamus or locus coeruleus, evidence suggests that the olfactory bulb (OB) also modulates cardiovascular function. In the present study, we evaluated the interaction between the endothelinergic and catecholaminergic systems in the OB of deoxycorticosterone acetate (DOCA)-salt hypertensive rats. Following brain ET receptor type A (ET
A
) blockade by BQ610 (selective antagonist), transcriptional, traductional, and post-traductional changes in tyrosine hydroxylase (TH) were assessed in the OB of normotensive and DOCA-salt hypertensive rats. Time course variations in systolic blood pressure and heart rate were also registered. Results showed that ET
A
blockade dose dependently reduced blood pressure in hypertensive rats, but it did not change heart rate. It also prevented the increase in TH activity and expression (mRNA and protein) in the right OB of hypertensive animals. However, ET
A
blockade did not affect hemodynamics or TH in normotensive animals. Present results support that brain ET
A
are not involved in blood pressure regulation in normal rats, but they significantly contribute to chronic blood pressure elevation in hypertensive animals. Changes in TH activity and expression were observed in the right but not in the left OB, supporting functional asymmetry, in line with previous studies regarding cardiovascular regulation. Present findings provide further evidence on the role of ETs in the regulation of catecholaminergic activity and the contribution of the right OB to DOCA-salt hypertension.
View Full-Text
►

▼

Figures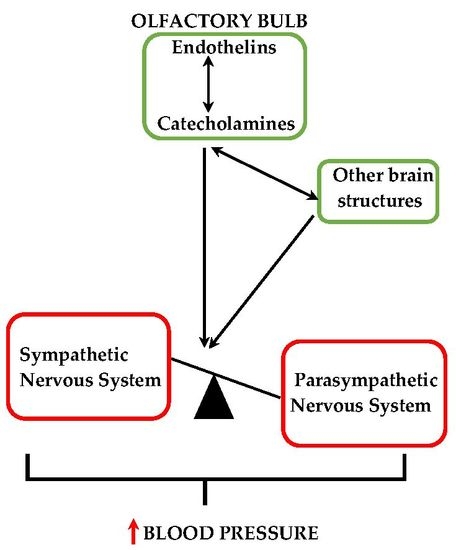 Graphical abstract
This is an open access article distributed under the
Creative Commons Attribution License
which permits unrestricted use, distribution, and reproduction in any medium, provided the original work is properly cited (CC BY 4.0).

Share & Cite This Article
MDPI and ACS Style
Cassinotti, L.R.; Guil, M.J.; Schöller, M.I.; Navarro, M.P.; Bianciotti, L.G.; Vatta, M.S. Chronic Blockade of Brain Endothelin Receptor Type-A (ETA) Reduces Blood Pressure and Prevents Catecholaminergic Overactivity in the Right Olfactory Bulb of DOCA-Salt Hypertensive Rats. Int. J. Mol. Sci. 2018, 19, 660.
Note that from the first issue of 2016, MDPI journals use article numbers instead of page numbers. See further details here.
Related Articles
Comments
[Return to top]