Omega-3 PUFA Loaded in Resveratrol-Based Solid Lipid Nanoparticles: Physicochemical Properties and Antineoplastic Activities in Human Colorectal Cancer Cells In Vitro
1
Institute of General Pathology, School of Medicine, Università Cattolica del Sacro Cuore, Largo F. Vito, 1, 00168 Roma, Italy
2
Department of Pharmacy, Health and Nutritional Sciences, Università della Calabria, Via Pietro Bucci, 87036 Arcavacata di Rende, Cosenza, Italy
3
Department of Pharmacological and Biomolecular Sciences, Università degli Studi di Milano, Via D. Trentacoste, 2, 20134 Milan, Italy
*
Author to whom correspondence should be addressed.
†
These authors contributed equally to this work.
Received: 20 December 2017 / Revised: 6 February 2018 / Accepted: 9 February 2018 / Published: 16 February 2018
Abstract
New strategies are being investigated to ameliorate the efficacy and reduce the toxicity of the drugs currently used in colorectal cancer (CRC), one of the most common malignancies in the Western world. Data have been accumulated demonstrating that the antineoplastic therapies with either conventional or single-targeted drugs could take advantage from a combined treatment with omega-3 polyunsaturated fatty acids (omega-3 PUFA). These nutrients, shown to be safe at the dosage generally used in human trials, are able to modulate molecules involved in colon cancer cell growth and survival. They have also the potential to act against inflammation, which plays a critical role in CRC development, and to increase the anti-cancer immune response. In the present study, omega-3 PUFA were encapsulated in solid lipid nanoparticles (SLN) having a lipid matrix containing resveratrol esterified to stearic acid. Our aim was to increase the efficiency of the incorporation of these fatty acids into the cells and prevent their peroxidation and degradation. The Resveratrol-based SLN were characterized and investigated for their antioxidant activity. It was observed that the encapsulation of omega-3 PUFA into the SLN enhanced significantly their incorporation in human HT-29 CRC cells in vitro, and their growth inhibitory effects in these cancer cells, mainly by reducing cell proliferation.
View Full-Text
►

▼

Figures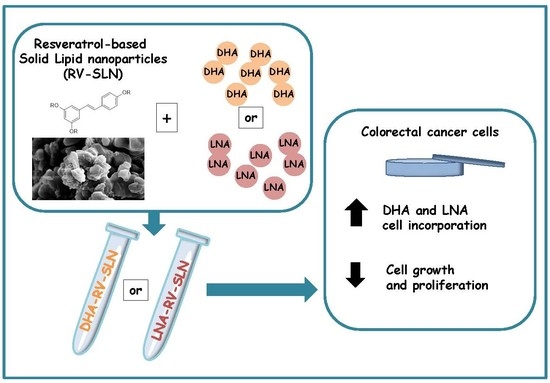 Graphical abstract
This is an open access article distributed under the
Creative Commons Attribution License
which permits unrestricted use, distribution, and reproduction in any medium, provided the original work is properly cited (CC BY 4.0).

Share & Cite This Article
MDPI and ACS Style
Serini, S.; Cassano, R.; Corsetto, P.A.; Rizzo, A.M.; Calviello, G.; Trombino, S. Omega-3 PUFA Loaded in Resveratrol-Based Solid Lipid Nanoparticles: Physicochemical Properties and Antineoplastic Activities in Human Colorectal Cancer Cells In Vitro. Int. J. Mol. Sci. 2018, 19, 586.
Note that from the first issue of 2016, MDPI journals use article numbers instead of page numbers. See further details here.
Related Articles
Comments
[Return to top]