Nrf1D Is the First Candidate Secretory Transcription Factor in the Blood Plasma, Its Precursor Existing as a Unique Redox-Sensitive Transmembrane CNC-bZIP Protein in Hemopoietic and Somatic Tissues
Laboratory of Cell Biochemistry and Topogenetic Regulation, College of Bioengineering and Faculty of Sciences, Chongqing University, No. 174 Shazheng Street, Shapingba District, Chongqing 400044, China
*
Author to whom correspondence should be addressed.
†
These authors contributed equally to this work.
Received: 13 June 2018 / Revised: 3 September 2018 / Accepted: 21 September 2018 / Published: 27 September 2018
Abstract
Among multiple distinct isoforms, Nrf1D is synthesized from a de novo translation of an alternatively-spliced transcript of Nrf1 mRNA, as accompanied by a naturally-occurring deletion of its stop codon-flanking 1466 nucleotides. This molecular event leads to the generation of a reading frameshift mutation, which results in a constitutive substitution of the intact Nrf1's C-terminal 72 amino acids (aa, covering the second half of the leucine zipper motif to C-terminal Neh3L domain) by an additional extended 80-aa stretch to generate a unique variant Nrf1D. The C-terminal extra 80-aa region of Nrf1D was herein identified to be folded into a redox-sensitive transmembrane domain, enabling it to be tightly integrated within the endoplasmic reticulum (ER) membranes. Notably, the salient feature of Nrf1D enables it to be distinguishable from prototypic Nrf1, such that Nrf1D is endowed with a lesser ability than wild-type Nrf1 to mediate target gene expression. Further evidence has also been presented revealing that both mRNA and protein levels of Nrf1D, together with other isoforms similar to those of Nrf1, were detected to varying extents in hemopoietic and somatic tissues. Surprisingly, we found the existence of Nrf1D-derived isoforms in blood plasma, implying that it is a candidate secretory transcription factor, albeit its precursor acts as an integral transmembrane-bound CNC-bZIP protein that entails dynamic topologies across membranes, before being unleashed from the ER to enter the blood.
View Full-Text
►

▼

Figures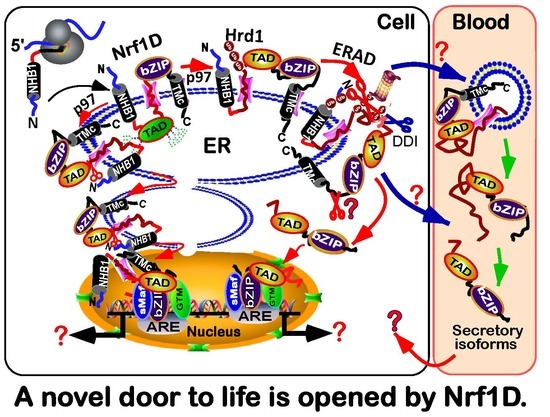 Graphical abstract
This is an open access article distributed under the
Creative Commons Attribution License
which permits unrestricted use, distribution, and reproduction in any medium, provided the original work is properly cited (CC BY 4.0).

Share & Cite This Article
MDPI and ACS Style
Yuan, J.; Wang, H.; Xiang, Y.; Hu, S.; Li, S.; Wang, M.; Qiu, L.; Zhang, Y. Nrf1D Is the First Candidate Secretory Transcription Factor in the Blood Plasma, Its Precursor Existing as a Unique Redox-Sensitive Transmembrane CNC-bZIP Protein in Hemopoietic and Somatic Tissues. Int. J. Mol. Sci. 2018, 19, 2940.
Note that from the first issue of 2016, MDPI journals use article numbers instead of page numbers. See further details here.
Related Articles
Comments
[Return to top]