Event-Associated Oxygen Consumption Rate Increases ca. Five-Fold When Interictal Activity Transforms into Seizure-Like Events In Vitro
1
Department of Experimental Neurology, Charité–Universitätsmedizin Berlin, Corporate Member of Freie Universität Berlin, Humboldt-Universität zu Berlin, and Berlin Institute of Health, 10117 Berlin, Germany
2
Center for Stroke Research Berlin, Charité–Universitätsmedizin Berlin, Corporate Member of Freie Universität Berlin, Humboldt-Universität zu Berlin, and Berlin Institute of Health, 10117 Berlin, Germany
3
Neuroscience Research Center, Charité–Universitätsmedizin Berlin, Corporate Member of Freie Universität Berlin, Humboldt-Universität zu Berlin, and Berlin Institute of Health, 10117 Berlin, Germany
4
Institute of Biochemistry, Charité–Universitätsmedizin Berlin, Corporate Member of Freie Universität Berlin, Humboldt-Universität zu Berlin, and Berlin Institute of Health, 10117 Berlin, Germany
5
Department of Neurology, Charité–Universitätsmedizin Berlin, Corporate Member of Freie Universität Berlin, Humboldt-Universität zu Berlin, and Berlin Institute of Health, 10117 Berlin, Germany
6
Institute for Neurophysiology, Charité–Universitätsmedizin Berlin, Corporate Member of Freie Universität Berlin, Humboldt-Universität zu Berlin, and Berlin Institute of Health, 10117 Berlin, Germany
7
Department of Medical Neuroscience, Faculty of Medicine, Dalhousie University, Halifax, NS B3H 4R2, Canada
8
Departments of Physiology and Cell Biology, Cognitive and Brain Sciences, Zlotowski Center for Neuroscience, Ben-Gurion University of the Negev, 84105 Beer-Sheva, Israel
9
Department of Anesthesiology and Intensive Care, Charité–Universitätsmedizin Berlin, Corporate member of Freie Universität Berlin, Humboldt-Universität zu Berlin and Berlin Institute of Health, 10117 Berlin, Germany
10
Berlin Institute of Health (BIH), Anna-Louisa-Karsch-Str. 2, 10178 Berlin, Germany
*
Author to whom correspondence should be addressed.
†
These authors contributed equally to this work.
‡
Uwe Heinemann passed away on 8 September 2016.
Received: 11 August 2017 / Revised: 30 August 2017 / Accepted: 1 September 2017 / Published: 7 September 2017
Abstract
Neuronal injury due to seizures may result from a mismatch of energy demand and adenosine triphosphate (ATP) synthesis. However, ATP demand and oxygen consumption rates have not been accurately determined, yet, for different patterns of epileptic activity, such as interictal and ictal events. We studied interictal-like and seizure-like epileptiform activity induced by the GABA
A
antagonist bicuculline alone, and with co-application of the M-current blocker XE-991, in rat hippocampal slices. Metabolic changes were investigated based on recording partial oxygen pressure, extracellular potassium concentration, and intracellular flavine adenine dinucleotide (FAD) redox potential. Recorded data were used to calculate oxygen consumption and relative ATP consumption rates, cellular ATP depletion, and changes in FAD/FADH
2
ratio by applying a reactive-diffusion and a two compartment metabolic model. Oxygen-consumption rates were ca. five times higher during seizure activity than interictal activity. Additionally, ATP consumption was higher during seizure activity (~94% above control) than interictal activity (~15% above control). Modeling of FAD transients based on partial pressure of oxygen recordings confirmed increased energy demand during both seizure and interictal activity and predicted actual FAD autofluorescence recordings, thereby validating the model. Quantifying metabolic alterations during epileptiform activity has translational relevance as it may help to understand the contribution of energy supply and demand mismatches to seizure-induced injury.
View Full-Text
►

▼

Figures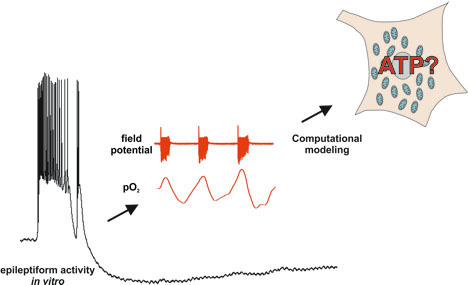 Graphical abstract
This is an open access article distributed under the
Creative Commons Attribution License
which permits unrestricted use, distribution, and reproduction in any medium, provided the original work is properly cited (CC BY 4.0).

Share & Cite This Article
MDPI and ACS Style
Schoknecht, K.; Berndt, N.; Rösner, J.; Heinemann, U.; Dreier, J.P.; Kovács, R.; Friedman, A.; Liotta, A. Event-Associated Oxygen Consumption Rate Increases ca. Five-Fold When Interictal Activity Transforms into Seizure-Like Events In Vitro. Int. J. Mol. Sci. 2017, 18, 1925.
Note that from the first issue of 2016, MDPI journals use article numbers instead of page numbers. See further details here.
Related Articles
Comments
[Return to top]