Altered Adipogenesis in Zebrafish Larvae Following High Fat Diet and Chemical Exposure Is Visualised by Stimulated Raman Scattering Microscopy
1
Institute of Environmental, Health and Societies, Brunel University, UB8 3PH London, UK
2
Institute for Environmental Studies, Vrije Universiteit Amsterdam, 1081 HV Amsterdam, The Netherlands
3
Institute for Lasers, Life and Biophotonics, Department of Physics and Astronomy, Vrije Universiteit Amsterdam, 1081 HV Amsterdam, The Netherlands
4
Department of Basic Sciences and Aquatic Medicine, Faculty of Veterinary Medicine, Norwegian University of Life Sciences, P.O. BOX 8146, Dep 0033 Oslo, Norway
5
Rotterdam Ophthalmic Institute, Rotterdam Eye Hospital, 3011 BH Rotterdam, The Netherlands
6
Radboud University Nijmegen, Faculty of Science, Department of Molecular Biology, Radboud Institute for Molecular Life Sciences, 6525 GA Nijmegen, The Netherlands
7
Radboud University Medical Center, Radboud Institute for Molecular Life Sciences, 6525 GA Nijmegen, The Netherlands
*
Author to whom correspondence should be addressed.
†
These authors contributed equally to this work.
Academic Editor: Helmut Segner
Received: 6 March 2017 / Revised: 8 April 2017 / Accepted: 18 April 2017 / Published: 24 April 2017
Abstract
Early life stage exposure to environmental chemicals may play a role in obesity by altering adipogenesis; however, robust in vivo methods to quantify these effects are lacking. The goal of this study was to analyze the effects of developmental exposure to chemicals on adipogenesis in the zebrafish (
Danio rerio
). We used label-free Stimulated Raman Scattering (SRS) microscopy for the first time to image zebrafish adipogenesis at 15 days post fertilization (dpf) and compared standard feed conditions (StF) to a high fat diet (HFD) or high glucose diet (HGD). We also exposed zebrafish embryos to a non-toxic concentration of tributyltin (TBT, 1 nM) or Tris(1,3-dichloroisopropyl)phosphate (TDCiPP, 0.5 µM) from 0–6 dpf and reared larvae to 15 dpf under StF. Potential molecular mechanisms of altered adipogenesis were examined by qPCR. Diet-dependent modulation of adipogenesis was observed, with HFD resulting in a threefold increase in larvae with adipocytes, compared to StF and HGD. Developmental exposure to TBT but not TDCiPP significantly increased adipocyte differentiation. The expression of adipogenic genes such as
pparda
,
lxr
and
lepa
was altered in response to HFD or chemicals. This study shows that SRS microscopy can be successfully applied to zebrafish to visualize and quantify adipogenesis, and is a powerful approach for identifying obesogenic chemicals in vivo.
View Full-Text
►

▼

Figures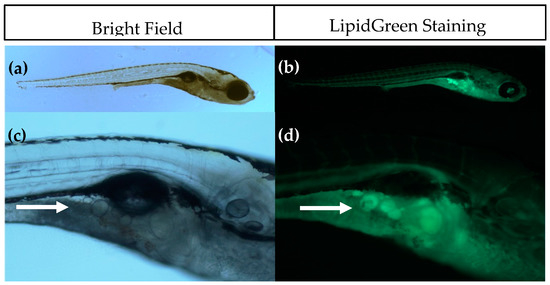 Figure 1
This is an open access article distributed under the
Creative Commons Attribution License
which permits unrestricted use, distribution, and reproduction in any medium, provided the original work is properly cited (CC BY 4.0).

Share & Cite This Article
MDPI and ACS Style
Den Broeder, M.J.; Moester, M.J.B.; Kamstra, J.H.; Cenijn, P.H.; Davidoiu, V.; Kamminga, L.M.; Ariese, F.; De Boer, J.F.; Legler, J. Altered Adipogenesis in Zebrafish Larvae Following High Fat Diet and Chemical Exposure Is Visualised by Stimulated Raman Scattering Microscopy. Int. J. Mol. Sci. 2017, 18, 894.
Note that from the first issue of 2016, MDPI journals use article numbers instead of page numbers. See further details here.
Related Articles
Comments
[Return to top]