Concurrent Autophagy Inhibition Overcomes the Resistance of Epidermal Growth Factor Receptor Tyrosine Kinase Inhibitors in Human Bladder Cancer Cells
Department of Urology, Seoul National University Hospital, Seoul 110-744, Korea
*
Author to whom correspondence should be addressed.
Academic Editor: Anthony Lemarié
Received: 16 December 2016 / Revised: 17 January 2017 / Accepted: 27 January 2017 / Published: 4 February 2017
Abstract
Despite the potential therapeutic efficacy of epithelial growth factor receptor (EGFR) inhibitors in the treatment of advanced stage bladder cancer, there currently is no clear evidence to support this hypothesis. In this study, we investigate whether the concurrent treatment of autophagy-blocking agents with EGFR inhibitors exerts synergistic anti-cancer effects in T24 and J82 human bladder cancer cells. Lapatinib and gefitinib were used as EGFR inhibitors, and bafilomycin A1 (BFA1), chloroquine (CQ) and 3-methyladenine (3-MA) were used as the pharmacologic inhibitors of autophagy activities. To assess the proliferative and self-renewal capabilities, the Cell Counting Kit-8 (CCK-8) assay and a clonogenic assay were performed, respectively. To examine apoptotic cell death, flow cytometry using annexin-V/propidium iodide (PI) was used. To measure the autophagy activities, the expression levels of LC3I and II was determined by Western blot analysis. To validate the synergistic effects of autophagy inhibition with EGFR inhibitors, we specifically blocked key autophagy regulatory gene ATG12 by transfection of small interference RNA and examined the phenotypic changes. Of note, lapatinib and gefitinib triggered autophagy activities in T24 and J82 human bladder cancer cells, as indicated by upregulation of LC3II. More importantly, inhibiting autophagy activities with pharmacologic inhibitors (BFA1, CQ or 3-MA) remarkably reduced the cell viabilities and clonal proliferation of T24 and J82 cells, compared to those treated with either of the agents alone. We also obtained similar results of the enhanced anti-cancer effects of EGFR inhibitors by suppressing the expression of ATG12. Notably, the apoptotic assay showed that synergistic anti-cancer effects were induced via the increase of apoptotic cell death. In summary, concomitant inhibition of autophagy activities potentiated the anti-cancer effects of EGFR inhibitors in human bladder cancer cells, indicating a novel therapeutic strategy to treat advanced bladder cancer.
View Full-Text
►

▼

Figures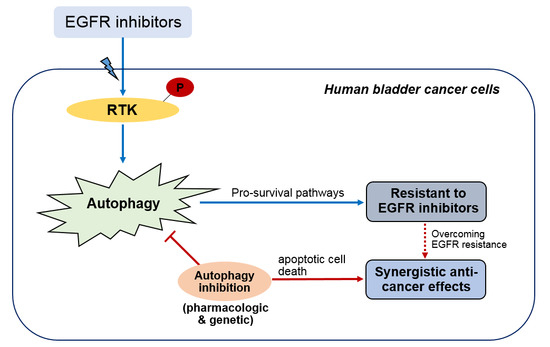 Graphical abstract
This is an open access article distributed under the
Creative Commons Attribution License
which permits unrestricted use, distribution, and reproduction in any medium, provided the original work is properly cited (CC BY 4.0).

Share & Cite This Article
MDPI and ACS Style
Kang, M.; Lee, K.-H.; Lee, H.S.; Jeong, C.W.; Kwak, C.; Kim, H.H.; Ku, J.H. Concurrent Autophagy Inhibition Overcomes the Resistance of Epidermal Growth Factor Receptor Tyrosine Kinase Inhibitors in Human Bladder Cancer Cells. Int. J. Mol. Sci. 2017, 18, 321.
Note that from the first issue of 2016, MDPI journals use article numbers instead of page numbers. See further details here.
Related Articles
Comments
[Return to top]